JAM Seats 2020: The participating institutes of IIT JAM 2020 will be specifying the seats of JAM 2020 which will be reserved for different categories offered. The JAM seats 2020 refer to the quantity of the vacant seats which will be made available categorically to the candidates who will be seeking admission in different IITs and IISc, Bangalore. JAM 2020 seats will be made available to the candidates who belong to reserved categories (SC/ST/PWD/OBC) and the unreserved categories (General). The JAM 2020 seats offer the admission in various M.Sc programmes. Candidates who belong to different categories other than the General category will be offered JAM seats 2020 only if they provide the caste certificates and other requisite documents. Candidates will be offered JAM 2020 seats based on the cut off and the counselling procedures conducted by participating IIT JAMs and IISc, Bangalore. IIT Kanpur, the conducting body of IIT JAM 2020, will release three JAM 2020 admission lists based on which the final allotment of JAM 2020 seats will be conducted.
Latest: First JAM admission list 2020 to be released on June 29
Check JAM Cut off 2020 Here
JAM 2020 Toppers List Released Now; Know the Top Rankers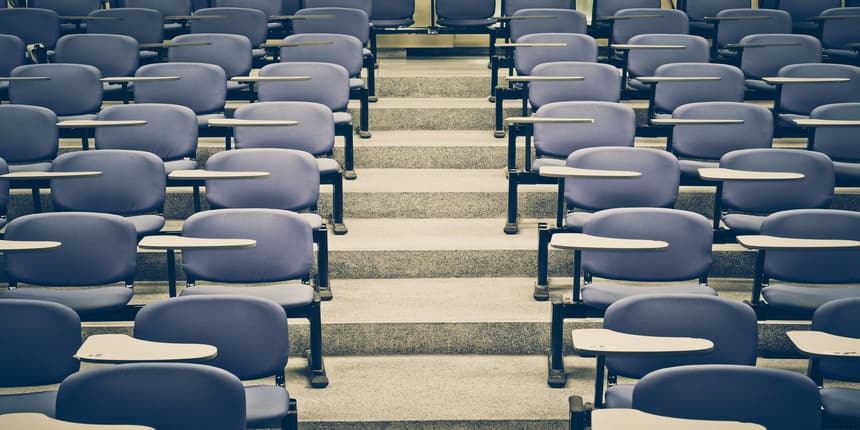 IIT JAM Seats 2020- Allotment of Seats
IIT JAM Seats in IIT Bombay for M. Sc. in Applied Geology
| | | | | | | | | |
| --- | --- | --- | --- | --- | --- | --- | --- | --- |
| Programme | General | OBC | SC | ST | PwD - General | PwD - SC | PwD - OBC | PwD - ST |
| M.Sc. in Applied Geology | 15 | 8 | 5 | 2 | 1 | - | 1 | - |
| M.Sc. in Applied Geophysics | 8 | 5 | 2 | 1 | 2 | - | 1 | - |
| M.Sc. in Applied Statistics and Informatics | 19 | 10 | 4 | 3 | - | 1 | - | - |
| M.Sc. In Biotechnology | 14 | 8 | 4 | 2 | - | - | 1 | - |
| M.Sc. In Chemistry | 23 | 12 | 7 | 3 | 1 | 1 | - | - |
| M.Sc. In Mathematics | 15 | 8 | 5 | 2 | 1 | - | - | - |
| M.Sc. In Physics | 24 | 12 | 7 | 5 | 2 | 1 | - | - |
| M.Sc. – Ph.D. dual degree in Environmental Science and Engineering | 5 | 3 | 1 | 1 | - | - | - | - |
| M.Sc. – Ph.D. dual degree in Operations Research | 6 | 3 | 2 | 1 | - | - | - | - |


JAM 2020 Seats in IIT Delhi
| | | | | | | | | |
| --- | --- | --- | --- | --- | --- | --- | --- | --- |
| Programme | General | OBC | SC | ST | PwD - General | PwD - OBC | PwD - SC | PwD - ST |
| M.Sc. In Chemistry | 27 | 15 | 8 | 4 | 1 | 1 | - | 1 |
| M.Sc. In Mathematics | 27 | 15 | 8 | 4 | 1 | 1 | 1 | - |
| M.Sc. In Physics | 27 | 15 | 8 | 4 | 1 | 1 | - | - |


JAM Seats 2020 in IIT Guwahati
| | | | | | | | | |
| --- | --- | --- | --- | --- | --- | --- | --- | --- |
| Programme | General | EWS | OBC | SC | ST | PwD - General | PwD - OBC | PwD - SC |
| M.Sc. In Chemistry | 23 | 6 | 16 | 9 | 4 | 1 | 1 | - |
| M.Sc. In Mathematics and Computing | 24 | 6 | 15 | 9 | 4 | 1 | 1 | - |
| M.Sc. In Physics | 23 | 6 | 16 | 8 | 5 | 1 | - | 1 |


JAM 2020 Seats in IIT Kanpur
| | | | | | | | | | | |
| --- | --- | --- | --- | --- | --- | --- | --- | --- | --- | --- |
| Programme | General | EWS | OBC | SC | ST | PwD - General | PwD-EWS | PwD - OBC | PwD - ST | PwD - SC |
| M.Sc. In Chemistry | 19 | 5 | 12 | 7 | 4 | 1 | - | 1 | - | - |
| M.Sc. In Mathematics | 18 | 5 | 12 | 7 | 4 | 2 | - | 1 | - | - |
| M.Sc. In Physics | 14 | 4 | 10 | 6 | 2 | 1 | - | - | 1 | - |
| M.Sc. In Statistics | 24 | 5 | 16 | 9 | 5 | 1 | 1 | 1 | - | - |
| M.Sc.- Ph.D. dual degree in Physics | 8 | 2 | 5 | 2 | 2 | - | - | - | - | 1 |


JAM Seats 2020 in IIT Kharagpur
| | | | | | | | | |
| --- | --- | --- | --- | --- | --- | --- | --- | --- |
| Programme | General | OBC | SC | ST | PwD - General | PwD - ST | PwD - SC | PwD-OBC |
| Joint M.Sc.- PhD in Chemistry | 23 | 13 | 6 | 4 | 1 | 1 | - | - |
| Joint M.Sc.- PhD in Geology | 15 | 8 | 5 | 2 | 1 | - | 1 | - |
| Joint M.Sc.- PhD in Mathematics | 15 | 8 | 5 | 2 | 1 | - | - | 1 |
| Joint M.Sc.- PhD in Physics | 24 | 12 | 7 | 3 | 1 | - | - | 1 |
| Joint M.Sc.- PhD in Geophysics (GG) | 6 | 3 | 2 | 1 | 0 | - | - | - |
| Joint M.Sc.- PhD in Geophysics (PH) | 6 | 3 | 2 | 1 | 1 | - | - | - |


JAM 2020 Seats in IIT Madras
| | | | | | | | | |
| --- | --- | --- | --- | --- | --- | --- | --- | --- |
| Programme | General | OBC | SC | ST | PwD - General | PwD - OBC | PwD - ST | PwD - SC |
| M.Sc. In Chemistry | 27 | 15 | 8 | 4 | 1 | 1 | - | - |
| M.Sc. In Mathematics | 20 | 11 | 6 | 3 | 1 | - | 1 | - |
| M.Sc. In Physics | 21 | 12 | 7 | 3 | 1 | 1 | 1 | - |


JAM Seats 2020 in IIT Roorkee
| | | | | | | | | |
| --- | --- | --- | --- | --- | --- | --- | --- | --- |
| Programme | General | OBC | SC | ST | PwD - General | PwD - OBC | PwD - ST | PwD - SC |
| M.Sc. In Applied Geology | 8 | 4 | 2 | 1 | - | - | - | - |
| M.Sc. In Biotechnology | 18 | 10 | 6 | 3 | 1 | 1 | 1 | - |
| M.Sc. In Chemistry | 23 | 12 | 7 | 3 | 1 | 1 | - | 1 |
| M.Sc. In Mathematics | 15 | 8 | 5 | 2 | 1 | - | - | - |
| M.Sc. In Physics | 12 | 7 | 4 | 2 | 1 | - | - | - |
| M.Sc. In Economics | 15 | 8 | 5 | 2 | 1 | - | - | - |


JAM 2020 Seats in IIT Bhubaneswar
| | | | | | | | | |
| --- | --- | --- | --- | --- | --- | --- | --- | --- |
| Programme | General | OBC | SC | ST | PwD - General | PwD - OBC | PwD - ST | PwD - SC |
| Joint M.Sc.-Ph.D. in Chemistry | 10 | 5 | 3 | 2 | 1 | - | - | - |
| Joint M.Sc.-Ph.D. in Mathematics | 10 | 5 | 3 | 2 | 1 | - | 1 | - |
| Joint M.Sc.-Ph.D. in Physics | 10 | 5 | 3 | 2 | 1 | - | - | 1 |
| Joint M.Sc.-Ph.D. in Geology | 10 | 5 | 3 | 2 | | 1 | - | - |
| Joint M.Sc.-Ph.D. in Atmosphere and Ocean Sciences (CY) | 10 | 7 | 2 | 1 | - | - | 1 | - |
| Joint M.Sc.-Ph.D. in Atmosphere and Ocean Sciences (GG) | 10 | 7 | 2 | 1 | - | - | 1 | - |
| Joint M.Sc.-Ph.D. in Atmosphere and Ocean Sciences (MA) | 10 | 7 | 2 | 1 | - | - | 1 | - |
| Joint M.Sc.-Ph.D. in Atmosphere and Ocean Sciences (MS) | 10 | 7 | 2 | 1 | - | - | 1 | - |
| Joint M.Sc.-Ph.D. in Atmosphere and Ocean Sciences (PH) | 10 | 7 | 2 | 1 | - | - | 1 | - |


JAM Seats 2020 in IIT Gandhinagar
| | | | | | | | |
| --- | --- | --- | --- | --- | --- | --- | --- |
| Programme | General | OBC | SC | ST | PwD - General | PwD - SC | PwD-OBC |
| M.Sc. In Chemistry | 10 | 5 | 3 | 2 | - | - | - |
| M.Sc. In Mathematics | 15 | 8 | 5 | 2 | 1 | - | 1 |
| M.Sc. In Physics | 16 | 8 | 4 | 2 | 1 | - | 1 |


JAM 2020 Seats in IIT Hyderabad
| | | | | | | | |
| --- | --- | --- | --- | --- | --- | --- | --- |
| Programme | General | OBC | SC | ST | PwD- General | PwD - ST | PwD- OBC |
| M.Sc. In Chemistry | 20 | 11 | 6 | 3 | 1 | - | 1 |
| M.Sc. In Mathematics/ Mathematics and Computing | 8 | 4 | 2 | 1 | 1 | - | - |
| M.Sc. In Physics | 10 | 5 | 3 | 2 | 1 | - | - |


JAM Seats 2020 in IIT Indore
| | | | | | | | | |
| --- | --- | --- | --- | --- | --- | --- | --- | --- |
| Programme | General | EWS | OBC | SC | ST | PwD - General | PwD-SC | PwD-OBC |
| M.Sc. In Chemistry | 11 | 3 | 8 | 4 | 2 | 1 | 1 | - |
| M.Sc. In Physics | 12 | 3 | 8 | 5 | 1 | - | 1 | - |
| M.Sc. In Mathematics | 8 | 2 | 4 | 3 | 2 | - | - | 1 |
| M.Sc. In Biotechnology | 6 | 2 | 4 | 2 | 1 | - | - | - |
| M.Sc. In Astronomy | 5 | 2 | 4 | 2 | 1 | 1 | - | - |


JAM 2020 Seats in IIT Ropar
| | | | | | | | | | |
| --- | --- | --- | --- | --- | --- | --- | --- | --- | --- |
| Programme | General | EWS | OBC | SC | ST | PwD - General | PwD - OBC | PwD - SC | PwD - ST |
| M.Sc. In Mathematics | 10 | 2 | 6 | 4 | 2 | - | - | 1 | - |
| M.Sc. In Chemistry | 10 | 3 | 7 | 3 | 2 | - | - | 1 | - |
| M.Sc. In Physics | 10 | 2 | 7 | 4 | 2 | 1 | 1 | - | - |


JAM Seats 2020 in IIT Jodhpur
| | | | | | | |
| --- | --- | --- | --- | --- | --- | --- |
| Programme | General | EWS | OBC | SC | ST | PwD-Gen |
| M.Sc. In Chemistry | 15 | 4 | 10 | 6 | 3 | - |
| M.Sc. In Mathematics | 7 | 2 | 5 | 3 | 2 | 1 |
| M.Sc. In Physics | 15 | 4 | 10 | 6 | 3 | - |
| M. Sc. - M. Tech. Dual Degree | 2 | 1 | 1 | 1 | 0 | - |


JAM 2020 Seats in IIT Patna
| | | | | | | | |
| --- | --- | --- | --- | --- | --- | --- | --- |
| Programme | General | EWS | OBC | SC | ST | PwD - General | PwD-OBC |
| M.Sc. In Chemistry | 10 | 2 | 7 | 4 | 1 | 1 | - |
| M.Sc. In Mathematics | 10 | 2 | 6 | 4 | 2 | - | 1 |
| M.Sc. In Physics | 10 | 3 | 6 | 3 | 2 | 1 | - |


JAM Seats 2020 in IIT Dhanbad
| | | | | | | | | |
| --- | --- | --- | --- | --- | --- | --- | --- | --- |
| Programme | General | OBC | SC | ST | PwD - General | PwD - OBC | PwD - SC | PwD - ST |
| M.Sc. In Chemistry | 27 | 15 | 8 | 4 | 2 | 1 | - | - |
| M.Sc. In Mathematics and Computing | 22 | 12 | 7 | 3 | 1 | - | 1 | - |
| M.Sc. In Physics | 22 | 12 | 7 | 3 | 1 | - | 1 | - |
| M.Sc.(Tech) in Applied Geophysics | 22 | 12 | 7 | 3 | 1 | 1 | - | - |
| M.Sc.(Tech) in Applied Geology | 27 | 15 | 8 | 4 | 1 | 1 | - | 1 |


JAM 2020 Seats in IISc. Bangalore
| | |
| --- | --- |
| Subject | Seats* |
| Integrated PhD. Programme in Biological Sciences | 15 to 18 |
| Integrated PhD. Programme in Chemical Sciences | 15 to 18 |
| Integrated PhD. Programme in Physical Sciences | 15 to 18 |
| Integrated PhD. Programme in Mathematical Sciences | 12 to 15 |


JAM Seats 2020 in IIT Bhilai
| | | | | |
| --- | --- | --- | --- | --- |
| Programme | General | OBC | Sc | ST |
| M.Sc Chemistry | 7 | 2 | 1 | 0 |
| M.Sc Mathematics and Computing | 4 | 3 | 2 | 1 |
| M.Sc Physics | 5 | 3 | 1 | 1 |


JAM 2020 Seats in IIT (BHU) Varanasi
| | | | | |
| --- | --- | --- | --- | --- |
| Programme | General | OBC | SC | ST |
| M.Sc Chemistry | 10 | 5 | 3 | 2 |
| M.Sc Physics | 10 | 5 | 3 | 2 |


JAM Seats 2020 in IIT Palakkad
| | | | | | | | | |
| --- | --- | --- | --- | --- | --- | --- | --- | --- |
| Programme | General | EWS | OBC | SC | ST | PwD-SC | PwD-OBC | PwD-ST |
| M.Sc Chemistry | 10 | 2 | 7 | 4 | 2 | 1 | - | - |
| M.Sc Physics | 10 | 2 | 7 | 4 | 2 | - | 1 | - |
| M. Sc Mathematics | 8 | 2 | 5 | 3 | 2 | - | - | 1 |
JAM 2020 Seats in IIT Mandi
| | | | | | | | | |
| --- | --- | --- | --- | --- | --- | --- | --- | --- |
| Programme | General | EWS | OBC | SC | ST | PwD-GEN | PwD-SC | PwD-OBC |
| M.Sc Chemistry | 20 | 5 | 14 | 7 | 4 | 1 | 1 | - |
| M. Sc. Applied Mathematics | 20 | 2 | 12 | 7 | 4 | 1 | - | 1 |
JAM Seats 2020 in IIT Tirupati
| | | | | | | | | |
| --- | --- | --- | --- | --- | --- | --- | --- | --- |
| Programme | General | EWS | OBC | SC | ST | PwD-GEN | PwD-SC | PwD-OBC |
| M.Sc Mathematics and Statistics | 7 | 1 | 3 | 2 | 1 | - | - | 1 |
| M. Sc. Chemistry | 6 | 1 | 4 | 2 | 1 | 1 | - | - |
| M. Sc. Physics | 7 | 1 | 4 | 2 | 1 | - | - | - |
Frequently Asked Question (FAQs) - JAM Seats 2020
Question: Who will release the data of JAM seats 2020?
Answer:
The participating institutes of IIT JAM 2020 will be specifying the seats of JAM 2020 which will be reserved for different seats offered.
Question: What do the JAM seats 2020 include?
Answer:
The JAM seats 2020 refer to the quantity of the vacant seats which will be made available categorically to the candidates who will be seeking admission in different IITs and IISc, Bangalore.
Question: Who all can avail the JAM 2020 seats?
Answer:
JAM 2020 seats will be made available to the candidates who belong to reserved categories (SC/ST/PWD/OBC) and the unreserved categories (General)
Question: For which course are the JAM seats 2020 offered?
Answer:
The JAM 2020 seats offer the admission in various M. Sc programmes.
Question: I belong to an SC category. Do I have to provide any documents?
Answer:
Candidates who belong to different categories other than the General category will be offered JAM seats 2020 only if they provide the Caste certificates and other requisite documents.
Questions related to JAM
Showing 1603 out of 1603 Questions