CUET Preparation Tips 2023 - Candidates preparing for the Common University Entrance Test (CUET) UG 2023 must start their CUET 2023 preparation early. The CUET preparation tips 2023 given in this article will help candidates draft a well-structured study plan. Candidates should check the exam pattern of CUET and subject-wise syllabus while preparing the CUET 2023 preparation tips. The National Test Agency conducts the Common University Entrance Test (previously known as CUCET) annually to enrol students into undergraduate programmes offered by CUET participating universities.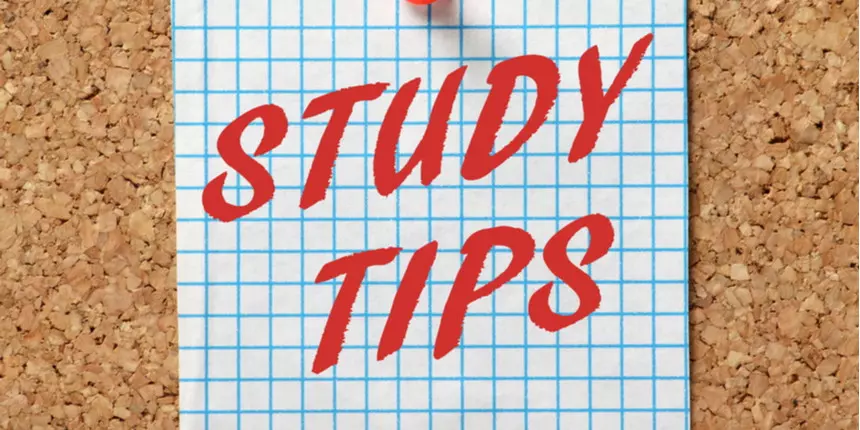 CUET Preparation Tips 2023: Strategy, Time Table, Study Material
If candidates want to score better than others they must prepare a strategy with the help of the CUET preparation tips 2023. Making a strategy will help aspiring candidates stand out from the crowd and ace the CUET UG 2023 with flying colors. In the CUET preparation 2023 tips, candidates will learn about time management, important books, sample papers, mock tests, syllabus, and exam pattern.
How To Prepare For CUET 2023
Make sure to get a thorough understanding of the syllabus and exam pattern.

Make a proper CUET Study Plan.

Know the CUET eligibility criteria.

Must understand the CUET exam pattern 2023.

Practice the CUET mock test 2023 after completion of the syllabus.

Solve CUET sample papers 2023.

Prepare an exam day strategy.

Attempt mock tests on a weekly basis.
Read More:
Important things you need to know about CUET 2023 before you start
CUET 2023 is an online entrance exam conducted to get admission in UG programmes offered by many central universities.

A total of 147 central, state, private, and deemed universities, including Delhi University, Jawaharlal Nehru University will have CUET as a channel of admissions for the academic session 2023-24 for UG programmes.

The application process will be online.

After the exam, NTA will release the CUET answer key.

The CUET 2023 consist of one language test, two domain-specific papers and the general test. contain four domain-specific subjects and option language subjects.
CUET 2023 Exam Structure
The table below brings the broad structure of the exam in terms of the number of questions in each section along with the duration.
Section

Number of Questions

Duration

Question Types

Section IA

40 questions to be attempted out of 50 in each language

45 minutes for each language

Language to be tested through Reading Comprehension based on different types of passages–Factual, Literary and Narrative, (Literary Aptitude and Vocabulary)

Section IB

Section II

40 Questions to be attempted out of 50

45 Minutes for each Domain-Specific Subjects


Input text can be used for MCQ Based Questions

MCQs based on NCERT Class 12 syllabus only

Section III

60 Questions to be attempted out of 75

60 minutes


Input text can be used for MCQ Based Questions

General Knowledge, Current Affairs, General Mental Ability, Numerical Ability, Quantitative Reasoning (Simple application of basic mathematical concepts arithmetic/algebra geometry/mensuration/s tat taught till Grade 8), Logical and Analytical Reasoning
Before kick-starting the preparation for CUET 2023 candidates are advised to go through the CUET syllabus 2023. Candidates need to prepare a timetable, set daily goals and achieve them. By reading the CUET 2023 syllabus candidates can get first hand experience about the topics that they need to study. Candidates need to put the hard work in and follow the time table based on the CUET 2023 syllabus. Read below for detailed information.
CUET 2023 Syllabus- Strategy to Segregate
The syllabus of CUET 2023 UG programmes is divided into four sections. The Section 1A and 1B of CUET 2023 will have questions from languages, section II will include domain-specific questions and Section III will have questions for general test.
Strategy to divide the syllabus:
Make a list of topics.

Segregate them into strong and weak sections according to the personal experience and weightage.

Make notes after finishing any section and revise them at the end of the day.

Inculcate the difficult and unknown sections in the daily time table and make sure to revise them religiously to retain the gained knowledge on the examination day.
Read more:

Understand the CUET Exam Pattern 2023
First and foremost candidates should be well equipped with the CUET exam pattern before appearing for the exam. The CUET UG exam pattern 2023 consist of following sections -
Section IA – 13 Languages
Section IB – 19 Languages
Section II – 27 Domain-specific subjects
Section III – General Test
The CUET entrance test 2023 will now be conducted in two shifts. The first shift, consist of one language test, two domain-specific papers and the general test. The second shift, contain four domain-specific subjects and option language subjects.
Domain Test Subjects - 1. Accountancy/ Book Keeping 2. Biology/ Biological Studies/ Biotechnology/Biochemistry 3. Business Studies 4. Chemistry 5. Computer Science/ Informatics Practices 6. Economics/ Business Economics 7. Engineering Graphics 8. Entrepreneurship 9. Geography/Geology 10. History 11. Home Science 12. Knowledge Tradition and Practices of India 13. Legal Studies 14. Environmental Science 15. Mathematics 16. Physical Education/ NCC /Yoga 17. Physics 18. Political Science 19. Psychology 20. Sociology 21. Teaching Aptitude 22. Agriculture 23. Mass Media/ Mass Communication 24. Anthropology 25. Fine Arts/ Visual Arts (Sculpture/ Painting)/Commercial Arts, 26. Performing Arts – (i) Dance (Kathak/ Bharatnatyam/ Oddisi/ Kathakali/Kuchipudi/ Manipuri (ii) Drama- Theatre (iii) Music General (Hindustani/ Carnatic/ Rabindra Sangeet/ Percussion/ Non-Percussion), 27. Sanskrit
Language Test Subjects - Tamil, Telugu, Kannada, Malayalam, Marathi, Gujarati, Odiya, Bengali, Assamese, Punjabi, English, Hindi and Urdu
Optional Language Subjects - French, Spanish, German, Nepali, Persian, Italian, Arabic, Sindhi, Kashmiri, Konkani, Bodo, Dogri, Maithili, Manipuri, Santhali, Tibetan, Japanese, Russian, Chinese.
CUET Mock Test 2023
After completing the whole syllabus candidates are suggested to solve CUET mock test to analyse their preparation. Candidates must include CUET 2023 mock test during their preparation of CUET 2023 examination as it will act as an exact replica of the real exam. It will help candidates to understand the structure of the exam and increase their speed in solving a question. With the help of CUET mock test 2023 candidates can master multiple questions and anticipate frequently asked questions as well. Hence, solving multiple CUET 2023 mock test will increase the chance to ace the CUET 2023 exam.
Main plan to Prepare for CUET 2023
Study a chapter and make notes of the important topics, write definitions, formulas, so that it will help you during revision.

Once you've studied a chapter or topic, take a look back at how much you can recall and how well you understand it, it will be a part of your self assessment.

Then practice the questions based on the topics you have studied. While solving questions, don't look directly at the answer, solve it, analyse it, if you are making mistakes correct it.

Make sure to practice the CUET sample papers before appearing for the mock test, familiarise yourself with pattern of examination, total number of questions, difficulty level, total topics, and then ace the mock test and the main CUET exam.

Revision is the key to success. Always remember to revise the topics you have completed in a day, because without revision cracking the CUET 2023 will be difficult.

Always clear your doubts and concepts. It is crucial for you to take the CUET exam with a clear mind.

Refer to the standard study material, and avoid outdated study material.

Take a break when it's necessary, though continuous study is good, but not without breaks. So take breaks after every three hours, walk for 15 minutes, solve a puzzle, listen to music, eat something, or any other activity that relaxes your mind. Then with a fresh mind continue your study.


Books to Read for CUET Preparation
Though NCERT books will act as a strong base for the preparation of the CUET exam. But candidates should always look for standard study material that is specialized for the CUET 2023 exam. Since books serve as the basic medium of preparation, candidates should study from the latest publication which is based on the current syllabus. Always compare two books in terms of content and compare it with the latest syllabus. To get transparent knowledge about CUET 2023 books, we have created a section- wise selection.
Subject

CUET Books

English

English Grammar in Use by Raymond Murphy

Numerical Aptitude/Data Interpretation

Quantitative Aptitude for Competitive Examination by RS Aggarwal

Analytical Skills

Complete Mathematics by Lucent

Reasoning

Analytical Reasoning and Logical Reasoning - Arihant

General Knowledge

General Knowledge by Arihant

Disha's Rapid General Knowledge by Disha Experts

Physics

Class 11th and 12th - NCERT

Concept of Physics Vol 1 & 2- H.C. Verma

Chemistry

Class 11th and 12th - NCERT

Textbook of Organic and Inorganic chemistry- Dr.O.P Tandon

Biology

11th and 12th - NCERT

Biology @ Your Fingertips by Rahul Chawla

Mathematics

Arihant Skills in Mathematics (set of 7 books)

11th and 12th - NCERT

B.A. B.Ed.

B.Ed. Entrance Examination Guide by R. Gupta

Integrated B.Sc (Hons) M.Sc/B.Sc/Integrated M.Sc in Chemistry

Class 11th and 12th NCERT books.

Graduation books for M.Sc

B.Tech in Civil Engineering

Civil Engineering: Conventional and Objective Type by Khurmi R.S. and Gupta J.K.

B.Sc in Geography

B.A in English

Integrated M.Sc in Environmental Science




Class 11 and Class 12 NCERT Books
Important Preparation Tips for CUET 2023
Remember to divide the study time in small portions of 2- 3 hours according to the difficulty level.

Solving complex problems requires you to have strong fundamentals, hence make your basics strong.

Never underestimate NCERT. Don't ignore or skip it, as it will form the base of CUET 2023 preparation.

Examine CUET previous year's question papers and mock tests. You should also review your mistakes and put them into practice.

Self study makes all the difference, coaching and school classrooms come secondary.

Assess your learning and performance. Take regular rest and keep a check on your knowledge, speed, accuracy and time management skills.

Get 7-8 hours of sleep every night. Lack of sleep will result in lack of concentration and will affect your retaining power.

Keep your health in check. Being healthy is essential when preparing for any exam. Drink plenty of water and eat a balanced diet and don't take stress.

Achieve your goal by remaining positive and determined. Take advantage of the tricks and tips provided in this article to ensure you succeed in the CUET 2023.
Read more: