KIITEE Sample Papers 2022, Mock Test - Download Question Paper PDF Here
KIITEE Sample Papers 2022 - Kalinga Institute of Industrial Technology (KIIT) has released the latest KIITEE 2022 sample papers. The KIITEE mock test 2022 link for phase 2 has been activated on February 12. Aspiring candidates who are motivated to crack the examination with an excellent score must include KIITEE sample papers in their study plan since they provide a wide range of questions with different difficulty levels. To crack KIITEE 2022 must practice sample papers of KIITEE 2022. By practicing on a daily basis students can get familiar with the exam pattern and its structure. The sample papers of KIITEE 2022 are designed to assist students in their preparation for the KIITEE. Kalinga Institute of Industrial Technology released the KIITEE application form 2022 on December 10.
LATEST: To take the KIITEE phase 2 mock test 2022 - Click here
Latest Updates for KIITEE
Stay up-to date with KIITEE News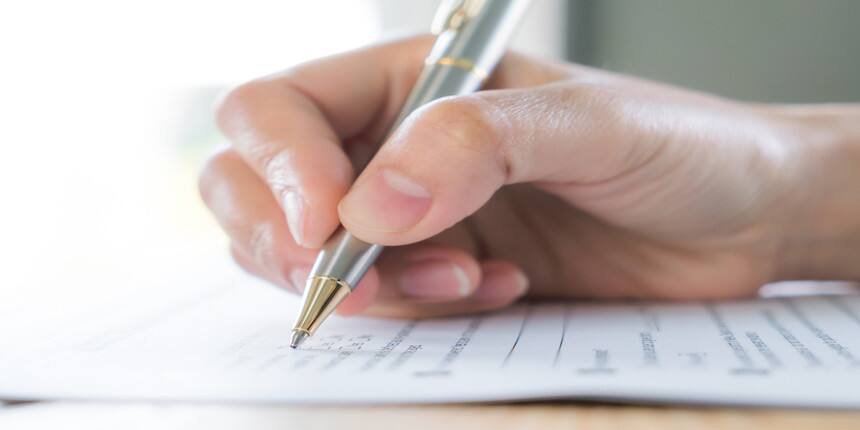 Note: To apply in Top Private Universities - Click here
KIITEE Sample Papers 2022
| | |
| --- | --- |
| Programmes | Sample Papers |
| M.Sc Biotechnology and Applied Microbiology | |
| M.Sc Nursing | |
| | |
| Biotechnology Dual Degree (B. Tech - M. Tech) - Maths and Biology | |
| | |


How to access KIITEE Sample Papers 2022
Visit the official website of KIITEE

Click on the "Sample Questions"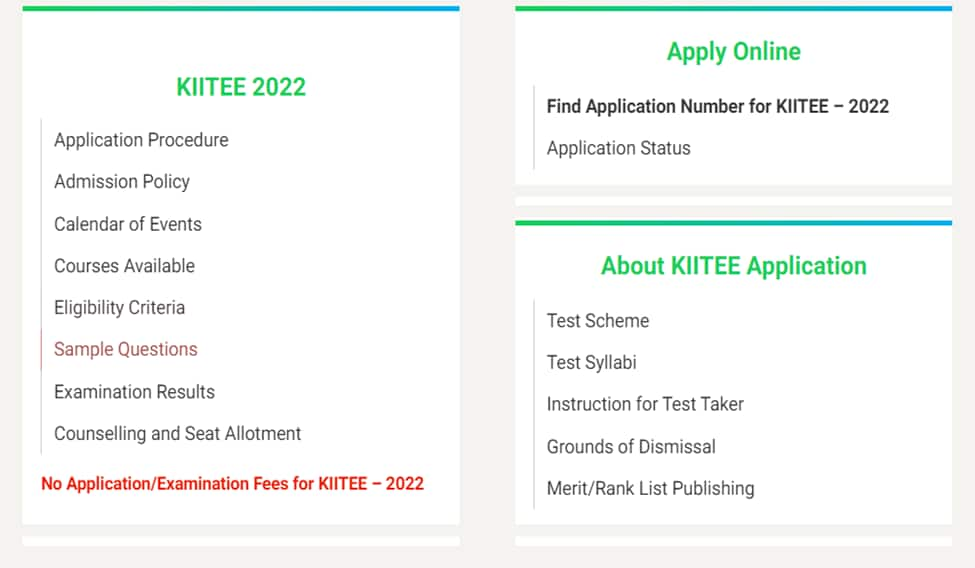 5 min read
Mar 05, 2022
Read More
After that, candidates will be directed to this page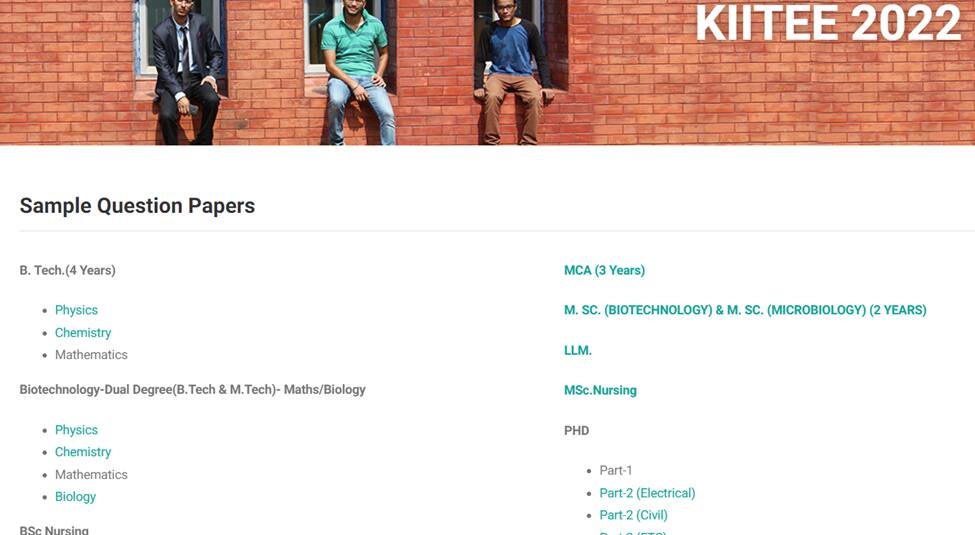 Candidates now need to select the course they wish to practice.
Also Read:
Advantages of KIITEE 2022 Sample Papers
Topic-based questions are available in KIITEE mock tests covering Analytical Reasoning, Quantitative Aptitude, English, General Knowledge, and Issues of Social Concern

KIITEE 2022 Sample Papers will help candidates to evaluate their speed and efficiency, which will help them to manage their time management in the examination hall.

KIITEE mock test 2022 is based on the latest syllabus and pattern, and provides a holistic understanding of various topics based on the curriculum.

Candidates can strengthen their preparation by practicing questions from KIITEE 2022 sample papers that are replicas of questions from the original exam.
Read More
The Kalinga Institute of Industrial Technology has released the syllabus for KIITEE 2022. There are different syllabuses for the different courses offered by KIIT, such as B.Sc/M.Sc Nursing, M.Sc Biotechnology/Applied Microbiology, and B.Tech. Aspiring candidates must go through the complete syllabus in order to prepare for the KIITEE exam 2022.
KIITEE syllabus 2022 serves as a planning tool to help organise the course, and convey a clear idea about the content and knowledge that's required for acing the exam.
KIIT offers a level entrance exam called KIITEE. Kalinga Institute of Industrial Technology Entrance Examination (KIITEE 2022) will be conducted online. KIITEE 2022 exam pattern is different for each course, therefore candidates should go through the pattern of the exam carefully.
KIITEE 2022 Exam Pattern for BBA or BCA courses includes Mathematical Ability, Logical Ability, Verbal Ability and General Knowledge sections.
-For UG and PG courses - 2 hours.
-For KIITEE 2022 MBA - 2.5 hours
KIITEE 2022 exam is a computer-based test held in online mode.

The exam will be in 'English' medium

Multiple choice questions 'MCQ' will be asked in the exam

Marking Scheme
-For UG/PG courses: For each correct answer, a candidate will receive 4 marks, while for a negative answer there will be a deduction of 1 mark.
- For KIITEE 2022 MBA: For each correct answer, candidates will receive 3 marks, and for every incorrect answer, a deduction of 1 mark will be applied.
KIITEE Mock Test 2022
The KIITEE 2022 mock test helps students to accelerate their performance. Mock test functions as a replica of the real examination. KIITEE 2022 mock test window for phase 1 is available on February 2 and 3.
KIITEE mock test 2022 will help students to master their mistakes. For competitive exams, practice is the key to success, and solving mock tests helps students to retain the subject matter.
Aspirants are always advised to analyse their performance and by solving the KIITEE mock tests they can ace the exam. Once candidates start solving the mock tests they develop a deep understanding regarding their weak or strong areas, and according to their self-analysis, they can improve for better scores. Aspiring candidates need to finish KIITEE mock test 2022 in the scheduled time provided by KIIT because it will help them to feel the pressure of the examination hall.
Read More: KIITEE Management
Frequently Asked Question (FAQs) - KIITEE Sample Papers 2022, Mock Test - Download Question Paper PDF Here
Question: Where can I get the official sample papers of KIITEE 2022?
Answer:
The official sample papers are available online or candidates can check out Careers360 where a huge bank of sample papers are available in pdf format.
Question: Which topics and subjects should I prioritise based on the KIITEE sample papers 2022?
Answer:
According to marks and weightage, candidates should prioritise the important topic in the KIITEE. They must go through various KIITEE sample papers to reach this conclusion.
Question: Can a candidate access the official sample papers of KIITEE 2022 without registering for the exam?
Answer:
Yes, any candidate can access the official sample papers without going through the registration process, as they are readily available on the official portal, for all to use.
Question: Is there any negative marking in KIITEE 2022?
Answer:
Yes, for every incorrect answer in the exam, one mark will be deducted.
Question: What are the benefits of solving KIITEE sample papers?
Answer:
It is beneficial to practice KIITEE sample papers in order to improve speed and accuracy when answering questions. The more one practices, the better he/she gets in solving the huge question bank, thus improving the speed and accuracy to solve questions. This also allows candidates to identify their weak and strong areas. Furthermore, they can spend more time on the weaker sections/topics and polish the stronger areas more. Practising KIITEE sample papers increasingly will also help the candidates to identify the important topics. The more questions one finds from a given topic is a proof that that topic carries more weightage and is quite important than others from the examination point of view.
Question: How many KIITEE sample papers should be solved by a candidate to ace the exam?
Answer:
Acing the exam depends on the retaining capacity of the candidate. However, candidates are advised to solve at least 25-30 sample papers for acing the preparation. It also depends on the time one has in hand for preparation and the level of one's preparation. So, it's always important to practice as many sample papers as one can.
Question: What will be the total number of questions in KIITEE 2022?
Answer:
There will be a total of 120 questions in the KIITEE 2022 exam.
Question: When should a candidate start practicing KIITEE sample papers?
Answer:
Students should start solving the latest KIITEE sample papers, right after the completion of the whole syllabus. The perfect time to solve KIITEE sample papers would be 30-45 days prior to the exam.
Question: Are KIITEE sample papers exactly like the actual exam?
Answer:
Yes, since the purpose of the KIITEE sample papers is to provide an exact experience like the final exam, hence they are exactly the same.
Question: Do I have to pay for KIITEE sample papers 2022?
Answer:
No, KIITEE sample papers 2022 are available free of cost for all.
Questions related to KIITEE
Showing 1429 out of 1429 Questions