DU PG Application Form 2023 - Delhi University has started the DU PG 2023 registration from July 27. Candidates could apply before the DU registration last date. Delhi University has started the online DU registration window for PG admissions after the CUET PG results are announced through DU CSAS portal registration 2023. Last date to fill and submit the DU PG registration form 2023 is August 10. Applicants can also choose their desired colleges along with the DU PG registration 2023. The DU PG 2023 application form will be approved only after the DU PG registration fee and choice filling. The Delhi University will announce the selected students in DU PG 2023 registration in the form of DU allocation list 2023. University of Delhi will release the DU 2023 first allocation list on August 17 on its official website. Candidates who failed to apply for DU PG CSAS 2023 registration within the registration window can apply for DU PG registration 2023 through mid entry by paying a non-refundable mid entry fee of Rs/- 1000.
LATEST UPDATES - Fill and Submit the DU PG 2023 application form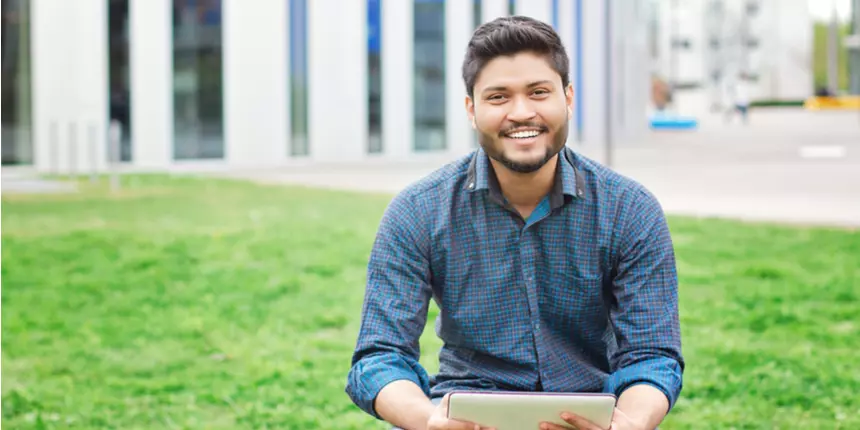 DU PG Application Form 2023 (Released): Registration, CSAS Portal, How to Apply
The Delhi University Post Graduate, often known as DU PG, offers admission into many programmes in the humanities and social sciences, as well as in science, computer technology, management, and business, among others. Candidates applied for the DU PG registration 2023 and submitted the DU PG admission form 2023 will be eligible for the DU PG admission 2023. Only candidates who meet the requirements can apply for the M.A., M.Com, MCA, M. Tech, LL.M, M.Sc, MBA, and PGDCA programmes.
Check out this page for information on how to complete out the DU PG form as well as information on fees, required documentation, and more.
DU PG Registrations - Previous Years
| | | | |
| --- | --- | --- | --- |
| Registrations | 2019 | 2020 | 2021 |
| Total | 154074 | 183674 | 18815 |
| Paid applications | 131129 | 146996 | - |
| UR applicants | 70326 | 76536 | - |
| OBC | 30335 | 35115 | - |
| SC | 19558 | 22020 | - |
| ST | 6463 | 5710 | - |
| EWS | 4447 | 7615 | - |
DU PG Application Dates 2023
To understand the step-by-step admissions process, applicants who were planning on taking the exam should be aware of significant dates related to the DU PG. Below is a list of crucial dates for DU PG application form information.
DU PG 2023 Application Dates
| | |
| --- | --- |
| Events | Important dates |
| Starting of Registration | July 27 (Started) |
| DU PG last date | August 10 |
| First round of allocation list | August 17 |
| Candidates to accept the first allocated list | August 17 to 20 |
| Colleges to verify the application form | August 17 to 21 |
| Last date of payment for first round | August 22 |
| Second round of allocation list | August 25 |
| Candidates to accept the second allocated list | August 25 to 28 |
| Colleges to verify the application form | August 26 to 29 |
| Last date of payment for second round | August 30 |
| Mid entry | September 7 to 9 |
| Third round of allocation list | September 11 |
| Candidates to accept the third allocated list | September 11 to 13 |
| Colleges to verify the application form | September 11 to 14 |
| Last date of payment for third round | Till September 15 |
Documents Required to fill DU PG 2023 Application Form
Candidates have to provide all relevant academic information and upload all necessary files when completing the DU PG application form 2023.
The list of documents needed for the DU PG application form for 2023 is as follows:
Class X and Class XII mark sheets along with the admit cards.

Scanned copies of photograph and signature.

Valid email ID and mobile number.

Date of birth.

Address details.

Scanned copy of photo identity proof.

Degree mark sheet and certificate.

Caste or Reservation certificate if any.

ID proof (i.e. Aadhar card, PAN card, voter ID, driving licence etc.).
How to fill the DU PG Application Form 2023?
Step 1: Registration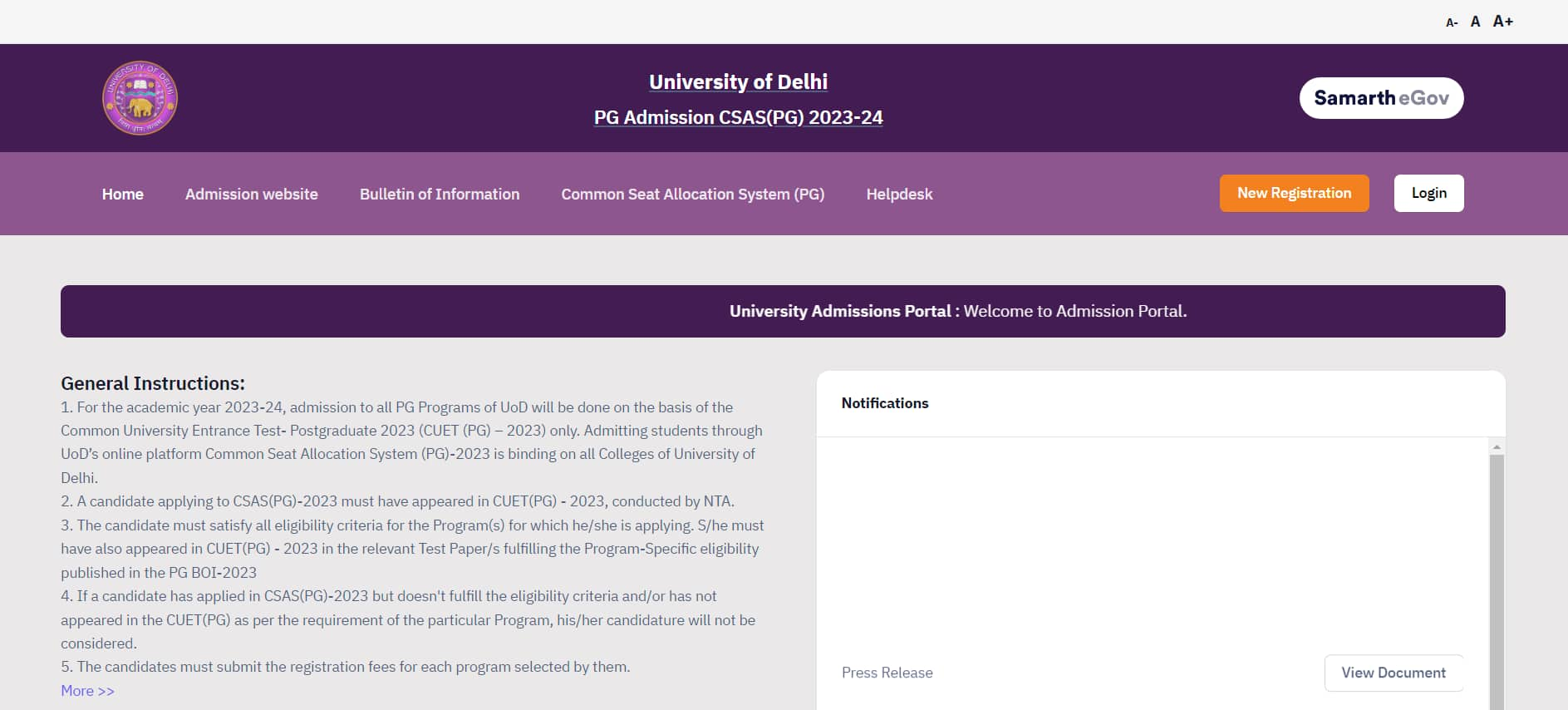 Click on the "New Registration" button.


The admissions site allows you to register using your application number, date of birth, candidate's full name, mobile number and password.

Click on "Register" tab to finish the DU PG 2023 registration process.
DU PG Application Form 2023 - Login and Personal details
Login details

Personal details

Email ID

Category

Mother/ Father/ Guardian's name

Mobile number

Date of birth

Name of the candidate

Password

Gender

Nationality
Create a new password with a maximum of 6 characters in order to continue with the registration procedure.

To verify the email address, click on the confirmation email link that was provided to the registered email account.

The application form must be filled out using the login information.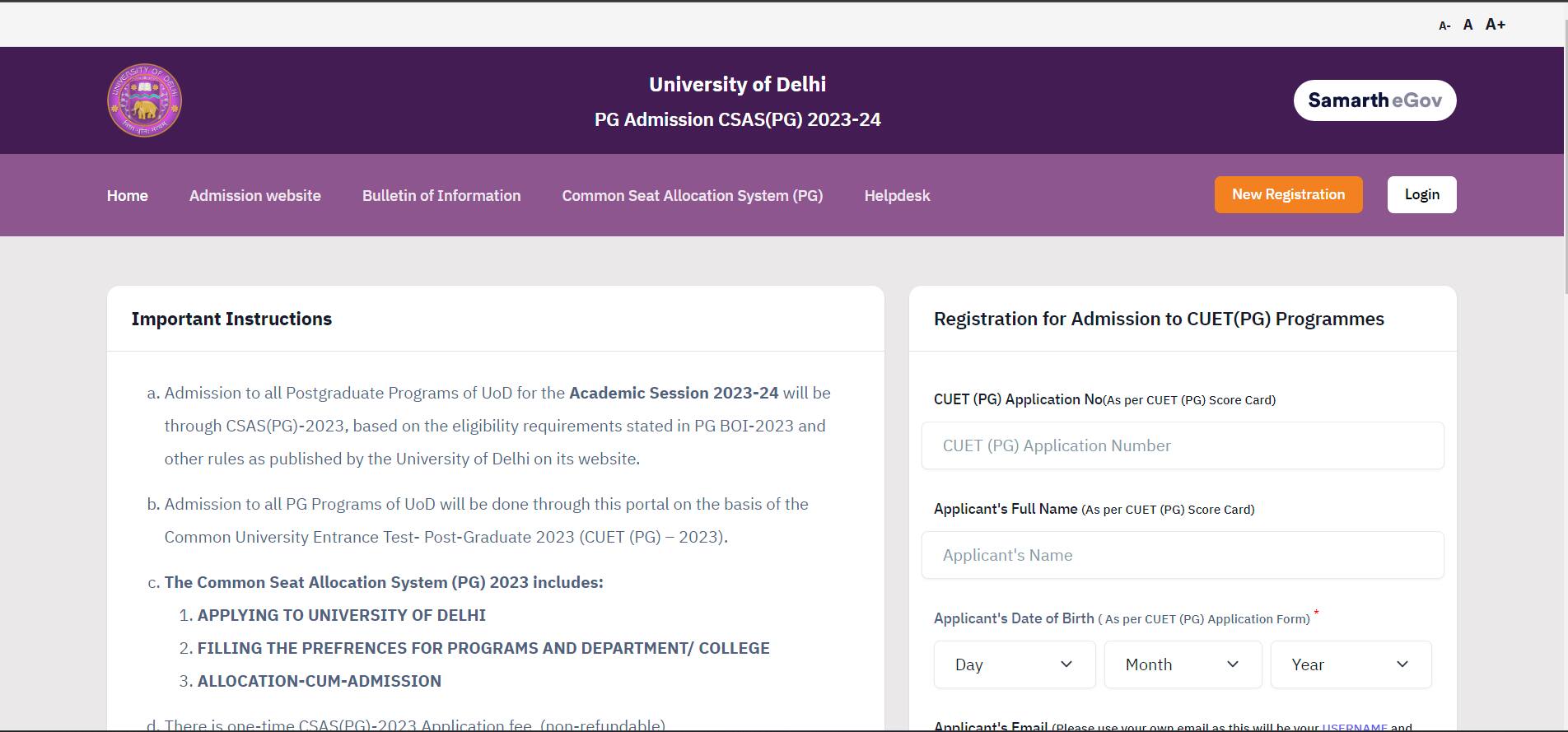 Step 2: Upload the documents
Use the candidate's login information to log in PG portal DU.

On the screen, the candidate's information is displayed.

It is necessary to upload the scanned papers in the area after that on the same page.

Click "Upload."

After uploading all the documents, select "Update My Profile."
DU PG Application Form 2023 - Documents Specification
Documents

Size

Format

Signature

50 kb

jpg/ jpeg/ png

Passport size photograph

Caste/ Reservation Certificate

100 kb

Identity Proof scanned copy
Step 3: Fill the application form
The candidates should now fill out the application form with information about their address and education.
Address details and Educational details
Educational details

Address details

Board/ University

Address

Enrollment number

City

Examination passed

Country

Last college attended

District

Marks obtained

Passport number

Maximum marks

Pin code

Percentage

State/ Union Territory

Subject

Year of passing
Examine all the documents and files that were uploaded.

Complete the application form with all the necessary information.

Then select "Submit My Profile."

Choose the course name, exam centre, admission criterion, merit-based, entrance-based, or both criteria.

The "Save Application" button must be hit.

Step 4: Admission fee payment
Select "Edit"

Then, select "Pay Fee."

Next, select "My Home."

Debit or credit cards, UPI, net banking, or other payment methods are all acceptable.

The candidate must apply separately and complete additional forms if they wish to be considered for more than one course.
Note: Remember that the application cost is not transferable.
DU PG 2023 Registration Fee
| | |
| --- | --- |
| Category | Registration Fee (Rs) |
| UR / OBC-NCL / EWS | 250 |
| SC/ ST/ PwD | 100 |
DU PG Application Form Correction Window
Delhi University has released the DU PG correction window on its official website. Candidates can make changes to the application form before the deadline.
DU Admission Fee Refund
Therefore, if they can't confirm a seat, they won't get their money's worth for admission. In addition, the department will examine the application of the student for a fee refund after the process till the date indicated in the notice, as per the rule mentioned in the Delhi University admission guide for DU Admission Fee refund 2023–24.
DU PG Allocation List 2023
The Delhi University will announce the selected candidates of DU PG registration 2023 in the form of DU 2023 first allocation list on August 17. Delhi University will release a total of three allocation lists for the DU PG 2023 registration process. Once the allocation list is announced then the candidates should accept the allocated list by August 20. Selected colleges by the candidates will accept the DU PG 2023 application form by August 21.
DU PG Eligibility Criteria 2023
The applicants must confirm that they meet the requirements for PG courses before submitting an application for the CUET PG entrance test 2023. Candidates can see the eligibility requirements for CUET below.
They must hold a bachelor's degree in the relevant discipline for the PG course(s) they desire to apply for in order to be admitted.

No minimum age is necessary to apply.
DU PG Application Form 2023 - Important Points
Candidates who wish to apply for multiple courses should submit separate DU PG application forms for each course.

Candidates should review the DU PG eligibility criteria 2023 before submitting their applications.

The DU PG application form 2023 has to be submitted by August 10.