How to Prepare for CUET Chemistry 2022 in 1 month by Educart
How to Prepare for CUET Chemistry 2022 in 1 month - CUET has become the most comprehensive entrance examination in the country. With 44 central universities participating in the entrance exam, there will be a lot of competition this year. The CUET 2022 exam is scheduled to be held in the first and second week of July.
Stay up-to date with CUET News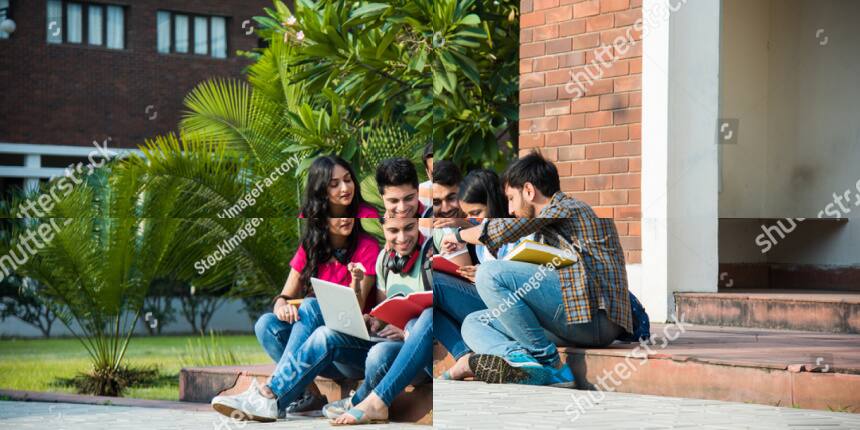 Chemistry is a challenging subject that has a lengthy syllabus for Class 12 technical subjects. The number of concepts that you have to learn and practice at the same time may include everything from solids theory to numerical practice and nomenclature.
Chemistry is also one of the major domain subjects for CUET, which is only one month away. And on top of that Class 12 board exams are still ongoing, which are equally important to students. That means now is the best time to begin planning a strategy that you may follow after the board exams have been finished.
With our help, candidates can prepare for CUET 2022 Chemistry in 1 month with ease. Below, we have prepared a 3-stage strategy for final preparation of Class 12 Chemistry domain paper in CUET (UG) - 2022.
How to Prepare for CUET Chemistry 2022 in 1 month
Applicants can check the step-by-step plan to study Chemistry for the CUET exam 2022 below.
Step 1: Understand the Syllabus Properly
The CUET 2022 Chemistry paper should not be prepared without the prior knowledge of the exam scope. The CUET Chemistry syllabus 2022 covers topics that are important, and topics that are part of the CUET Chemistry syllabus. However, first let us look at a very simple venn diagram of how the CUET syllabus fits within the ecosystem of exams students will be taking within the next 2-3 months.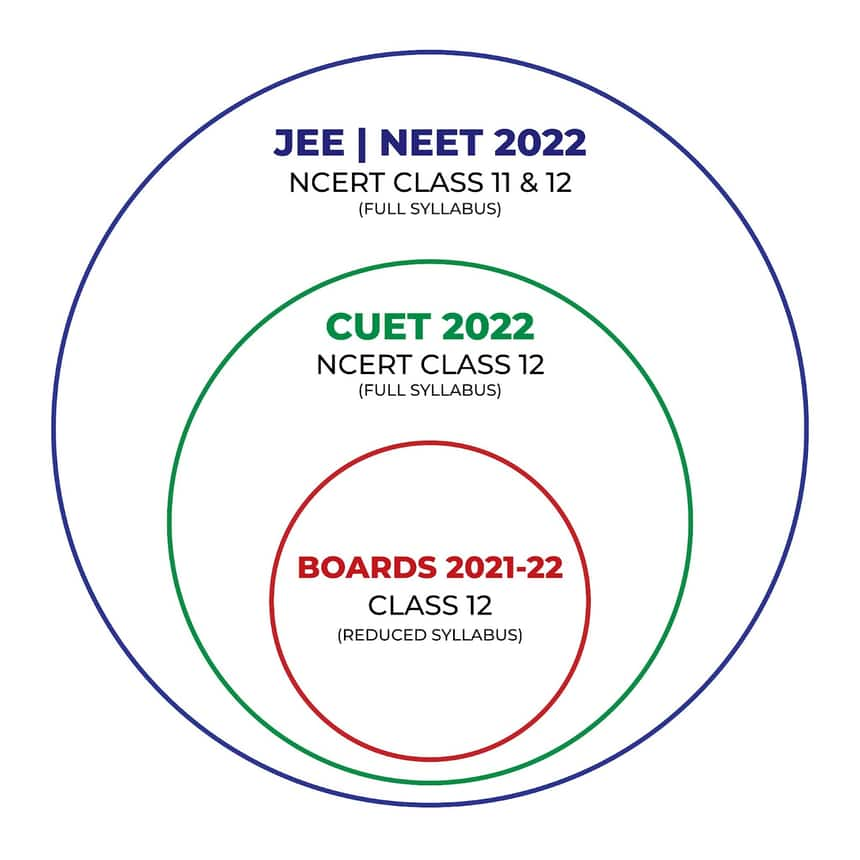 Representation of how Class 12 boards syllabus sits with major competitive exams
The CUET syllabus 2022 sits in the middle spot. Every serious JEE/NEET aspirant who has been studying NCERT Class 12 syllabus for at least two years must have already covered the CUET syllabus. Otherwise, students have to cover some deleted topics of their respective boards to be ready for the CUET exam.
Students need to understand the NCERT Class 12 textbook chapters or topics that they have not studied as all boards are operating under reduced syllabuses in 2021-22. Below is a chapter-by-chapter and topic-by-topic breakdown of the CUET Chemistry syllabus provided by NTA for the CUET 2022 paper according to the topics that will be covered (✔) or not covered
( * ) for the 2021-22 in IIT, NEET, CBSE, ISC or UP boards.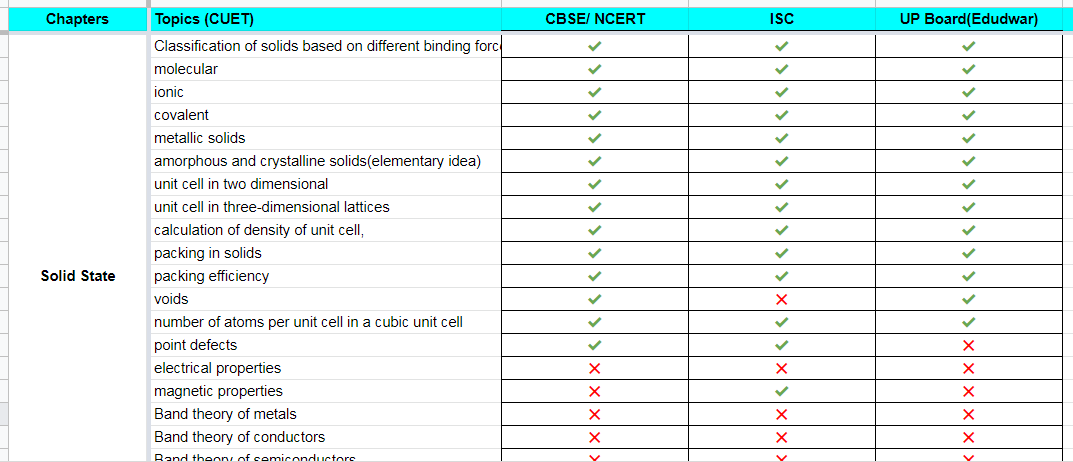 Topics covered and not studied in Class 12 Chemistry Board Syllabus but should be for CUET 2022
To check the chart for the complete CUET 2022 Chemistry syllabus - Click Here
Some Key features of CUET Chemistry Syllabus 2022
From the above, we can conclude that the chapter, General Principles and Processes of Isolation of Elements, is seen to have maximum topics deleted from the board syllabus. So, it is possible that less MCQs will be asked from these chapters.

On the other hand, chapters based on carbon compounds like p-block Elements and d- and f-block Elements have many topics covered in all board syllabus, So, there is a good probability of MCQs being asked from these chapters.

Applicants have to attempt 40 MCQ out of 50, which means they will get a choice of 10 MCQ, which will get consumed in topics they have not studied in their board exam. So, they may not have enough choice after all.

ISC and UP board students are at a bigger disadvantage than CBSE board in terms of readiness for CUET Chemistry paper 2022.
So, candidates can take a look at another strategy to clear the CUET exam. The chart given below shows a blueprint of all important chapters or topics according to the official NTA Chemistry mock test and past year CUET paper with Class 12 Chemistry syllabus.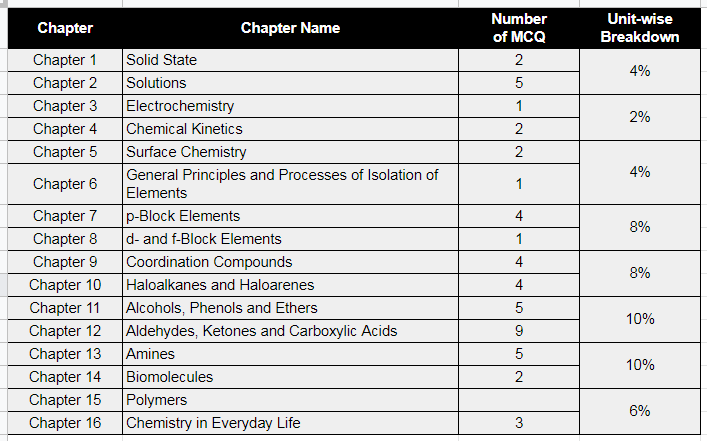 NCERT Class 12 Chemistry Important Chapters & Topics from the CUET 2022 perspective
Some Key Points -
The main focus of the candidates should be from chapter 11 to 14, specifically on nomenclature.

There were a number of situation-based MCQs found in this chapter, so getting the solutions should be next on priority.

Applicants can avoid spending a lot of time on a few chapters like Polymers, General Principles and Processes of Isolation of Elements.
This information will help students to focus on chapters and topics that are part of the CUET Chemistry syllabus. Candidates should make their own meticulous CUET study plan based on the above information to figure out the strategy that works best for them.
Popular Online Arts And Crafts Courses and Certifications
Step 2: Chapter-wise Revision
Students can then divide their time into chapters to prepare for CUET 2022, after analysing the CUET syllabus 2022. The following points should be taken into consideration by students when setting up their schedule:
Chapter-wise Theory
Since, there are only a few weeks left for the CUET exam, the aspirants must try to save their precious time as much as possible. The visual mind maps for Class 12 Chemistry chapter 2 solutions given below can help them in this direction.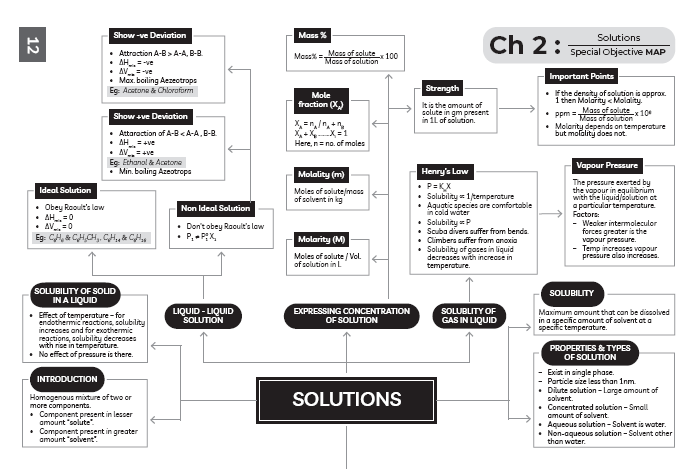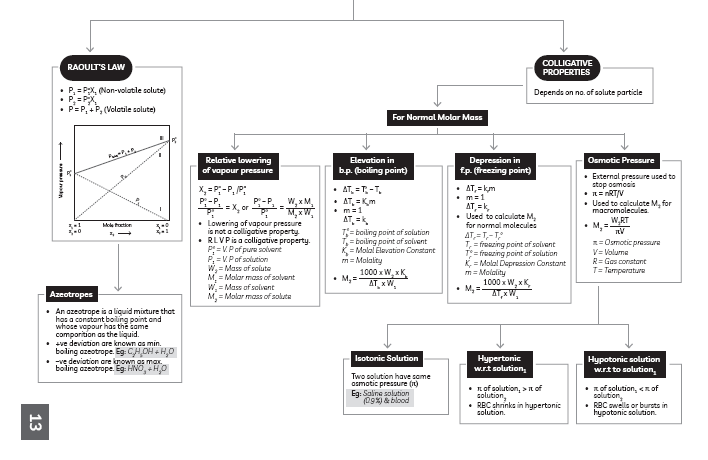 Class 12 Chemistry Chapter 2 Solutions Visual Mind Maps for CUET (UG) - 2022
Uses of NCERT Chapters Visual Mind Maps -
The candidates can take the help of NCERT chapters visual mind maps in order to recall -
NCERT topics and sub-topics of all chapters in just a few minutes.

Important points, definitions and theorems relevant to the chapters.

All formulas to solve objective questions like MCQs, and

Steps to solve MCQs with the help of examples.
The NCERT chapter visual mind maps are perfect for learning how to solve objective questions. Students can quickly recall and revise NCERT topics with their help and relate the concepts to examples. To access these mind maps for all chapters in a complete PDF, students can purchase the CUET 2022 Chemistry Practice Book by Educart.
Chapter-wise Practice
The next important step to include in your meticulous strategy is creating a time table according to the official resources and syllabus. With the help of the official NTA CUET Chemistry mock test, we have analysed that the CUET paper pattern is going to be on a medium level, which means that the NCERT Exemplars will be of great help for its preparation.
We have identified and compiled all the important chapter-wise MCQs from NCERT Exemplars for the relevant types from the CUET perspective.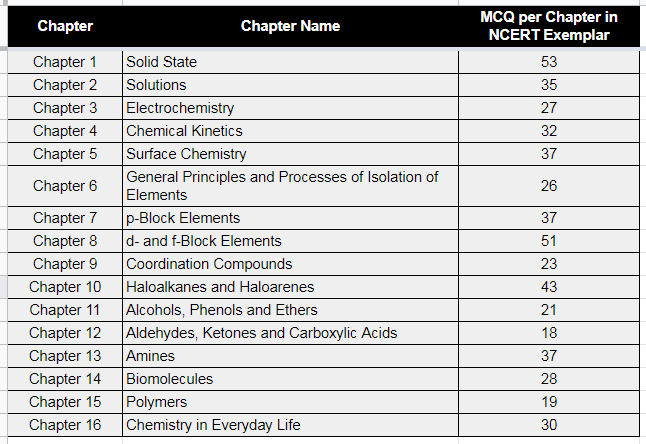 Chapter-wise MCQs from NCERT Class 12 Chemistry Exemplar important for CUET
As you can see, the number of MCQs are randomly distributed among all the chapters. We have noticed that few of them are standalone, match the following, statement-based, reaction-based and case-based MCQs in the CUET Chemistry mock test paper. These questions have a similar difficulty level as the questions in the NCERT Chemistry Class 12 Exemplars.
Step 3 - CUET Mock Test Paper Chemistry On Exact Pattern
There was a short period of time when NTA uploaded the CUET mock test 2022 in April, but for some reason they were removed. But it was enough for us to conclude how challenging the actual CUET exam paper will be.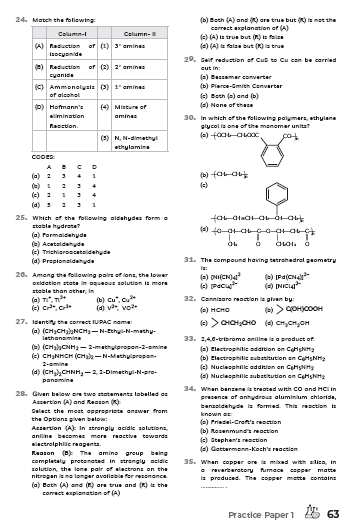 Official NTA CUET 2022 Chemistry Mock Test Paper
To practice NTA Official CUET 2022 Chemistry Mock Test by Educart (With Solutions) - Click here
People Also See -
Applicants are encouraged to include two things in their preparation strategy – CUET Chemistry past years' papers and CUET mock test papers (Solved and unsolved) in their CUET 2022 preparation strategy.
Past Years' CUET Chemistry Papers
CUCET was conducted until 2021-22 using a similar MCQ pattern. CUCET was the predecessor to CUET. It is imperative that one practices previous year CUCET Chemistry question paper to know what type of questions were previously asked. However, there is a twist. Until last year, questions from Class 11 and Class 12 were included in the CUCET Chemistry exam, but this year only the syllabus from Class. Hence, we have compiled only the examinable Class 12 CUCET Chemistry past year papers (with solutions) past year papers.
The CUET Chemistry book by Educart provides past 4 year CUCET papers with solutions, making it easier for students to focus on relevancy.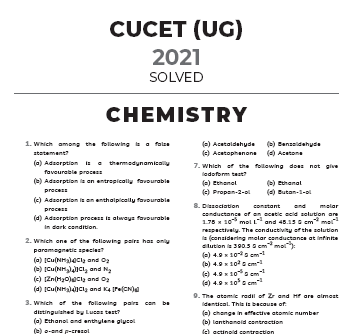 CUCET 2021 Chemistry Paper with only Class 12 Syllabus MCQs
Now, students must remember all the resources provided above and below have been taken out from Educart CUET Chemistry books (Section II) .
CUET Chemistry Mock Test Papers (Solved & Unsolved)
CUET mock test papers should be practiced by the candidates continuously. To test the knowledge and assess the time management skills, candidates need to solve at least 10 CUET Chemistry practice papers before the exam. Practicing the CUET Chemistry mock test papers within the same timeline can help students to keep track of their time. Applicants can use the below timeline to help manage the time.
Typology

Total MCQs

(5 marks each)

Time to be Spent

Stand Alone

35 MCQs

<1 min per MCQ

Reaction/ Statement-based

5 MCQs

1 min per MCQ

Match the Following

Passage-based

2Q

(5 MCQs each)

2 min reading time

+

1 min per MCQ

TOTAL MARKS

200

(40 out of 50 MCQs)

45 minutes
Time Management Chart for CUET Chemistry 2022
Candidates will get only 45 minutes for the Chemistry domain exam, to attempt 40 MCQs out of 50. The MCQs will be based on two case-studies each. If applicants can leave the case-based MCQs, it will save them a good 10-12 minutes.
With the help of this time table, applicants can easily solve the 8-10 CUET Chemistry mock test papers given in the Educart CUET Chemistry practice book.
Student Also Liked:
Questions related to CUET
Showing 1741 out of 1741 Questions