IP University Colleges 2020 - Government & Private Institutes List
IP University Colleges 2020 - Guru Gobind Singh Indraprastha University (GGSIPU) will offer admissions into various UG and PG programmes of IP University 2020 colleges with the help of an entrance examination known as IPU CET 2020. There are 118 affiliated colleges of IP University 2020 offering both undergraduate and postgraduate courses. The list of IP University colleges 2020 contains both government and self-financing colleges. There are total of 83 self-financing institutes and 35 government institutes. Candidates will be allowed to select the colleges of IP University 2020 during the choice filling process of online counselling. The IP University common entrance test will be conducted in computer-based mode. Careers360 provides the complete list of all government-aided and self-financed colleges of IP University 2020 to ease out the efforts for the aspirants of IPU CET 2020 examination.
LATEST: IP University 2020 application deadline has been extended till August 11.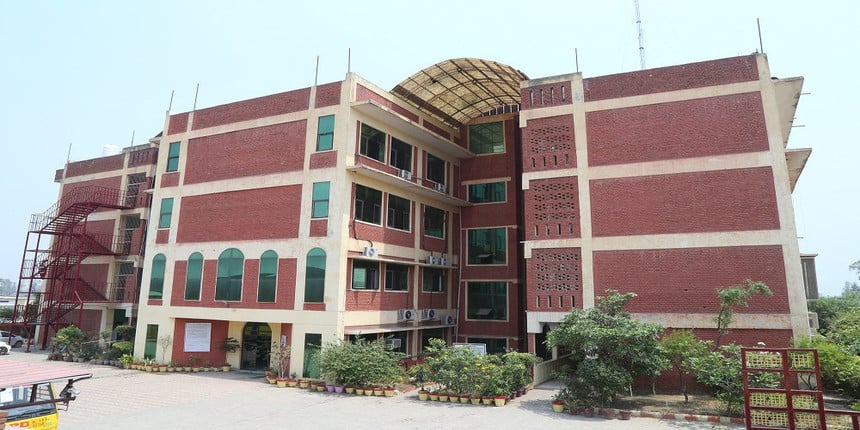 IP University Colleges 2020
Candidates are advised to go through the list of all self-financed and government institutes for IP University admission 2020. Given below in the table are the participating institutes of IP University 2020 where candidates will be offered a seat during the counselling of IPU CET 2020.
IP University Colleges 2020 - Government Institutes
S. No.

Name of Institute

Programme

Duration

1

Ali Yavar Jung National Institute for The Hearing Handicapped, (Northern Regional Centre, Delhi) C-44A, Sector – 40, Gautam Budh Nagar, Noida, UP

BASLP

4 years

2

Ambedkar Institute of Advanced Communication Technologies & Research, Geeta Colony, Delhi – 110092

B.Tech. (CSE)

B.Tech. (ECE)

M. Tech. (DC)

M. Tech. (IS)

M. Tech. (SP)

M. Tech. (RF & ME)

4 years

4 years

2 years

2 years

2 years

2 years

3

Ambedkar Institute of Technology, Shakarpur, Opp. Madhuban, Patparganj Road, Delhi - 92 (Earlier as Ambedkar Integrated Institute of Engineering & Technology)

BCA

B. Voc (Software Development)

B. Voc (Mobile Communications)

3 years

3 years

3 years

4

Aryabhatt Institute of Technology, Near Shakti Nagar, Tele Exchange, G.T. Karnal Road, New Delhi

B. Voc (Construction Technology)

B. Voc (Refrigeration & Air-conditioning)

3 years




3 years

5

College of Medical Lab Technology, Hindu Rao Hospital, Malkaganj, Delhi

B. Sc. (MLT)

3 years

6

Bhai Parmanand Institute of Business Studies, Opp. Madhuban, Shakarpur (Extn.), Delhi - 110092

MCA

MBA

BBA

B. Voc (Software Development)

B. Voc (Mobile communication)

3 years

2 years

3 years

3 years

3 years

7

Ch. Brahm Prakash Ayurved Charak Sansthan, Khera Dabar, Najafgarh, Delhi - 110073

BAMS

MD (AYU)

4 1/2 years

3 years

8

C-DAC, NOIDA (formerly Electronics Research & Development Centre of India) Govt. of India, Anusandhan Bhawan, C - 56/1, Institutional Area, Sector - 62, NOIDA

M. Tech. (CSE)

M. Tech. (IT)

M. Tech. (VLSI)

MCA

MBA (IT)

2 years

2 years

2 years

3 years

2 years

9

College of Nursing, Dr. Ram Manohar Lohia Hospital, New Delhi - 110001

B.Sc.(Hons) Nursing

4 years

10

College of Nursing, VMMC & Safdarjang Hospital, New Delhi - 110026

B.Sc.(Hons) Nursing

4 years

11

Delhi Institute of Heritage Research & Management, 18A, Satsang Vihar Marg, Special Institute Area, New Delhi - 67

MCPHM

MAHM

2 years

2 years

12

Ch. Brahm Prakash Govt. Engineering College, Behind Rao Tula Ram Hospital, Jaffarpur, New Delhi - 110073

B.Tech. (CE)

B.Tech. (IT)

4 years

4 years

13

Dr. Ram Manohar Lohia Hospital, Post Graduate Institute of Medical Education & Research (PGIMER), New Delhi

SSMC (DM Cardiology)

SSMC (M. Ch CTVS)

SSMC (DM Neurology)

SSMC (DM Nephrology)

SSMC (M. Ch Neurosurgery)

SSMC (M.Ch. Urology)

MD Microbiology

MD Pathology

MD Anesthesiology

MD General Medicine

MD Pediatrics

MD Dermatology

MD Radio Diagnosis

MD Obstetrics & Gynae

MS E.N.T. (Ear, Nose & Throat)

MS General Surgery

MS Ophthalmology

MS Orthopedics

Diploma in Child Health

Diploma in Ophthalmology

MD Psychiatry

M. Ch. (Pediatric Surgery)

M.Ch (Plastic Surgery)

3 years

3 years

3 years

3 years

3 years

3 years

3 years

3 years

3 years

3 years

3 years

3 years

3 years

3 years

3 years

3 years

3 years

3 years

2 years

2 years

3 years

3 years

3 years

14

Dr. B. R. Sur Homeopathic Medical College and Hospital and Research Centre, Nanakpura, Moti Bagh, New Delhi - 110021

BHMS

5 ½ years

15

ESIC Dental College and Hospital, Sector - 15, Rohini, New Delhi - 110085

BDS

5 years

16

Delhi Institute of Tool Engineering, Okhla Industrial Area, Phase - II, Delhi - 20, (Head Office at Wazirpur Industrial Area, Delhi - 110052)

B.Tech. (Tool Engg.)

B.Tech. (Mechatronics)

M. Tech. (Tool Engg.)

4 years

4 years

2 years

17

G. B. Pant Govt. Engineering College, Okhla Industrial Estate, Phase - III, Okhla, New Delhi - 110020

B.Tech. (ECE)

B.Tech. (MAE)

B.Tech. (CSE)

4 years

4 years

4 years

18

ESI - PGIMSR, ESI Hospital, Basaidarpur, New Delhi

MD Anesthesiology

MD Obstetrics & Gynae

MS Orthopedics

MD DVL

MS Ophthalmology

MS Surgery

MD Microbiology

DM (Pulmonary Medicine)

3 years

3 years

3 years

3 years

3 years

3 years

3 years

3 years

19

Kasturba Institute of Technology, Pitampura, Muni Maya Ram Marg, New Delhi -110088

B. Voc (Software Development)

B. Voc (Mobile Communication)

3 years

3 years

20

Guru Nanak Dev Institute of Technology, Institutional Area, Sector-15, Rohini, Delhi – 110089, Ph.011- 27567819, 27552645

B. Voc (Software Development)

B. Voc (Mobile Communication)

3 years

3 years

21

Integrated Institute of Technology, Sector - 9, Integrated Institute of Technology, Sector 9, Dwarka, New Delhi - 110075

B. Sc. (MLT)

BCA

B. Voc (Software Development)

3 years

3 years

3 years

22

Meera Bai Institute of Technology, Maharani Bagh, New Delhi

BBA

B. Voc (Applied Arts)

B. Voc (Interior Design)

3 years

3 years

3 years

23

Lok Nayak Jayaprakash Narayan National Institute of Criminology and Forensic Science, Sector 3, Outer Ring Road, Rohini, Delhi

M.A. (Criminology)

M. Sc. (Forensic Science)

2 years

2 years

24

NDMC Medical college at Hindu Rao Hospital, Malika Ganj, Delhi

MBBS

5 ½ years

25

Morarji Desai National Institute of Yoga, 68, Ashoka Road, New Delhi

B. Sc. (Yoga Science)

3 years

26

National Institute of Public Cooperation and Child Development, 5, Siri Institutional Area, Hauz Khas, New Delhi - 110016

Advanced Diploma in Child Guidance and Counseling

1 year

27

Pusa Institute of Technology Pusa, New Delhi - 110012 Ph.:011-25843065

B. Voc (Printing & Publishing)

B.Voc. (Power Distribution Management)

3 years




3 years

28

Centre of Excellence in Mental Health (CEIMH) (Formerly) Department of Psychiatry, Dr. Ram Manohar Lohia Hospital, PGIMER Park Street, New Delhi 110001

M.Phil. (Clinical Psychology)

2 years

29

Vardhman Mahavir Medical College & Safdarjung Hospital, New Delhi - 110026

DM (Cardiology)

SSMC (M.Ch. Plastic Surgery)

SSMC (M. Ch. (CTVS)

SSMC (DM Pulmonary & Critical Care Medicine)

SSMC (M. Ch Urology)

MBBS

MD General Medicine

MS General Surgery

MD Pediatrics

MD Radio Diagnosis

MS Oto-rhinolaryngology (ENT)

MS Orthopedics

MD Physical Med. & Rehab.

MD Dermatology

MS Ophthalmology

MS Obstetrics & Gynae

MD Anesthesiology

MD Anatomy

MD Biochemistry

MD Community Med

MD Microbiology

MD Pathology

MD Pharmacology

MD Physiology

MD Forensic Medicine

MD Sports Medicine

MD (Radiotherapy)

BPO

3 years

3 years

3 years

3 years




3 years

5 ½ years

3 years

3 years

3 years

3 years

3 years

3 years

3 years

3 years

3 years

3 years

3 years

3 years

3 years

3 years

3 years

3 years

3 years

3 years

3 years

3 years

3 years

4 ½ years

30

State Council of Educational Research & Training, Varun Marg, Defence Colony, New Delhi

B.Ed.

2 years

31

Dr. BSA Hospital Medical College Sector 6, Rohini Delhi-110085

MBBS

5 ½ years

32

G. B. Pant Institute of Technology, Okhla, Phase-III, New Delhi

B. Voc (Automobile)

B. Voc (Construction Technology)

B. Voc (Refrigeration & Air-conditioning)

3 years

3 years




3 years

33

National Institute of Labour Economics Research & Development, Narela, Delhi 110040 (This institute was granted provisional affiliation during A. S. 2015-16)

PGDHRPD

1 year

34

Department of Psychiatric Social Work, Department of Psychiatry PGIMER Dr. Ram Manohar Lohia Hospital, New Delhi 110001

M.Phil. (Psychiatry Social Work)

2 years

35

National Institute for the Empowerment of persons with Intellectual Disabilities (NIEPID) Divyangjan (Earlier was named National Institute for Mentally Handicapped NIMH, Regional Centre, C-44A, Sector – 40, Gautam Budh Nagar, Noida, UP ) - was granted provisional affiliation during 2015-16

B.Ed. Spl. Edu. (MR)

2 years

36

University School of Environment Management, Dwarka

M.Sc EM

M.Sc B & C

2 years

37

University School of Humanities and Social Sciences, Dwarka

MA Economics

2 years



IP University 2020 Colleges - Self-Financing Institutes
S.no.

Colleges

Courses

Duration

1.

Amity Law School, Sector - 125, Noida (U.P.)

BA LLB (Integrated)

5 years

2.

Amity Institute of Education, M - Block, Saket, New Delhi - 110017

B. Ed

2 years

3.

Army Institute of Management & Technology, Plot No. M-1, Block No. P-5, Sector - Pocket-5, Greater Noida - 201306

MBA

2 years

4.

Amity School of Engineering & Technology, 580, Delhi Palam Vihar Road, Bijwasan, New Delhi - 110061 Proposed address: Plot No. 4, Sector 125, Noida 201313

B. Tech (ECE)

B. Tech (CSE)

B. Tech (IT)

B. Tech (MAE)

B. Tech (I&CE)

4 years

4 years

4 years

4 years

4 years

5.

Army College of Medical Science, Near Base Hospital, Delhi Cantt, New Delhi

MBBS

5 ½ years

6.

Army Institute of Education, Plot No. M-1, Block, No. P-5, Greater Noida - 201306

B. Ed

2 years

7.

Banarsidas Chandiwala Institute of Information Technology, Chandiwala Estate, Maa Anandmai Ashram Marg, Kalkaji, New Delhi - 19

MCA

3 years

8.

Banarsidas Chandiwala Institute of Hotel Management & Catering Technology, Chandiwala Estate, Maa Anandmai Ashram Marg, Kalkaji, New Delhi - 19

BHMCT

4 years

9

Bhagwan Parshuram Institute of Technology, P.S.P. - 4, Sector - 17, Rohini, Delhi - 110085

B. Tech (ECE)

B. Tech (CSE)

B. Tech (IT)

B. Tech (EEE)

BBA

MBA

4 years

4 years

4 years

4 years

3 years

2 years

10

Banarsidas Chandiwala Institute of Physiotherapy, Chandiwala Estate, Maa Anandmai Ashram Marg, Kalkaji, New Delhi - 19

BPT

MPT (Musculoskeletal)

MPT (Neurology)

MPT (Sports)

MPT (Cardiopulmonary)

4½ years

2 years

2 years

2 years

2 years

11

Banarsidas Chandiwala Institute of Professional Studies, Sector - 11, (Opposite Metro Station) Dwarka, New Delhi - 110075

MBA

BBA

BBA (2nd shift)

2 years

3 years

3 years

12

Bharati Vidyapeeth Institute of Computer Applications & Management, A4, Paschim Vihar, New Delhi - 110063

MCA

MCA (2nd shift)

3 years

3 years

13

Bharati Vidyapeeth's College of Engineering, A - 4, Paschim Vihar, New Delhi - 110063

B. Tech (CSE)

B. Tech (ECE)

B. Tech (IT)

B. Tech (ICE)

B. Tech (EEE)

B. Tech (ECE) 2nd shift

B. Tech (CSE) 2nd shift

B. Tech (IT) 2nd shift

4 years

4 years

4 years

4 years

4 years

4 years

4 years

4 years

14

Chanderprabhu Jain College of Higher Studies & School of Law, Plot No. OCF, Sector - A - 8, Narela, Delhi

BBA

BBA (2nd Shift)

BCA

BCA (2nd Shift)

BBA (CAM)

BBA (CAM) (2nd Shift)

BA LLB (Integrated)

BBA LLB (Integrated)

B.Com. (Hons.)

B.Com. (Hons.) (2nd Shift)

3 years

3 years

3 years

3 years

3 years

3 years

5 years

5 years

3 years

3 years

15

Bhagwan Mahaveer School of Architecture, Jagdishpur, Near O.P. Jindal University, Sonepat, Haryana (Minority Institute)

B.Arch.

5 years

16

Delhi School of Professional Studies and Research, 9, Institutional Area, Sector-25, Rohini, Phase-III, Delhi

BBA

BBA (Second Shift)

B.Com. (Hons.)

B.Com.(Hons.) (2nd Shift)

3 years

3 years

3 years

3 years

17

COMM-IT, Carrer Academy (Minority Educational Institution) FC-31, DDA's Institutional Area (Near Pushpawati Singhania Hospital) Press Enclave Road, Sheikh Sarai, Ph-II, New Delhi -17

BCA

3 years

18

Delhi Institute of Rural Development, Holambi Khurd, Delhi - 110082

BA LLB (Integrated)

BBA LLB (Integrated)

BA Economics

5 years

5 years

19

Delhi Institute of Advanced Studies, Plot No.6, Sector 25, Rohini, Delhi - 110085

BBA

MBA

B. Com (Hons.)

3 years

2 years

3 years

20

Delhi Technical Campus, 28/1, Knowledge Park - III, Greater NOIDA, UP

B.Tech. (ECE)

B.Tech. (MAE)

B.Tech. (EEE)

B.Tech. (CE)

B.Tech. (CSE)

B.Arch.

MBA

4 years

4 years

4 years

4 years

4 years

5 years

2 years

21

Delhi Institute of Technology and Management, Gannaur, Sonipat, Haryana - 131101

B.Tech ECE

B.Tech Civil

B.Tech CSE

B.Tech ME

4 years

4 years

4 years

4 years

22

Delhi Institute of Rural Development, (Sister Branch of DIRD), G. T. Karnal Road, Village Nangli Puna, Delhi 110036

BBA

BBA(B&I)

BBA (2nd shift)

B.Com. (Hons.)

B.Ed.

B.A. (Hons.) (Economics)

3 years

3 years

3 years

3 years

2 years

3 years

23

Delhi Metropolitan Education (Sunshine Education & Development Society) B-12, Sector-62, Noida (U.P.)

BBA

BJMC

BJMC (2nd Shift)

BA LLB (Integrated)

BBA LLB (Integrated)

BBA (2nd Shift)

3 years

3 years

3 years

5 years

5 years

3 years

24

Fairfield Institute of Management & Technology, Plot No. 1037/1, Kapashera, New Delhi - 110037

BBA

BCA

BCA (2nd Shift)

BJMC

BJMC (2nd Shift)

BBA (2nd Shift)

B.Ed.

B.Com. (Hons.)

B.Com. (Hons.) (2nd Shift)

BA LLB (Integrated)

BBA LLB (Integrated)

B.A. (Hons.) (Economics)

3 years

3 years

3 years

3 years

3 years

3 years

2 years

3 years

3 years




5 years

5 years

3 years

25

Delhi Teachers Training College, 340, Deen Pur, Bijwasan Road, Nazafgarh, New Delhi.

B.Ed.

2 years

26

Gitarattan International Business School, Rohini Educational Society at PSP, Complex-II, Madhuban Chowk, Delhi

MBA

MBA (Second Shift)

MBA (IB)

BBA LLB (Integrated)

BA LLB (Integrated)

BBA

2 years

2 years

2 years

5 years

5 years

3 years

27

Gitarattan Institute of Advanced Studies & Training, D-Block, Sector-7, Rohini, Delhi - 110085

B.Ed.

2 years

28

Guru Ram Dass College of Education, West Jyoti Nagar, Shahdara, Delhi

B.Ed.

2 years

29

Guru Nanak College of Education, (Minority Educational Institutions) Road No. 75, Punjabi Bagh, New Delhi - 110026

B.Ed.

2 years

30

Guru Nanak Institute of Management, Road No.75, Punjabi Bagh (West) New Delhi – 110026 (Minority Institution)

MCA

B. Com (Hons.)

3 years

3 years

31

HMR Institute of Technology & Management, Hameed Pur, Delhi - 110036

B. Tech (IT)

B. Tech (CSE)

B. Tech (ECE)

B. Tech (MAE)

B. Tech (EEE)

B. Tech (CSE) (Second Shift)

B. Tech (EEE) (Second Shift)

B. Tech (ECE) (Second Shift)

MBA

4 years

4 years

4 years

4 years

4 years

4 years




4 years




4 years




2 years

32

Guru Tegh Bahadur Institute of Technology, (Minority Educational Institute) G-8 Area, Rajouri Garden, Opp. Swarg Ashram Mandir, Delhi - 110064

B. Tech (IT)

B. Tech (CSE)

B. Tech (ECE)

B. Tech (EEE)

B. Tech (ECE) (Second Shift)

B. Tech (IT) (Second Shift)

B. Tech (CSE) (Second Shift)

4 years

4 years

4 years

4 years

4 years




4 years




4 years

33

HMR Institute of Technology & Management, Hameed Pur, Delhi - 110036

B. Tech (IT)

B. Tech (CSE)

B. Tech (ECE)

B. Tech (MAE)

B. Tech (EEE)

B. Tech (CSE) (Second Shift)

B. Tech (EEE) (Second Shift)

B. Tech (ECE) (Second Shift)

MBA

4 years

4 years

4 years

4 years

4 years

4 years




4 years




4 years




2 years

34

Ideal Institute of Management and Technology, 16-X, Karkardooma, (Near Telephone Exchange), Delhi - 110092

BA LLB (Integrated)

BBA

BBA (Second shift)

BBA (CAM)

BBA(CAM) (Second Shift)

5 years

3 years

3 years

3 years

3 years

35

ISIC Institute of Rehabilitation Sciences, Sector - C, Vasant Kunj, New Delhi - 110070

MPT (Neurology)

MPT (Musculoskeletal)

MOT (Neurology)

MPT (Sports)

Masters in Prosthetics & Orthotics (MPO)

MPT (Cardiopulmonary)

BPT

BOT

2 years

2 years

2 years

2 years

2 years




2 years

4 1/2 years

4 1/2 years

36

Indian Red Cross Society 1, Red Cross Road, New Delhi

PGDDPR

1 year

37

Institute of Information Technology & Management, D -29, Institutional Area, Janak Puri, New Delhi

MCA

MBA

BCA

BCA (Second shift)

BBA

BBA (Second shift)

B. Com (Hons.)

3 years

2 years

3 years

3 years

3 years

3 years

3 years

38

Institute of Innovation in Technology and Management, D 27 & 28, Institutional Area, Janakpuri, New Delhi

BBA

BBA (2nd shift)

BCA

BCA (2nd Shift)

B.Com. (Hons.)

B.Com. (Hons.) (2nd Shift)

3 years

3 years

3 years

3 years

3 years

3 years

39

Institute of Vocational Studies (Minority Educational Institution), FC-31, DDA's Institutional Area, Press Enclave Road, Sheikh Sarai, Ph-II, New Delhi - 110017

B.Ed.

2 years

40

Jagan Institute of Management Studies, 3, Institutional Area, Sector 5, Rohini (Near Rajiv Gandhi Cancer Research Institute), Delhi - 110085

MCA

MCA (2nd Shift)

BBA

BBA (Second Shift)

BCA

BCA (Second Shift)

3 years

3 years

3 years

3 years

3 years

3 years

41

JIMS Engineering Management Technical Campus, 48/4, Knowledge Park - III, Greater NOIDA

B.Tech. (CE)

B.Tech. (ME)

B.Tech. (CSE)

B.Tech. (EE)

B.Tech. (ECE)

BA LLB (Integrated)

BBA LLB (Integrated)

BBA

B.Ed.

BCA

4 years

4 years

4 years

4 years

4 years

5 years

5 years

3 years

2 years

3 years

42

Jagannath International Management School, OCF, Pocket - 9, Sector B, Vasant Kunj, New Delhi - 110070

BJMC

BJMC (Second Shift)

BBA

BBA (Second shift)

BCA

BCA (Second shift)

3 years

3 years

3 years

3 years

3 years

3 years

43

Jagannath International Management School MOR Pkt-105 Kalkaji (Opp. Kalkaji Police Station), New Delhi-110 019

BBA

BBA (Second shift)

B.Com. (Hons)

B. Com. (Hons) 2nd Shift

3 years

3 years

3 years

3 years

44

Kasturi Ram College of Higher Education, Vill. Kureni Narela, Delhi - 110040

BJMC

BJMC (Second Shift)

BBA

BBA (Second shift)

B.Com. (Hons.)

3 years

3 years

3 years

3 years

3 years

45

Kalka Institute for Research and Advanced Studies, Kalka Public School Campus, Alaknanda, New Delhi - 110019

B.Ed.

BCA

2 years

3 years

46

Lingaya's Lalita Devi Institute of Management Science, 847 - 848, Mandi Road, Vill. Mandi, New Delhi - 110047

BBA

BJMC

B.Ed.

B.Com. (Hons.)

3 years

3 years

2 years

3 years

47

Kamal Institute of Higher Education and Advance Technology K-1 (Block) Mohan Garden New Delhi-59

B.Ed.

BBA

B.Com. (Hons.)

BCA

2 years

3 years

3 years

3 years

48

Lal Bahadur Shastri Institute of Management, Plot No. 11/7, Sector 11, Dwarka, New Delhi - 110075

MCA

3 years

49

Madhu Bala Institute of Communication and Electronic Media, 120-B, Village Madangir, New Delhi

BJMC

3 years

50

Lakshmi Bai Batra College of Nursing, Plot No.45,46, and 47, Tuglakabad, Institutional Area, Mehrauli Badarpur Road, New Delhi - 62

B.Sc.(Hons.) Nursing

4 years

51

Maharaja Agrasen Institute of Management Studies, Sector-22, Rohini, Delhi – 85

BBA

BBA (Second shift)

B.Com. (Hons)

B. Com. (Hons) 2nd Shift

BJMC

B.A. (Hons.) (Economics)

3 years

3 years

3 years

3 years




3 years

3 years

52

Maharaja Agrasen Institute of Technology, Sector - 22, Rohini, Delhi - 110085

B. Tech(IT)

B. Tech(CSE) B. Tech(ECE) B. Tech(MAE) B. Tech(EEE)

B. Tech (CSE) (Second Shift)

B. Tech (MAE) (Second Shift)

B. Tech (ECE) (Second Shift)

B. Tech (IT) (Second Shift)

B. Tech (EEE) (Second Shift)

MBA

MBA (2nd Shift)

4 years

4 years

4 years

4 years

4 years

4 years




4 years




4 years




4 years




4 years




2 years

2 years

53

Maharaja Surajmal Institute, C - 4, Janak puri, New Delhi - 110058

B.Ed.

BCA

BCA (2nd shift)

BBA

BBA (B&I)

BBA (B&I) (Second Shift)

BBA (2nd shift)

B. Com (Hons.)

2 years

3 years

3 years

3 years

3 years

3 years




3 years

3 years

54

Maharaja Surajmal Institute of Technology, C - 4, Janak puri, New Delhi - 110058

B. Tech (IT)

B. Tech (CSE)

B. Tech (ECE)

B. Tech (EEE)

B. Tech (CSE) (Second Shift)

B. Tech (IT) (Second Shift)

B. Tech (ECE) (Second Shift)

4 years

4 years

4 years

4 years

4 years




4 years




4 years

55

Mahavir Swami Institute of Technology, Jagdishpur, Near O P Jindal University, Sonepat, Haryana 131030 (Minority Institution)

B.Tech. (EE)

B.Tech. (ME)

B.Tech. (CE)

B.Tech. (ECE)

B.Tech. (CSE)

BBA

BA LLB (Integrated)

4 years

4 years

4 years

4 years

4 years

3 years

5 years

55

Management Education & Research Institute, 53-54, Institutional Area, Janak Puri, New Delhi - 110058

MCA

MCA (Lateral Entry)

MBA

MBA (2nd Shift)

BBA

3 years

2 years

2 years

2 years

3 years

57

MBS School of Planning and Architecture, Sector-09, Dwarka, New Delhi- 110075

B.Arch.

5 years

58

New Delhi Institute of Management, 60 & 61, Tughlakabad Institutional Area, New Delhi - 62

BBA

BBA (2nd Shift)

3 years

3 years

59

Northern India Engineering College, FC-26, Shastri Park, Delhi - 110053

B. Tech (CSE)

B. Tech (ECE)

B. Tech (MAE)

B. Tech (IT)

B. Tech (EEE)

B. Tech (ECE) (2nd Shift)

B. Tech (MAE) (2nd Shift)

B. Tech (Civil Engg.)

B. Tech (EEE) (2nd Shift)

B. Tech (CSE) (2nd Shift)

B. Tech (IT) 2nd Shift

B. Tech (ME)

MBA

BBA

4 years

4 years

4 years

4 years

4 years

4 years




4 years




4 years

4 years




4 years




4 years

4 years

2 years

3 years

60

Rajiv Gandhi Cancer Institute and Research Centre, Sector-5, Rohini, New Delhi-110085

B.SC. (MEDICAL TECHNOLOGY, RADIOTHERAPY)

3 years

61

Pradeep Memorial Comprehensive College of Education, Pratap Vihar, Kirari Extn., Nangloi, Delhi - 110041

B.Ed.

2 years

62

Periyar Management and Computer College, 1 & 2 Institutional Area, New Delhi - 110025

MBA

2 years

63

Rukmini Devi Institute of Advanced Studies, 2A&2B, Ph.- I, Madhuban Chowk, Rohini, Delhi – 110085

MBA

MBA (2nd shift)

BBA

BBA (2nd shift)

2 years

2 years

3 years

3 years

64

R.C. Institute Of Technology, Gopal Nagar, Najafgarh, New Delhi – 110043

MCA

BCA

B.Ed.

B.Com. (Hons.)

3 years

3 years

2 years

3 years

65

Sirifort College of Computer Technology & Management, Plot No. 8, Sector – 25, Rohini, New Delhi

BCA

BCA (2nd shift)

B.Com. (Hons.)

BBA

3 years

3 years

3 years

3 years

66

Sant Hari Dass College of Higher Education, (Opp. Air Force Station), Bani Camp, Najafgarh, New Delhi – 43

B.Ed.

BBA

2 years

3 years

67

Sri Ram Institute of Teacher Education Village Bamnoli, Sector-28, Dwarka, New Delhi - 110045

B.Ed.

2 years

68

Sri Guru Tegh Bahadur Institute of Management and Information Technology Gurudwara Nanak Piao, G.T.K. Road, Delhi - 110033

BBA

BCA

BCA (2nd shift)

BBA (B&I)

BBA (2nd Shift)

BBA (B&I) (2nd Shift)

3 years

3 years

3 years

3 years

3 years

3 years

69

Ashtavakra Institute of Rehabilitation Sciences and Research, Institutional Area, Sector-14, Madhuban Chowk, Rohini, Delhi 110085

B.Ed. Spl. Edu. (MR)

B.Ed. Spl. Edu. (HI)

BASLP

B.Ed. Spl. Edu. (ASD)

2 years

2 years

4 years

2 years

70

Shri Krishna College of Education, Plot / Khasra: 234, Johnamani, Daula, Baghpat, Uttar Pradesh

B. Ed.

BBA LLB (Integrated)

BA LLB (Integrated)

2 years

5 years

5 years

71

St. Stephen's College of Nursing, Tis Hazari, Delhi

B.Sc. (H) Nursing

M.Sc. (H) Nursing

4 years

2 years

72

St. Lawrence College of Higher Education, Geeta Colony, Facility Center, Delhi - 110030

B.Ed.

2 years

73

Trinity Institute of Professional Studies, Sec - 9, Dwarka, (Adjacent to Metro Piller No. 1160), New Delhi - 110075

BBA

BBA (2nd Shift)

BCA

BCA (2nd shift)

BJMC

BJMC (2nd shift)

B.Com. (Hons.)

B.Com. (Hons.) (2nd shift)

3 years

3 years

3 years

3 years

3 years

3 years

3 years

3 years

74

SGIT School of Management, NH-24, Opp. Jindal Pipes Ltd., Jindal Nagar, Gaziabad - 201302

BBA

BCA

3 years

3 years

75

Tecnia Institute of Advanced Studies, Madhuban Chowk, Rohini, Delhi - 110085

BBA

BBA (2nd Shift)

BJMC

BJMC (2nd shift)

MBA

MBA (2nd shift

MCA

MCA (2nd shift)

3 years

3 years

3 years

3 years

2 years

2 years

3 years

3 years

76

Vivekananda Institute of Professional Studies, AU Block (Outer Ring Road), Pitampura, New Delhi

BA LLB (Integrated)

BBA LLB (Integrated)

BJMC

BJMC (2nd Shift)

BCA

BCA (2nd Shift)

BBA

BBA (2nd Shift)

BBA (B&I)

B.Com. (Hons.)

LLM (Corporate Law)

MCA

B.A. (Hons.) (Economics)

LLM (ADR)

5 years

5 years

3 years

3 years

3 years

3 years

3 years

3 years

3 years

3 years

1 year

3 years

3 years




1 year

77

Vastu Kala Academy, 9/1, Aruna Asaf Ali Marg, New Delhi - 110067

B.Arch.

5 years

78

V.D. Institute of Technology, Krishan Vihar, Sultan Puri, Delhi - 41

B.Ed.

2 years

79

Delhi Global Institute of Management, Village Jasana, Tigaon Road, Faridabad, Haryana

MBA

2 years

80

BM Institute of Engineering & Technology, Behind Fazilpur Power Station Sonepat, Bahalgarh Road, Village Raipur, Sonepat, Haryana

B. Tech (CE)

B. Tech (CSE)

B. Tech (ECE)

B. Tech (EEE)

B. Tech (ME)

BBA

BCA

MBA

4 years

4 years

4 years

4 years

4 years

3 years

3 years

2 years

81

Leelawati Munshi College of Education, Bharatiya Vidya Bhavan 01, Kasturba Gandhi Marg, New Delhi 110001

B.Ed.

2 years

82

Bhagwan Mahaveer College of Engineering & Management, Jatheri Road, Barota Chowki, Jagdishpur, Sonepat

B. Tech (CE)

B. Tech (CSE)

B. Tech (ECE)

B. Tech (EEE)

B. Tech (IT)

4 years

4 years

4 years

4 years

4 years

83

National Heart Institute, 49-50, Community Centre, East of Kailash, New Delhi 110065

M.Sc. (Nursing) CVTN

2 years

Read More: