CUET FAQs 2022 (Frequently Asked Questions) - Attempts, Exam Format, Syllabus, Pattern
CUET FAQs 2022 - A large number of candidates appearing for CUET 2022 must know about all the details regarding the examination. Many aspirants have tons of doubts related to the CUET (previously known as CUCET), and reading about CUCET FAQs 2022 will solve many queries in a candidate's mind.
Stay up-to date with CUET News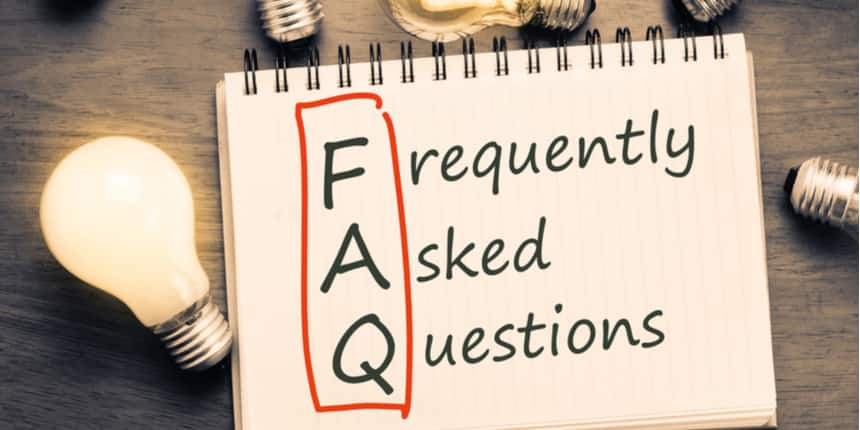 CUET 2022 is a national-level examination for aspirants who want to take admission in multiple undergraduate, postgraduate and Integrated PG programmes offered by the central universities. CUET FAQs 2022 will address the queries related to application forms, submission of admission fees, necessary documents to the merit list, cut off, and the process involved, participating universities, exam pattern. Aspiring candidates are advised to read the entire article about CUET 2022 FAQs.
4 min read
Mar 05, 2022
Read More
CUET 2022 Frequently Asked Questions - FAQs
Question 1. What is CUET 2022?
Ans. The Common University Entrance Test (CUET 2022) will be held for admission to undergraduate programmes in around all central universities (as planned). Through this national-level test, students may apply for admission to participating central universities (PU) across the country through a single window.
Question 2. Which universities are participating in CUET 2022?
Ans. Previously CUET had 12 participating universities, but now authorities have planned to include around all central universities under the ambit of CUET. Out of the 54, DU, JNU and many more have confirmed admissions through CUET in 2022. Hence, admissions to JNU and DU will be conducted on the basis of CUET 2022.
4 min read
Mar 05, 2022
Read More
8 min read
Mar 05, 2022
Read More
List of CUET Participating University (As per 2021)
Question 3. What is the exam pattern of CU-CET 2022?
Ans: CUET 2022 exam will have 175 questions (Objective and Multiple Choice Questions).
The duration of CUET 2022 for slot 1 will be 3 hours and 15 minutes and slot 2 will be 3 hours and 45 minutes.
The CUET exam 2022 will consist of 4 section - Section IA, section IB, section II and section III.
Section IA and - 13 Languages.
Section IB - 19 Languages.
Section II - 27 Domain-specific subjects
Section III - General knowledge, current affairs, general mental ability, numerical ability, quantitative reasoning and logical and analytical reasoning.
For each wrong answer, there will be a deduction of 0.25 marks.
Popular Online Arts And Crafts Courses and Certifications
Question 4. What language will the question paper be in?
Ans: The medium of the CU-CET paper will be English except for language courses.
Question 5. What are the examination dates for CUET 2022?
Ans: CUET 2022 will be conducted in the first and second week of July 2022.
Question 6. What is the last date of submitting the CU-CET 2022 application form?
Ans. The last date of submitting the CUET application form 2022 is May 31.
Question 7. What are the different modes to apply for CUET 2022?
Ans: CUET 2022 application forms can only be submitted through online mode. The application form will not be accepted by any other mode.
Question 8. How will the admissions be given?
Ans: The admissions process for each of these central universities is handled separately. According to the weightage on the CUET 2022 score and the other criteria at the participating universities, the respective central universities will announce the counselling process and admission schedule following the CUET 2022 results. Details can be found on the website of the concerned university. Online admission counselling will be available for some universities with an additional fee.
Question 9. Can a candidate submit two application forms for two courses at a time?
Ans. Applicants as per eligibility can apply for multiple courses, however, candidates shall not apply for a duplicate or multiple forms of the same course, which may lead to the cancellation of all his/her application forms.
Question 10. Can anyone use her/his friend's email address when registering for?
Ans. No, candidates need to use a valid and unique email address of the applicant only as all communications are through registered email ID or SMS. In addition, no candidate will be able to change or edit the mobile number and email address on the application form later as these particulars are fixed.
Question 11. What documents or certificates do I need to upload along with the application form?
Ans. Candidates need to upload scanned images of their photograph and signature with the application form. No certificates are required to be uploaded along with the application form at the time of online submission. The documents/certificates etc. shall be verified directly at the time of admission by the university.
Question 12. What are the ways to pay the CUET application fee 2022?
Ans. CUET 2022 fee can be paid via SBI, Canara Bank, HDFC Bank, ICICI Bank, and Paytm and via Debit Card/Credit Card/Net Banking/UPI/ Wallet. Candidates need to keep the printout of the receipt.
In case the "Confirmation Page" is not generated after payment of fee then the transaction is cancelled, and the amount will be refunded to the candidate's account. However, the candidate has to make another transaction, in case the "Confirmation Page" is not generated.
Question 13. What is the examination fee for CUET 2022 for UG programmes? Is it different if I apply for more programmes in participating universities?
Ans. The examination fee details are as follows:
| | |
| --- | --- |
| Category | Application fee for UG |
| General category | Rs. 650/- |
| General-EWS/OBC NCL | Rs. 600/- |
| PwBD/SC/ST/Third gender | Rs. 550 |
An applicant can pay the CUET 2022 application fee through net-banking/debit/credit card/UPI/Wallet.

GST and other taxes as applicable by Govt. of India/ Bank. An applicant can apply for both the CUET 2022 exam (UIQP01 and UIQP02) test paper code by paying the application fee as mentioned above.

Applicants are advised to read the payment instructions carefully before paying the application fee.
Question 15. Do candidates need to send the "Confirmation Page" to NTA?
Ans. The candidates are not required to send/ submit the "Confirmation Page" of the online application form (or any document) to NTA.
Question 16. How can a mistake be rectified by a candidate in CU-CET application form 2022?
Ans. Once the candidates have submitted their CUET 2022 application form, no changes can be made further. However, NTA may open a correction window and after the closure of the window, all particulars entered by the candidate would be considered as final.
Question 17. What should I do if the "Confirmation Page" didn't load after the CUET 2022 application payment?
Ans. If the "Confirmation Page" is not generated within 24 hours, applicants need to raise a query in the query redressal system or send an email at cuet@nta.ac.in with their mobile number, application number, payment reference number, and proof of payment.
Question 18. If a candidate made double payment of the CUET 2022 application form, will it be possible to get a refund from the authorities?
Ans. Yes, if any candidate has made a double payment, the extra amount will be refunded to the candidate, within 24 hours.
Question 19. How can an applicant get the CUET admit card 2022?
Ans. CUET 2022 admit card will be uploaded by the conducting authority NTA on the official website (cuet.samarth.ac.in). Candidates need to check their respective admit card carefully for all particulars.
Question 20. What would I do if I am unable to download the CUET admit card 2022?
Ans. In case of any problem, candidates need to contact CUET help desk no. 011 40759000 between 09:30 A.M. to 5:30 P.M. or write them at cuet@nta.ac.in.
Question 21. After downloading the CUET 2022 admit card, can I change the allotted CUET exam centres 2022?
Ans. No, candidates will not be allowed to change their allotted CUET 2022 exam centres after the distribution of CUCET admit card 2022.
Question 22. Do I need to bring any documents with me to the examination centre?
Ans. Candidates must bring the following documents on the day of examination at the test centre:
Admit Card along with undertaking downloaded from the NTA website (a clear printout on A4 size paper)

Any photo ID proof (Aadhar Card, Driving Licence, Passport, Ration Card, PAN Card)
Question 23. Should I carry my own paper for rough work to the CUET exam centre 2022?
Ans. No, candidates are not allowed to carry any sort of paper with them in the examination centre. Rough sheets will be provided by the CUET 2022 exam centres.
Question 24. What should I do when I am using the computer mode to answer questions?
Ans. Before starting the CUET 2022 exam, candidates are required to read the instructions that will be given on their respective screen. It is advisable for a candidate to to practice CUET 2022 sample papers, for a transparent understanding.
Question 25. Is it possible to take the exam on any computer?
Ans. No, candidates have to appear at the CUET exam centres 2022 for the examination. If they fail to do so, their application will be rejected.
Question 26. Would it be possible for me to move between questions?
Ans. Yes, candidates will be allowed to move between questions. Even answer options can be changed at any time before the submit button is pressed.
Question 27. During the examination, what precautions do I need to take?
Ans. During examination candidates must these instructions:
Every candidate should read all the details and match them according to their CUET 2022 admit card.

Please ensure that the name of the subject on the screen is the same as per your admit card. In case of any gap please inform invigilators immediately.

The candidates must attempt subjects as per their choice in the application, so they must exercise choice carefully. Once printed on the admit card it will not be changed.
Question 28. Is there any provision for candidates who cannot attend the CUET 2022 examination on the scheduled date?
Ans. No candidate will be allowed to appear at the CUET 2022 exam centre on /date/timings other than that allotted to them in their admit card.
Question 29. What facilities will be provided to a candidate in the CU-CET exam centres 2022?
Ans. Candidates will be given these following things:
A desk with a computer terminal and white sheets for rough work.

Every candidate would also be offered a mask. They would be provided material for hand sanitization too.
Question 30. What would happen if my computer stopped working during my exam at my CUET exam centre 2022?
Ans. In any case of technical difficulties, you need to inform the invigilator immediately. He/she will fix the issue or will map you to another PC through a proper process. Your exam time in the next session will commence from the time you discontinued your exam, there would be no loss of time for you.
Student Also Liked:
Question 31. Who will determine the final merit list for the admission? How would the results be declared?
Ans. NTA will publish the CUET 2022 results. After that the admission exercise (including counselling) shall be handled by central university officials only.
Read more
Questions related to CUET
Showing 1658 out of 1658 Questions