TMU VC Raghuvir Singh's Interview - "We aim to make students industry ready"
Established in 2008, Teerthanker Mahaveer University, Moradabad is an institution that offers career oriented programmes in several disciplines, across various streams. The university aims to provide multidisciplinary experience to its students by imparting them with quality education and making them industry ready. TMU has 14 on-campus colleges and two independent teaching departments, with more than 950 faculties. The university has collaborations with more than 50 national and international universities which provides global exposure to the students by offering options like student exchange programmes and higher studies. In terms of facilities and services, TMU has everything that students aspire to have in their dream university. In an interview with Careers360, Raghuvir Singh, Vice-Chancellor, TMU delves deep into explaining the admission process, infrastructure, placement opportunities and shares more insights about the institution.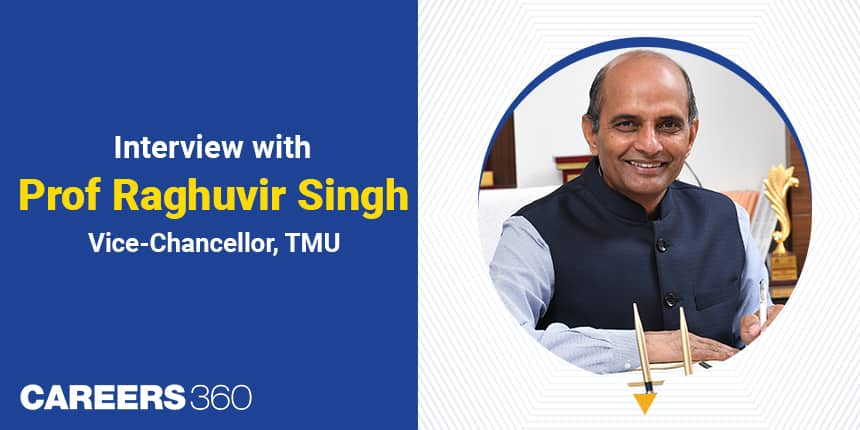 Careers360: Tell us something about the admission process?
Raghuvir Singh (RS): The application form is made available both online (on the official website of the university) and offline (on the university campus). Applicants have to pay a registration fee of Rs 100 through online mode or cash. For nursing, paramedical and pharmacy courses of TMU, the admissions are done with the help of an entrance test. The seats in the remaining programmes are filled based on the merit formed through the last qualifying examination marks. At the final stage, the selected candidates have to confirm their admissions by paying the required admission fee either through online mode, cash or by visiting in-person at university campus.
Careers360: Tell us something about the vision and mission of the institute. When was it set up?
RS: Teerthanker Mahaveer University is a prestigious and accomplished multidisciplinary institute that offers career-oriented programmes at all levels, i.e., UG, PG, and Doctoral degrees across diverse streams. The vision of the institute is to be recognized as a premier institute of excellence providing quality education, research, and consultancy services to society. The mission of TMU is to impart knowledge and develop critical skills necessary to succeed both in professional and personal life by promoting learning supported by world-class faculty, infrastructure, technology, curricula, and collaborative teaching and research with premier institutions in India and abroad.
Also Read:
Careers360: What kind of infrastructure can students expect at the institute? Please elaborate?
RS: TMU Moradabad, spread across 140 acres of vast expanse, exhibits ornate, state-of-the-art infrastructure with luxurious amenities inside the campus premises for the staff and the students. The campus has all the essential plus exclusive amenities like hostels for boys and girls with AC & Non AC facility, spacious rooms, mess with sumptuous clean food, restaurants, eateries to have tastes of different trending cuisines for the staff and students to savor; bank branch with postings of ATM units across the campus; 24x7 CCTV surveillance and security for hostels and gates; indoor stadium, gym, outdoor sit-outs, stationery stores; auditorium, TMU multi-super specialty hospital with 1008 bed capacity. TMU colleges are furnished with smart classroom facilities, technical laboratories with the latest materials and equipment. The other TMU facilities include libraries with more than 2 lakh books, student clubs, lecture theatres and multiple subscriptions to online databases.
Careers360: Can you please share details if there is any collaboration with universities abroad?
RS: TMU has collaborations with numerous national and international research institutes, universities, and colleges of various fields like medical, pharmacy and technology.
Few of these international collaborations are:
1. Construction Industry Development Council (CIDC)
2. Polytechnic Nantes (France)
3. Sol Bridge International Business school (South Korea)
4. Jean Moulin Lyon 3 University (France)
5. Tabesh University (Afghanistan)
6. Kenyatta University (Kenya)
7. Asian Institute of Medical Science
8. Vanier College (Canada)
9. Limerick Institute of Technology (Ireland)
10. London School of Training (UK)
11. The University of Regina (Canada)
12. Edinburgh Napier University (Edinburgh)
Careers360: A lot of stress is being given with regard to interaction with the industry as well as companies that recruit. What are the steps being taken by the institute in this direction?
RS: Teerthanker Mahaveer University, since the start, heavily relied on teaching the industrial relevant practices, and hence it has garnered a positive reflection on the placements and internships quotient. The first and foremost step at TMU is to make the studies industry suited by involving industry experts in curriculum planning.
TMU's students are given hands-on practical training about the working of the advanced equipment. The university also provides the student's in-house training to enhance their technical skills by building projects using recent technologies such as Python, Machine Learning, Android and Advance Java, etc. The university has academic and industrial collaborations with companies like IBM, CISCO, Wipro Technologies, Google, Tally Academy, Bharat Seat, ABB, CADD, PROLIFIC, SIEMENS and I-Nurture to expose the students to the latest trends and technologies in the industry, thereby enhancing the students' employability.
Careers360: Internships are now mandatory as per AICTE guidelines. Does the institute help students with this? If yes, how?
RS: TMU has always given importance to industrial training and exposure and has undertaken numerous steps towards successful industrial-academia collaborations with companies, experts, etc. The university-level placement team is always on the lookout for proposing numerous activities to its students. Since their first year, the students are given training for inculcating soft skills and other industry valuable pieces of training to boost their confidence. Alumni interactions and hands-on workshops have also assisted the better grooming of the professional.
Careers360: Please share placement statistics with information on the average package, highest and lowest package, number of students placed, and details of companies that have recruited?
RS: In the year 2020, around 2800+ TMU students found successful placement at various companies with good packages. The students received an average package of Rs 3.6 LPA , minimum package of Rs 2.4 LPA and the maximum package of 21 LPA.
Some of the brands and MNCs like Nestle, Tech Mahindra, Wipro, Airtel, TCS, Just Dial, Axis Bank, Cognizant, Medanta, Apollo Hospitals, Karvy, Home Shop18, Mahindra Motors, L&T, Infosys, Flipkart, Reliance Jio, Paisa Bazaar, HCL, etc paid visit to the institute and recruited students for different job roles.
Read More:
Questions related to Teerthanker Mahaveer University, Moradabad
Showing 20 out of 20 Questions