GNA University VC VK Rattan's Interview - "We nurture students to become 21st century leaders"
GNA University is one of the private universities that offer education in various disciplines such as animation, engineering, management, hotel management and catering technology. Situated in Phagwara, a town in Punjab, GNA University aims to produce students with the quality education and polish them with 21st-century skills which enables them to be ready for the real-life problems and nurture in them problem-solving approach. The university has a strong placement assistance programme, state-of-the-art infrastructure and tie-ups with 250 universities across 84 countries including the USA, Italy, Tunisia and Lithuania. Read the full interview with VK Rattan, Vice-Chancellor of GNA University, where he throws light on the objective of the university, infrastructure, placements figures and admission process.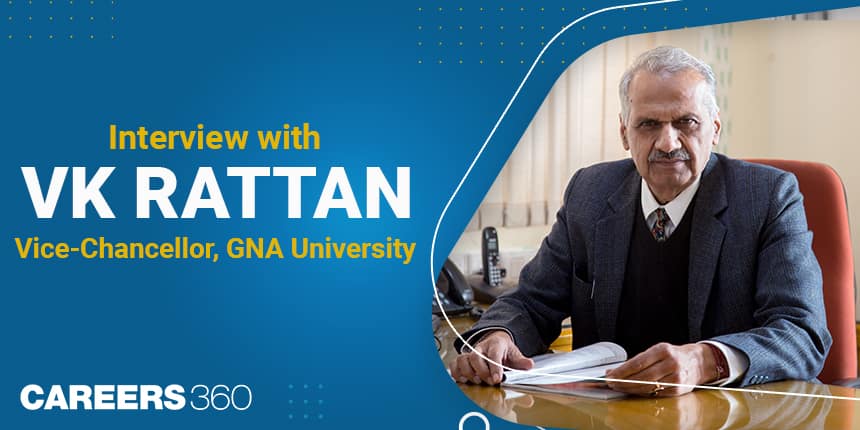 Excerpts from the interview:
Careers360: Tell us something about the vision and mission of the institute. When was it set up?
VK Rattan: GNA University is an UGC-approved private university situated in Sri Hargobindgarh, Phagwara, Punjab. It was established in 2014 and offers undergraduate, postgraduate, diploma and PhD courses in management, engineering and technology, animation, hotel management and catering technology, sciences and physical education. The objective of the university is to provide employment-oriented, value-based professional and traditional education. GNA University is spread across 50 acres and has a state of the arts campus with an intriguing library, a cafeteria, sports ground, a large auditorium and a parking lot.
GNA University gives students a platform to enhance and upgrade their skills and build their personality so that they can become global citizens who will be ready to take up the challenges of the 21st century.
GNA University aspires to nurture value-based leaders who have the knowledge and skills to create success in their organizations. The university seeks to improve the quality of life through an eclectic blend of science, technology and humanities for innovative solutions to real-life problems. The university is engaged in imparting, creating, preserving and propagating knowledge in the global context.
Careers360: Tell us something about the GNA admission process?
VK Rattan: Aspirants have to first of all opt for a programme of their choice as per the eligibility criteria. Further, an application form (available on the official website) has to be submitted either online or personally at the campus admission cell. At the next stage, the candidates with realistic chances of being offered a place will be invited for an interview. Finally, the decision to offer admission to the eligible candidates will be taken.
Also Read: GNA University Admission Process
Careers360: What kind of infrastructure can students expect at the institute? Please elaborate?
VK Rattan: GNA University campus has all the modern facilities and state-of-the-art infrastructure for the overall development of the student. The lecture halls and seminar rooms at the campus are equipped with audio-visual aids and LCD projectors. The university has an auditorium that is used for seminars, fests, presentations and events. The seminar hall is well connected to the internet, LCD projectors, and whiteboards. The campus has a well-stocked library with books and e-journals from various disciplines.
There is a hostel facility available for both male and female students. The hostel rooms are well-ventilated, with a common TV area and cafeteria for the students. At GNA a lot of attention is paid to sports and extracurricular activities. Facilities for indoor and outdoor games such as basketball courts, cricket ground, football field, badminton and tennis court are available for the students.
The GNA University campus also has a medical center, canteen and gymnasium for the students. An ATM, stationery shop are also present on the campus. Moreover, the university has dedicated practical labs to all the courses.
Careers360: A lot of stress is given with regard to interaction with the industry as well as companies that recruit. What are the steps being taken by the institute in this direction?
VK Rattan: GNA University placement cell has been working hard for years to bag the right set of opportunities for the students. The placement cell has 500+ corporate associates which gives the university a wide range of options for placing the students. The university starts preparing students for the final placement from the first semester itself. Corporate engagement division focuses on final GNA University placement, professional grooming, industry based curriculum development and internships. The placement cell of the college arranges lectures by eminent industry professionals which enables them to have a wide perspective. Students of GNA University are made to attend industrial visits which helps them to understand industrial working. Companies such as IndusInd Bank, TVS, LG, Havells, Volvo, HDFC Bank, Samsung, Decathlon, Eicher, Bosch are the regular recruiters at the university.
Also Read:
Careers360: Internships are now mandatory as per AICTE guidelines. Does the institute help students with this? If yes, how?
VK Rattan: Our students are given options of both in-house internships and live industry internships during their course at GNA University. For computers and IT programmes, we have academic collaborations with brands like AWS academy, PALO ALTO, CISCO, UiPATH, BLUE PRISM, JUNIPER, and TABLEAU etc to offer in campus training which leads to global certifications. These certifications helps students get pre-placement offers and internships with the best names of the industry. Students also do Internships with Industry during their 6-month training across India..
For CORE engineering like mechanical and automation, robotics and automation students have inhouse teams of experts who help them with the mapping industry with skills they have acquired during their courses.
Careers360: Can you please share details if there is any collaboration with universities abroad?
VK Rattan: GNA University is an approved center for BTEC Pearson which has collaboration with more than 250 Universities across 84 countries. The university provides engineering, business, computing, hospitality and international travel and tourism management. Apart from BTEC Pearson, GNA University has tie-ups with:
Fort Hays State University - US

Wichita State University - US

University of La Verne - US

The University of Kwazulu -NATAL (For B. Tech. Aerospace Engineering)

Vilnius University - Lithuania (For Liberal Arts and Business Programs)

Australian Institute of Management and Technology (For Business Programs)

University College of Aviation and Technology - ESAT, Tunisia

UET Italia - Italy ( For Hospitality)

EC Council University - US (Cyber Security)
Careers360: Please share placement statistics with information on the average package, highest and lowest package, number of students placed and details of companies that have recruited?
VK Rattan: In session 2020-21, more than 150 students got placed with an average package of 2.4 lakhs and the maximum package of 26 lakhs. Some of the companies which recruited the students from GNA University are Artech, Axis Bank, Bank of America, Cvent, HCL, Infosys, Kotak Securities, L&T Technology, Mphasis, Nagarro, PayTM, Rakuten, Ramada, Reliance Retail, SBI Life, Shriram Group, Sonalika, SportKing, Teleperformance, Wells Fargo and XL Dynamics.
Read More:
Questions related to GNA University, Phagwara
Showing 16 out of 16 Questions