College Life at Banaras Hindu University with Rohit Rai
Banaras Hindu University (BHU) is one of the most well known universities in India. Many students from all over the country want to graduate from this university. Banaras Hindu University offers many undergraduate and postgraduate programmes in various disciplines. To get more insight on what kind of educational facilities are offered at Banaras Hindu University (BHU) we discussed with Rohit Rai who is a 1st year student of B.Com (Hons.) at Banaras Hindu University. He is currently studying in BHU and living in Varanasi. We asked him various questions to cover all the facets of Banaras Hindu University whether it's good or bad. So, let's explore the Banaras Hindu University (BHU) with Rohit Rai through his perspective.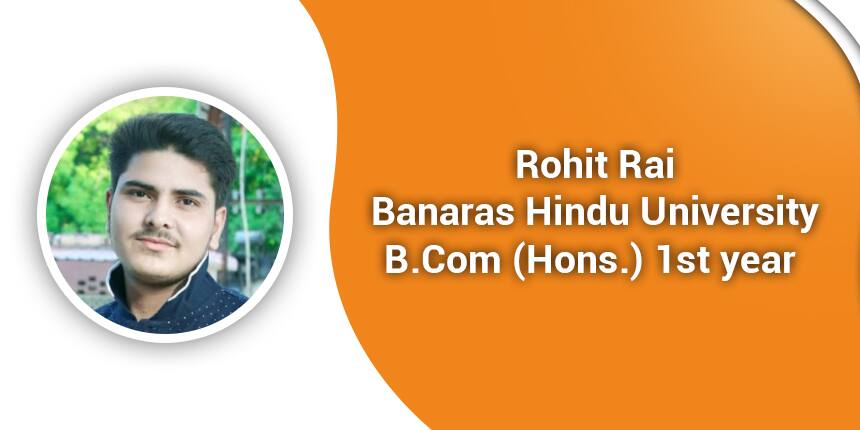 Careers360: Tell us something about yourself. Where are you from?
Rohit Rai (RR): I am a native of Ghazipur (UP) and currently live in Varanasi.
Careers360: Which discipline and year are you in?
RR: I am a 1st year student of B.Com (Hons.) at Banaras Hindu University.
Careers360: Were there any initial problems and hiccups that you faced during the initial months when everything at the Banaras Hindu University was new? How was the support from the college and seniors? How has your journey been so far at the Banaras Hindu University?
RR: Yes, I faced many problems during the initial stages of my college life as I was far away from home and family. My seniors and college helped me a lot to set up there and they always inspired me to give my best in everything such as competition, performing works of college club etc.
Careers360: What activities are offered in the Banaras Hindu University? Are there any clubs etc for the various extracurricular activities? Which ones have you taken up and are a part of?
RR: I am a core member of Nirvahan, the Finance and Technology Club of Banaras Hindu University and I love to come and take responsibility. I attend many seminars and skill development workshops.
Careers360: Describe a typical day at your institute – what do you do from the time you wake up till you go to sleep?
RR: I wake at 8 AM and around 9 AM I get ready to go to mess for breakfast. Then, I go to the library and read some articles, newspapers and then at 11 am my class starts which ends at 4 pm. After that I go to the hostel to relax and in the evening I go to the ground to play football and then come back to the hostel at 6:30 PM to eat some snacks and then start playing badminton till 9 pm. I go to mess to eat dinner at 10 pm and then gossip with roommates till 11 pm and then complete my homework and assignment before going to bed for sleep.
Careers360: Describe facilities at the campus in brief? What do you like the most here? What is the most unique and differentiating feature here?
RR: I study in India's 3rd ranked university so every facility from bus service to health service and other important things are available here. Our campus is situated near the Vishwanath temple. This is an unique tourist attraction and I like it.
Careers360: Are your academic requirements being met fully?
RR: Yes, my every requirement is being fully met.
Careers360: What's the DNA of the college - the academics or the overall development of a student?
RR: My college does a very good job of student development with top faculty teachers and placement cells.
Careers360: How comfortable are your hostel facilities in terms of cleanliness, service? What do you do if there are any problems?
RR: Overall my hostel is good but sometimes I face some problems with wi-fi and cleanliness.
Careers360: What are your future plans? Any advice to other students who are looking at colleges before taking admissions?
RR: My future plan is to crack CAT and do my PGDM from a top business school in India and then work in the marketing sector because I love to explore. Banaras Hindu University will help you to become more disciplined and improve your career.
Also Read:
Campus Life at Christ University - Pooja A shares her experience
Questions related to BHU
Showing 4989 out of 4989 Questions