Brainware University VC Interview: "We offer market-driven, interdisciplinary courses"
While seeking admission in a UG or a PG course, the most common questions in a student's mind include – is the course apt, what about the placements, how's the infrastructure and facilities, and how good is the faculty? If you are from West Bengal (WB) or by anyway, look forward to securing a seat at Brainware University Kolkata, then this interview is for you, as it carries all the information you need to know about the facilities, courses, admission process, faculty members, placements, etc. Careers360 brings this interview with Brainware University VC, Sankar Gangopadhyay who talks about various aspects of the varsity, what does it stand for, its vision and mission, admission process, internship assistance, foreign collaborations, placements, and much more.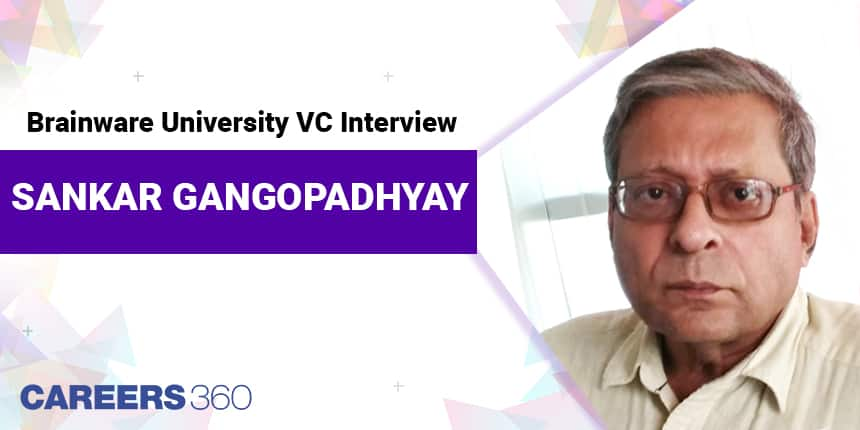 Also Read:
Careers360: Tell us something about the university - when was it established and what's its vision and mission?
Sankar Gangopadhyay (SG): Brainware University was established in 2016 as a UGC-recognised, state private university in West Bengal and offers over 60 PhD, PG, UG, Diploma and Skills programmes to over 10,000 students on its state-of-the-art, sprawling, green, ragging-free campus.
The vision of Brainware University is to cast a transformative light on society and students by promoting quality education and research facilities at affordable fees.
Mission of Brainware University
Create market-driven, diverse and interdisciplinary undergraduate and post-graduate programmes that effectively combine quality with affordability.

Pursue significantly new educational and research initiatives and develop young professionals who will be exceptionally proficient in their fields with an insatiable hunger for knowledge.

Seek to attain the highest standard in academic excellence by building the best possible industry-academics interface.

Actively encourage entrepreneurship among students through well-planned training programmes and the creation of incubation facilities.

Proactively undertake skill development and women's empowerment in rural areas.

Develop a fully functional Centre for Liberal Arts to encourage creativity among all students.
Also Read:
TMU VC Raghuvir Singh's Interview - "We aim to make students industry ready"
GNA University VC VK Rattan's Interview - "We nurture students to become 21st century leaders"
Careers360: Tell us something about the Brainware University admission process at the varsity?
SG: Our highly trained team of career counsellors will personally assess your entire academic performance, your career aspirations, interest, your education budget and accordingly tailor a career path for you; the programme that will reap the best career opportunity for your personality, where should you go, what should you do. If necessary, we also personally interact with the parents, with whom we are in constant touch throughout the academic journey. We always encourage students to visit our campus (visit in person or watch online campus tour videos) and decide it for themselves.
The various stages of the admission process includes the following steps:
1. Select the programme
2. Apply online/contact admission department
3. Get/ask for an online admission form
4. Fill up the online admission form.
5. Appear in Brainware Entrance Test (BET) and qualify in BET.
6. Send all the documents as soft copies (required for admission, mentioned below) to the contact person by mail/Whatsapp
7. Make payment (through NEFT, IMPS, UPI) and send the payment details to contact person by mail/Whatsapp
8. Complete the procedure of "Anti-Ragging form". Our admission cell will guide you to do this.
9. Brainware University will issue an Admission Letter to confirm the completion of the admission procedure.
Also Read:
Careers360: What kind of infrastructure and facilities can students expect at the university? Please elaborate.
SG: At Brainware University we are constantly striving to deliver the best-in-class learning support to our students at the most affordable course fee. Besides following a curriculum curated by the most experienced professors and top industry professionals in keeping with the global learning standards, ours is a state-of-the-art knowledge campus nestled in the heart of greens, providing the perfect learning ambiance.
We have high tech research labs and workshops for all departments engineered to perform advanced and critical experiments, ICT-services enabled classrooms, a digital library with access to major international and national archives, seminar halls and conference rooms, a 1000+ capacity auditorium, on-campus hostels for boys and girls, multi-sports arena among a host of benefits.
Our students also enjoy a host of services and amenities that includes talent clubs like photography, cinematography, entrepreneurship cell, communication, and services like legal aid clinics organised by the department of law to provide legal counsel to the financially underprivileged, mental health support for everyone, regular medical check-up, gymnasium, on-campus ATM, open-air multi-cuisine food court and not to mention a vibrant campus life abuzz with laughter and positive vibes.
Also Read:
Interview with Dr.Harsh Sadawarti, Vice Chancellor, CT University, Punjab
Interview with Dr P. Prakash, Vice Chancellor, SRM University, Sonepat, Haryana
Careers360: A lot of importance has been given to the interaction with the industry as well as companies that recruit. What are the steps that Brainware University is taking in this direction?
SG: Brainware University has established vital industry-institute connections across the globe. Industry-Institute-interface programme/industry-hospital tie-ups / industry visits / live projects are pivotal to all our programmes, carefully planned to maximise student exposure to the professional world from the early days of their academic years.
Several value-added courses are included in our programmes to train our students in industry-specific skill sets. For instance, we are knowledge partners with CISCO, RedHat which provides training and certification to our Cyber Security & Technology students.
Mandatory internships (with/without stipend) at reputed companies including top production, media, corporate houses, hospitals, laboratories and clinics are carefully curated each year for the final year students.
Our proactive placement team also plays a vital role in grooming our students' industry readiness. Intensive pre-placement training right from day one of student induction including communicative English training, personality grooming, soft skill, aptitude, EQT (Employability Quotient Test), interactive sessions with leading corporate HR professionals, masterclasses, mentoring help make our students job-ready well before the course is over. Our one-of-a-kind pre-placement training has reaped remarkable placement success of 97% even during the pandemic year.
Also Read:
UPES: A journey from specialized to multidisciplinary university - Dr. Sunil Rai, Vice Chancellor
CMR University Dean Sugant R's Interview: "We nurture creative thinkers to drive global change"
Careers360: Internships are now mandatory as per AICTE guidelines. Does the varsity help students with this?
SG: Please note that as per the PCI, BCI, AICTE, INC and WBAMPC guidelines, all students are provided mandatory internships.
Careers360: Can you please share details if there is any collaboration with universities abroad?
SG: Brainware University shares collaboration with Lincoln University College, Malaysia and Sichuan Technology and Business University, China. We are already working on student exchange programmes with some US and UK-based universities and we hope to implement them soon.
Also Read:
'Everything that is there in the west need not be the best' says CUG VC
IIMC Director General KG Suresh Interview- "We groom students to become industry-ready"
Careers360: Please share placement statistics with information on the average package, highest and lowest package, number of students placed and details of companies that have recruited.
SG: The Brainware University placement team is our pride. It placed 90% of its first outgoing master's degree batch that was ready for placements in 2018. Over the past four years, this record has never fell below 90%. Even in the Covid year 2020, 97% of students of the outgoing batch secured lucrative job opportunities pan India, with 12 LPA being the highest CTC and 2.5 LPA as the starting CTC. We have a network of 5000+ recruiters across the country. For the 2021 outgoing batch, our target is to place 100% students.
Also Read:
Filmmaking is an amalgamation of technology, art and business: Rahul Puri
Campus Life at Whistling Woods International - Thwisha Bhutani shares her experience
Questions related to Brainware University, Kolkata
Showing 16 out of 16 Questions