UPES: A journey from specialized to multidisciplinary university - Dr. Sunil Rai, Vice Chancellor
UPES is India's one of the top private universities which offers various multidisciplinary courses. Initially, UPES was an engineering specialized university which focused on the petroleum and oil sector. However, in 2018 UPES expanded its charter and included other courses under engineering such as mechanical engineering, electrical engineering, civil engineering, electronics engineering, the School for Law, the School for Business, the School of Health Science, the School for Design, the School of Modern Media and many more. UPES is also providing niche programmes to prepare it's students for a smooth transition from college to corporate life. UPES provides its students with knowledge not only from their opted programme but also from other programmes to broaden their minds.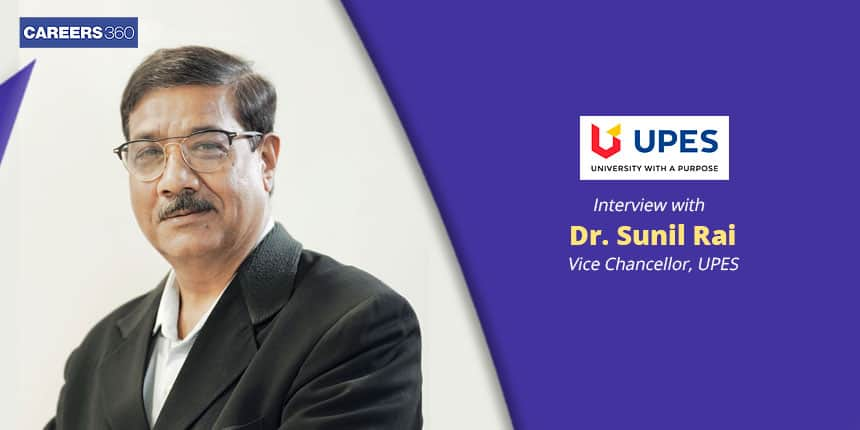 Careers360 interviewed Sunil Rai who is Vice Chancellor of the University of Petroleum and Energy Studies (UPES) to provide key inputs to the students about multidisciplinary courses and other important things. Read the following article for more information.
To view the interview with Dr. Sunil Rai, Vice Chancellor, UPES, click here.
Careers360: How will you use your NAAC A accreditation and the freedom it provides to improve the curriculum to get a better learning outcome for students ?
Answer: Now, we can design any type of programme with the permission of UGC. This gives us freedom to take a new initiative. This gives us freedom to collaborate with other foreign institutes and other leading institutes such as IITs and NITs. Now that we have a NAAC A rating other institutes also want to associate with us.
We can now also address the specific need of the industry for example all the programmes going forward will be focused on robotics. We are already heavy on as far as computer science is concerned on cloud computing and MAL along with an eborsity to keep them relevant. Even from the regulatory prospect, we now don't have any channels to answer as long as regulatory provisions are concerned.
Careers360: This current NEP is the most radical policy framework one could have thought of in the given circumstances. Can you take us through what the able philosophy that you have at UPES and how it connects with the latest NEP?
Answer: The major provision of NEP is that apart from the student's mobility across programmes across institutions which is a good thing for the students. Therefore, we have prepared our curriculum in such a manner that we can accept students from any other university and we have created our programme in such a manner that our students can join any other university. Secondly, there should be a holistic situation which means for engineering students it's important that we give inputs in history, literature, poetry, arts, culture, health, yoga, meditation and vedic science. This is important because basically things are extremely volatile now.
When you go through literature and poetry these are the most comprehensive holistic disciplines. These are not compartmentalized as it is in science, not to underplay things of science but what science does is it makes you look at things in narrow sense and focus but what literature does is to make see beyond what is being talked about and what is really being seen by the eyes. This is the kind of ability every student must develop and it makes him/her able to comprehend and deal with any kind of market situation and geography.
Careers360: What is your take on the NEP and the kind of specialization you offer?
Answer: It has been laid out in NEP that any king of discipline today one talks about will be multidisciplinary. If we have a B.Tech in Robotics and suppose Robotics is a specialized subject in MTech. The way automation is going forward, the discipline we will be involved in will be mechanical engineering to design the robot, electric engineering for the power system of the robot and computer science to programme the robot to consider emotions and health issues. Therefore, a university has to be multidisciplinary today.
Careers360: How do you see the UPES's infrastructure coping with Covid-19?
Answer: Infrastructure is a very important element and as far as UPES is concerned there are two distinguishably two types of experience - teaching-learning experience and student life.
1. Teaching-learning experience
Library - We have a very universal library and Our students can access it from anywhere they are connected to the internet through a software called Gyankosh and they can download books, paper and also demand the books they can get the books issued online. Ouer library is already catered for and requires a total online system.

Laboratory - The lab equipment for fundamental lab and project lab have very advanced equipment. UPES also keeps investing a sizeable percentage of its revenue into upgrading our lab infrastructure.

Classroom - The classrooms have already been made ready for a blended operation mould which means some students in the classroom and some will remain where they are. In the classroom size of 120, only 60 students will come and remaining students will attend online. The students will be swapped after three days every week.
2. Students Life
Hostel - Yes, there is a limitation in the campus. We have a plan to acquire additional land to create a hostel. First we will create a girl hostel and then one for boys.

Other facilities - Auditorium and sport facilities are right now just about satisfied. However, we are already in collaboration with FRI and other institutions so whenever we need ground Indian Military, FRI can lend us.
The infrastructure we are building is in work and through collaboration we are able to manage. Come after 3 years and there is 8 acre of land on which there will be a hostel, parking, cafeteria, clubs, ground for sports and recreation which will be handled by the student bodies.
Careers360: UPES has one of the best industrial collaborations. So,can you talk us through the relationship that you have with industry and how you are sinking that for better student outcomes?
Answer: We have three types of relationship with industry. First is that industry, including alumni, participates intricately in curriculum designing. Right from departmental apparel there is DCC where the representatives from industry then it goes to BOS (Bored of Study) which is the ultimate body for a school to decide that the curriculum is correct. So,
(a) The industry is involved in the curriculum development.
(b) We have relationships with select industries and even delivery and not only the way of delivery of classroom but delivery through lab, ACM, Microsoft, ONGC. These industries have created their own lab and software worth Rs. 300 crore that are actually being put by Halliburton for our students who are going to work in the gas and oil sector. ADOBE has created a lab in our design school which is now being used by students for designing, computer science and mechanical engineering. The industry is supporting us in terms of helping us with the lab software.
(c) In the third part of the industry collaboration is certification, so we are doing joint certification where students get their certification in health safety. Our programme is very popular and we are doing programmes with ADOBE in virtual reality and augmented reality.
So there are three types of collaboration - curriculum development, delivery and certification and besides we also work them on projects. Our faculty spends two month in the industry where they work with the industry, give their contribution, and this bargain draws a lot of real life knowledge from the industry.
Careers360: How does the collaboration help in internship and placement as which many students judge a university on?
Answer: This is the obvious corollary of our collaborations. If LNT has been a part of designing our curriculum of structural studies and when LNT or any other company has a requirement in the field of structurals engineers they know that this is LNT certified as they were part of it. So, not only does LNT see it but other industries also see this because LNT is a good name. Thus, this collaboration with industry is a reassurance to the industry when our students go for internships and placements. So, we are favoured by the industry to come to the campus and pick up our students which is why even in the pandemic when we have to shift from face to face to online mode of internship all 2600 students from last year got online internships. Out of all those internships 800 were given directly by the industry and rest were designed by our faculty but accommodated by the industry. After that, the result has been that we have a 100% placement for all those who wanted placement as some students wanted to do higher studies and some wanted the entrepreneurship route.
I think it's because of good industry collaboration, good training our CRD department does to the students and of course because of the resolve of the students. We get the best students in the country who work hard and this is also known to the industry.
Also Read:
Careers360: Can you also talk us through your career development cell and the 5 year placement assistance that you promise to students?
Answer: Yes, we promise five year placement assistance to the students and it's not like we will stop supporting you after 5 years. We are with you throughout life. When these students come in the first year, now there is school for life which talks about their attitude and behaviour. So, wherever there are gaps we help the students to actually come up, such as somebody who is shy, somebody who has personality issues, in such case school for life works. Besides our CRD administrators then take a test where they identify the students who might have problems. So all the students are divided into three categories - good to go, need a little help and need more help. We help them in their second and third year by involving them in workshop, extra remedial classes. Because of this, we are able to help students in second and third year and get better results.
Careers360: Can you take us through the scholarships or question that you have to push for inclusiveness in the university in terms of gender and socio-economic diversity?
Answer: We have a Shakti programme which provides 25% scholarship to the girl child. We also have scholarships for Uttarakhand students which is another 30% scholarship. So, the girls from Uttarakhand get half of the education for free. We make sure that gender diversity is not only in students but also in our staff and faculty.
UPES has never rejected students in want of financial needs. Even after joining, I get at least 50 to 100 requests each year where children tell us that they have lost their earning parent and we give them 50% scholarship. We support people with any kind of problem. We also support a school called Kurkul which teaches orphans. In last year's graduating class 8 students were from kurkul. We always support economically challenged students with whatever they need. Diversity in terms of geography comes fortunately for us as all states are well represented. Diversity of all types has become a common place for UPES.
Careers360: Where do you see UPES growing over the next 5 years?
Answer: Three things I would say in terms of vision.
Whatever UPES does we should be influencing society and technology which will help build the nation. That is the reason we are focusing a lot on energy. Because that's one area where the nation needs help and we are focusing on every discipline. We are focusing on health care. We will indulge in the kind of programme that will influence the requirements for society in the near future.

Currently we have 14,000 students and in the next five years we should be 25,000. We should address the needs of society in the near future such as we started school for modern media and the important part of vision and strategy is one must be very clear as to what not to do. Thus, we will be focusing on digital first and digital always.

We will get into computing, intelligent cyber security computing, secured computing. Every school has got this vision and we are working on it. We will do everything and anything that will build the nation and society.
Also Read:
UPES Dehradun Updates and Articles
Questions related to UPES Dehradun
Showing 111 out of 111 Questions