CMR University Dean Sugant R's Interview: "We nurture creative thinkers to drive global change"
CMR University is a private university offering multidisciplinary, interdisciplinary and cross-disciplinary programmes. To help its students transition from college life to the corporate world, CMR University has made internship an integral part of their curriculum. CMR University has also collaborated with various universities from other countries so that its students can broaden their spectrum of knowledge. In an interview with Careers360, Sugant R, Dean of School of Management and School of Economics and Commerce at CMR University takes us through the internships, vision, mission and admission process at the varsity.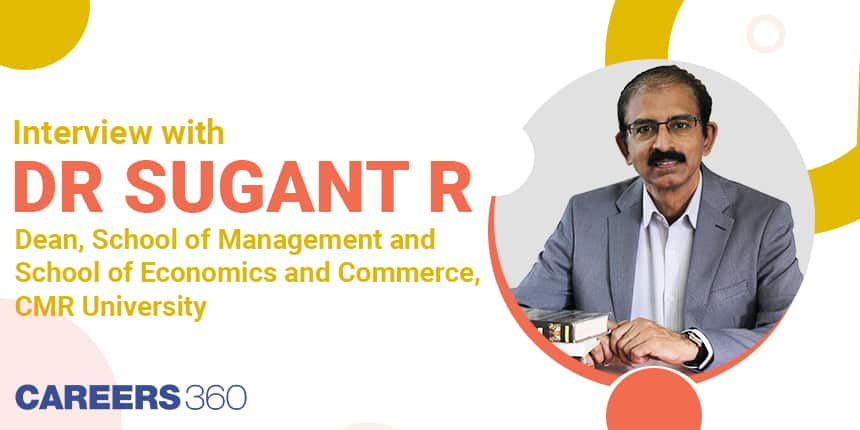 Careers360: Tell us something about the university; when it was set up, vision and mission?
Dr. Sugant R: CMR University, Bangalore is a private university in the state of Karnataka, established under the Act 45 in 2013. The university fosters creative communities where new ideas are nurtured, new discoveries made, and new creations shared. Our vision is to nurture creative thinkers who will drive positive global change.
Mission -
To offer multi, inter and cross-disciplinary modular programmes with technology-enabled teaching-learning processes.

To focus on research-led teaching and learning in an innovative and interdisciplinary learning environment; to create critical thinkers.

To create leaders for a knowledge based economy, with ethical demands of a society base.

To engage talented intellectual capital with diverse faculty strong in knowledge and experience.

To ensure transformation of learning into positive behaviour of students.
Careers360: Tell us something about the admission process?
Dr. Sugant R: The complete application process for CMRU admissions 2021 is paperless and online, keeping with the sustainability commitment of the university. Candidates meeting the eligibility criteria have to apply online at admissions.cmr.edu.in for admission to any programme.
Careers360: What kind of infrastructure can students expect at the university? Please elaborate?
Dr. Sugant R: CMR University has four state-of-the-art campuses located in HRBR Layout, Chagalatti, OMBR Layout, and Whitefield in the city of Bangalore. All these campuses provide all modern amenities for students to make their on-campus stay memorable and enriching.
Hostels - At CMR University, we prefer calling our hostels as "Student Quarters" or "Student Accommodations". The student quarters, separate for both boys and girls students, are managed by an exclusive Campus House that also focuses on introducing newer facilities for students based on feedback.
Library - The university library is a knowledge centre which has rich resources. The library is equipped with the best books, magazines, periodicals and journals as well as books, journals, e-books, e-journals, question banks, bound volumes, project reports, case studies, conference proceedings, and training manuals.
Careers360: A lot of focus is being given with regard to interaction with the industry as well as companies that recruit. What are the steps being taken by the university in this direction?
Dr. Sugant R: CMR University has developed cordial relationships with recruiters. This has resulted in the university introducing workplace experiences to students at an early level. Some steps taken by the university as far as interaction with industry is concerned are:
Partnerships with industry bodies (Memberships with NASSCOM, CII, Karnataka Chamber of Commerce, NHRD, NIPM)

Senior industry executives as Members of Board of Studies of different schools who advise the schools on contemporary and futuristic curriculum.

Practice Labs – Centre for Marketing Insights/Centre for HR Excellence of School of Management partners with industry/ industry bodies to enable real-world learning for students through live projects, assignments and industry interactions.

Guest Lectures by senior corporate executives

Conferences and Conclaves involving corporate leaders

CMRU Bangalore Placement partnerships with companies
Careers360: Internships are now mandatory as per AICTE guidelines. Does the university help students with this? If yes, how?
Dr. Sugant R: The concept of internships at internships is one of the unique features of the curriculum at CMR University. It provides students opportunities to spend quality time in the industry for 2-4 months in their pre-final year and final year of their course/programme to gain valuable ground exposure by being part of teams handling live and challenging projects. It enables them to work in areas of mutual interest, improve self-confidence, and develop core competence.
Further, the students are encouraged to pursue summer internships during the summer or winter breaks of second year and third year of their study. In addition to this, industries offer in-semester projects to students.
Also Read:
Careers360: Can you please share details if there is any collaboration with universities abroad?
Dr. Sugant R: Yes, CMR University has collaboration with the following universities:
Association of Chartered Certified Accountants (ACCA)

Chartered Institute of Management Accountants (CIMA)

Mzumbe University, Tanzania

United Nations Global Compact (PRME Educational Initiative)

Daffodil International University, Bangladesh

International Student Exchange Program, USA (ISEP)

Ariel University, USA

Virginia International University, USA

Ural Federal University, Russia

University of Grand Bassam, Ivory Coast

AIESEC

Al Zaiem Al Azhari University, Sudan

University of Huddersfield West Yorkshire, United Kingdom

Kyungpook National University, South Korea

Almaty Management University, Republic Of Kazakhstan
Careers360: Please share placement statistics with information on the average package, highest and lowest package, number of students placed and details of companies that have recruited.
Some of the recruiting companies include Bosch Limited, Capgemini, Goldman Sachs, HCL Technologies, BYJU'S, Deloitte India, EY Global Delivery Services, PwC, Thomson Reuters, HDFC Life, ICICI Bank Ltd, IDFC FIRST Bank Limited, USPL Airlabs, ZYOIN, Atos, HP Inc, Infosys, L&T Infotech, etc.
Salary offered by recruiters - school-wise
Schools

Salary offered

School of Economics and Commerce

Average - 314714

Maximum - 800000

Minimum - 250000

School of Engineering and Technology

Average - 421469

Maximum - 800000

Minimum - 250000

School of Management

Average - 337267

Maximum - 800000

Minimum - 250000

School of Social Sciences and Humanities

Average - 308750

Maximum - 800000

Minimum - 250000

School of Science Studies

Average - 329833

Maximum - 800000

Minimum - 250000
Number of offers made to students – 155
Highest recruiting sectors – Fintech, Banking, Healthcare, IT, EdTech, HR, Marketing, and Services.
Read More:
CMR University, Bangalore Updates and Articles
In an interview with Careers360, Shivani Pandey has shared her...
22 May 2021
In an interview with Careers360, Rebekah Alex has shared a few...
22 May 2021
Questions related to CMR University, Bangalore
Showing 4 out of 4 Questions