We believe in holistic development of students, than academic alone, says Dr Jaswinder Singh
How does one feel when pupils trained under your tutelage reach the acme spots across varied fields including science, research, sports, academics, et al! The feeling is that of pride and internal satisfaction, of having added some value to someone's life so that they excel in any given field. This is exactly what Dr Jaswinder Singh, Principal, Sri Guru Tegh Bahadur Khalsa College, Delhi feels to having fostered numerous such bellwethers. Striking a conversation with the Principal, Meha Mathur brings out several other aspects of the college.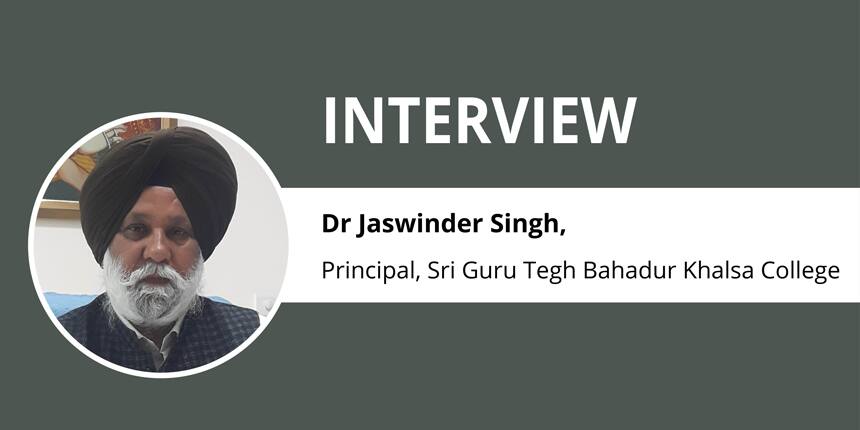 Excerpts from the Interview:
Careers360: Khalsa College has been ranked 23rd in the NIRF rankings of 2018. What factors contributed to this high rank?
Dr Jaswinder Singh: We are among comparable to best in research component and academic output. In fact we are among the top two, three colleges in the country, when it comes to quality research and citations. We also excel in terms of academic performance – our students graduate and do their post-graduation with good marks, securing good positions also. It's not just in Punjabi, which is our forte, but other disciplines too.
We also have very strong outreach programmes. We train army personnel and Delhi police in Forensic Sciences as we have a PG Diploma in Forensic Sciences. We have 11 registered patents for Forensic Sciences in the name of the college, and one patent has been commercialized.
We are champions in six prime games, including athletics, cross country, handball, ball badminton and badminton. We have many extra-curricular activities, with students competing in dramatics, photography, music, folk dances etc. So we are a very high performance college in holistic development.
Careers360: So then where are you lagging in NIRF rankings?
Dr Jaswinder Singh: We lag behind in public perception—what the society and corporate sector think about us. Despite the fact that our students are doing so well in all walks of life—in high-level projects, Silicon Valley, as scientists, as VCs of universities. Still, public perception gives more importance to Stephen's and other such colleges.
Also, being a minority institution we don't have reservations for SCs and STs and that carries weightage. Had we done that, our rank would have shot up.
Careers360: What makes this college a dynamic learning place?
Dr Jaswinder Singh: It all depends on the dedication of staff. We have a great culture of handholding by senior teachers to junior teachers so that right teaching culture can be established. It's an ethos of cooperation and when I became the principal, all the other faculty supported me. Our teachers are very bright, running international and national projects, and students learn from them on the projects too.
We have two teacher training centres and Government of India gave us projects worth 6.84 crore to prepare content for postgraduate teaching in six subjects. We have prepared it and uploaded it on UGC website so that teachers across the country can use it. In this process we have trained 1,000 teachers across the country on how to write content for online resource base.
Careers360: What are the biggest challenges before you?
Dr Jaswinder Singh: How to teach students in a meaningful way. We have been assigned as the National Resource Centre for Chemistry and we are working on improving classroom teaching in a blended mode. All resources need to be utlised. It can't be a chalk-and-talk mode alone. Of course, no technology can replace teachers. They are central to teaching.
The other challenge is to start vocational courses with high employability content and we are working on nine of them.
Questions related to SGTB Khalsa College
Showing 10 out of 10 Questions