Our aim is to be at par with international universities - Dr Savita Kelkar
What does our society need more today is mentally balanced and physically fit people from different walks of life, which include scientists, thinkers, writers, creative artists, healthcare professionals, engineers, et al. Thus, our higher education must have good standards so that to achieve this goal, believes Fergusson College. Towards this goal, the college plans to build ultra-modern international standard science laboratories so that more and more students can learn there and contribute to the growth of our country and the world. However, where the college feels stuck is raising funds for this vision. In a candid conversation with German Faculty of Fergusson College, Pune, Dr Savita Kelkar, Meha Mathur unfolds various aspects of the college.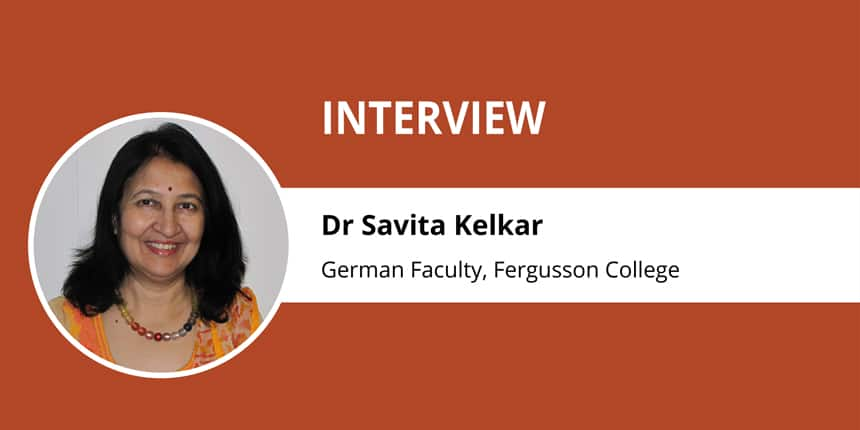 Excerpts:
Careers360: What has been the contribution of Fergusson College to the Pune's educational ethos?
Dr Savita Kelkar: The city of Pune which is considered as the "Oxford of the East" is a cultural capital of Maharashtra. It is famous for quality education, having the finest educational institutions, which are progressive in outlook and have with safe environment which is conducive to learning. Fergusson College, being the oldest institution in the city, has contributed immensely to the educational ethos of Pune. It was established by the Deccan Education society in 1885, named after the then Governor of Bombay presidency Sir James Fergusson.
At its inception, the college was the first indigenously run higher-education institution in Pune. Stalwarts like Lokmanya Tilak served as academic staff. Gopal Krishna Gokhale and social reformer Dhono Keshav Karve were also life members of the society and worked as faculty members in the college in the 1890s.
Fergusson was among the 19 colleges to get a heritage tag by the central government and UGC in 2015. The college has received financial help from UGC for the conservation of campus and buildings. The 65-acre campus is in the heart of the city. It provides athletic and cultural facilities, as well as hostel for more than 600 students and quarters for faculty.
Languages like Sanskrit which embodies the ancient classical literature and philosophy and modern European languages like English, French and German are taught for more than a century which helped to build the ethos of co-existence of the old and the new.
The college has also contributed to developing scientific temper among students as the founders were themselves well versed in science. For example, Tilak was a famous mathematician. Physics was started in 1902 and also the New English School of the Deccan Education Society had the first planetarium in the state, which also encouraged the study of Astrophysics a century ago.
Even today the college is abreast with the latest developments in science and technology and accordingly has established new departments.
Careers360: While the college has a grand legacy, how has it kept abreast of modern infrastructure needs and pedagogy?
Dr Savita Kelkar: Keeping pace with the modern times, the college has improved the infrastructure by installing a 100 mbps lease line. The college has wi-fi system and broadband network. To get the undisturbed connectivity, a tower is under construction.
We have language lab, smart interactive boards and virtual classrooms.
Manuscripts and rare books have been digitised. We have subscription to 131 online journals. The online books on all subjects are made available for the convenience of students. For visually impaired students many software programmes are made available.
In collaboration with Cork Institute of Technology, Ireland, Fergusson College has installed a rotating dome in 2010, which enables to observe the sky 24/7. To make students effective in their interviews a school of personality development has started. For the mental health of students 'MANAS' counselling centre is working efficiently along with post graduate diploma in counselling .
Fergusson being autonomous and progressing to become the first State University in Maharashtra, has the partial freedom to frame its own syllabus. At the college, interest of student is of the prime importance and accordingly the needs are taken care of. This will achieve the holistic growth of students which will develop them into good citizens of India. In keeping with the time, we have implemented credit system.
Careers360: What are the challenges before the college?
Dr Savita Kelkar: Future generation has to be mentally balanced and physically fit. Our society needs scientists, thinkers, writers, creative artists, healthcare professionals, engineers, etc. Higher education should enable to achieve this. Our vision is to build ultra modern international standard science laboratories to attract young talent to become scientists who can invent and contribute to the growth of our country and to the world knowledge. To get funds for fulfilling this vision is a challenge.
We need to have many more facilities. We need to tie up with Industries for practical knowledge and experience, which will make them job- ready. Students should get a chance to learn many subjects of their choices, but arranging time-table and making rooms available is also very challenging. Fulfilling the expectations and needs of international students coming from 38 different countries is also a huge challenge.
To be at par with the international universities which are coming to India is a Herculean task. We are making efforts in the direction of realising this dream.
Careers360: Languages, including foreign ones, have been a strong point of Fergusson. What is the reason that the college developed such strength in this area?
Dr Savita Kelkar: The faculty of the college since its inception have been authors and researchers like Vaman Shivram Apte, the first principal, who taught Sanskrit. Till date, his work is a standard reference material. From the beginning English, Marathi, Hindi are taught and also Gujrathi, Pali, Ardhmagdhi were taught.
In 1914, teaching of German started at Fergusson College. It all started in Pune with a home-comer from Germany: the linguist Pandurang D Gune who returned to his homeland in 1913 after obtaining a doctorate from the University of Leipzig. In 1914, he introduced teaching of German in New English School, beginning with an 8th grade student. A little later, he also started taking lessons at the prestigious Fergusson College. We celebrated 100 years of teaching in Pune. Today one can specialise in German as well as French in Fergusson College. Language proficiency was considered as a sign of cultured person in the society.
Careers360: What has been your journey in this college, and your experience of teaching there? How would you explain the quality of students coming here? As a teacher, what has this institute given to you?
Dr Savita Kelkar: I started teaching German in 1987 to both Science and Arts streams.
I was given the honour of becoming the first lady life member (the first lady) on the management board in 2003. I received state level best teachers award in 2013. I was also looking after the Cultural activities of Fergusson College since last 27 years. I have been organising exchange programmes and study tours for the past 21 years to Germany and other European countries. This year I will be taking the 31st group for Exchange.
In memory of my mother, I have kept a scholarship for students who stand first in 11th and 12th in Fergusson College. The quality of students has always been excellent. Expertise in foreign language helps them when they go abroad and also to get better jobs. Considering my contribution as a teacher and dedication to the institute and eagerness to explore new avenues, I was selected to be the First Lady Life Member of the D.E. Society.
Because of Fergusson I am where I am today. I am very grateful to D.E.S. and Fergusson management.
Questions related to Fergusson College, Pune
Showing 120 out of 120 Questions