University of Engineering Management, Jaipur, established in the year 2011, is a private university in Jaipur offering graduate, postgraduate and doctoral level programmes in Engineering, Management, Technology and Medical Science faculties. Courses offered by UEM are BBA, MBA, Executive MBA,PhD, BPT, MPT and short-term certification courses. It is accredited by National Assessment and Accreditation Council (NAAC), approved by AICTE, and is a member of Association of Indian Universities, Association of Commonwealth Universities UK and International Association of Universities France.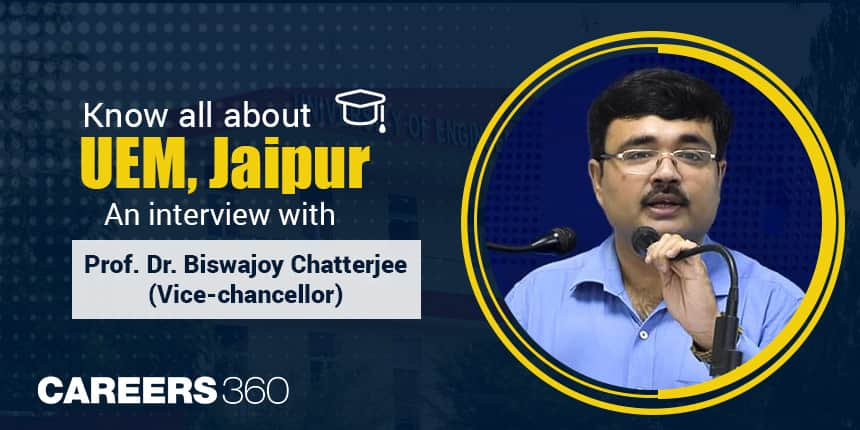 Know all about UEM, Jaipur : An interview with Prof. Dr. Biswajoy Chatterjee (Vice-chancellor)
In an exclusive interview with Careers360 with Prof. Dr. Biswajoy Chatterjee, Vice-chancellor- UEM, Jaipur who is a Ph.D. from NIT, Agartala specializing in Nano-Science and Nano-Technology, he is pursuing research in the same domain in addition to Computer Vision and Speech Processing. He is a known name in the field of Applied Robotics and has conducted several National level workshops in Robotics. He has 36 SCI International Journals research papers and more to his credit. He is a member of Confederation of Indian Industry (CII), Computer Society of India (CSI) and IEEE. In his administrative role, he is currently implementing Choice Based Credit System in the University syllabus.
Careers360: UEM Jaipur was established in the year 2011 by the Govt of Rajasthan. Can you share details of its journey so far, vision and mission?
Dr. Biswajoy Chatterjee: In 2009 we were invited by the Government of Rajasthan to establish this university, with our history of academics we stood first in the Technical Education Quality Improvement Program funded by the World Bank. After that we got an invitation, we established our university and started our journey. It was since then the students kept on adding feathers. We did good work with our innovations and research publications, we filed enormous numbers of patents, in this way the glory continued. Our vision has always been that if you take care of the students the students will always take care of you.
Read More: UEM Jaipur
Careers360: What are the different programms offered – UG and graduate levels?
Dr. Biswajoy Chatterjee: As UEM Jaipur is mainly engineering-focused university, but the institute offers several other courses. UEM Jaipur courses include B.Tech which is a flagship program, with streams such as CSE, Electronics, Electrical engineering, Mechanical engineering, Civil Engineering. Apart from this, BBA, MBA, BCA, MCA, and in the medical science faculty, BPT and MPT are also offered to the students.
Read More: UEM Jaipur Courses
Careers360: Can you describe the admission process at UEM Jaipur?
Dr. Biswajoy Chatterjee: For UEM Jaipur admission, students need to meet UEM Jaipur B.Tech eligibility criteria is 60% marks in 10th, 12th std. Candidates need to appear for the IEMJEE entrance exam which is an entrance examination conducted by the institute . The IEMJEE results are published online and if shown eligible for admission, the candidates can directly visit the campus for admission or can apply online through the university website.
Read More about UEM Jaipur Admission
Careers360: What sets UEM Jaipur apart from other universities?
Dr. Biswajoy Chatterjee: We stand apart from the fact that placements at UEM continue till the last willing student is placed. Last month we filed 100 patents. This month again we are targeting fifty more patents. Regarding research publications, in our university we are conducting one or two conferences every year from each department and many of these conferences are conducted abroad. Mainly, tie-ups with foreign universities, our placements and individual counselling are something that sets us apart from other universities.
Careers360: Can you give details on the scholarships and financial aid provided to students?
Dr. Biswajoy Chatterjee: UEM Jaipur scholarships offered both on merit and mean-based. For UEM Jaipur merit-based scholarship, students with 85% marks in HSC are given 25% scholarship on their tuition fees, 50% scholarship on fees for 90% marks, and students with 95% marks are eligible for 100% scholarship.
Under UEM Jaipur means-based scholarship, a freeship to 5% of total students studying in the university, for which semester-wise applications are invited.
Careers360: With rapidly evolving technological advancements and a changing digital world, how does UEM Jaipur ensure that the curriculum is at par with industry needs and standards?
Dr. Biswajoy Chatterjee: We keep on visiting different industries, keep on assessing their needs, as a result, we develop good relationships with the companies and understand the industry requirements. This helps us to understand what the recruiters are looking for and we incorporate those things in our syllabus. The syllabus we are following is a choice based credit system. Now we have provided students with a bucket of courses that are industry approved. Our curriculum is up to date with the industry and by learning it students won't need separate training.
Careers360: What is the support mechanism that students at UEM Jaipur can avail?
Dr. Biswajoy Chatterjee: UEM Jaipur has a Mentor-Mentee system. Every student has one mentor associated with them and every mentor has 20 students as mentees. Duty of the teacher is that their mentees do well. If a student needs guidance, then it should be the responsibility of the mentor to help them out, and that is how it happens in UEM Jaipur. At UEM Jaipur the ambiance is very student-centric and the management is always there to assist the students.
Careers360: For most students, placements are always a matter of concern as well as importance. What can they expect from the UEM Jaipur on this front?
Dr. Biswajoy Chatterjee: UEM Jaipur placements include both national and international placements. According to the UEM Jaipur placements records, the highest package offered was 72 LPA. International placements in Dubai, US, Australia and several other countries are also offered. The average package at UEM Jaipur has been 6 LPA. On average every student gets at least two job offers every year and many students get five-six offers. Placement drives are always ongoing on campus until every one of them is placed. The students get placed in companies such as TCS, Cognizant, WIPRO, Infosys, Microsoft and many more. Ever since the online placement has started our placement records have done better and we believe we will keep on doing better every year.
Read More: UEM Jaipur Placement
Careers360: What message do you want to give to the students?
Dr. Biswajoy Chatterjee: Students need to understand the responsibilities that come with a profession. One should be responsible for their studies, for their work or anything they're doing. They should take their job very responsibly and learn in a way that they can produce. The first thing that should come to your mind is that your learning should have some application. They need to study hard, network, and communicate.
Disclaimer: This content was distributed by University of Engineering Management, Jaipur (UEM) and has been published as part of Careers360's marketing initiative.
Also Read: