JNU Syllabus 2021 - JNUEE Entrance Exam Syllabus Check Here
JNU Syllabus 2021 - National Testing Agency (NTA) releases the JNU syllabus every year at jnuexams.nta.nic.in. Candidates wishing to take the examination must go through the syllabus of JNU 2021 in order to know the topics and subjects from which the questions might be asked. It must be noted, however, that the JNU 2021 syllabus differs from courses to courses. Therefore, aspirants wishing to take JNUEE are suggested to check the JNU syllabus of their respective courses. By going through the JNU 2021 syllabus, candidates can know, plan and strategize their studies and focus on the important topics. It can help them prioritize the topics and subjects accordingly.
Stay up-to date with JNUEE News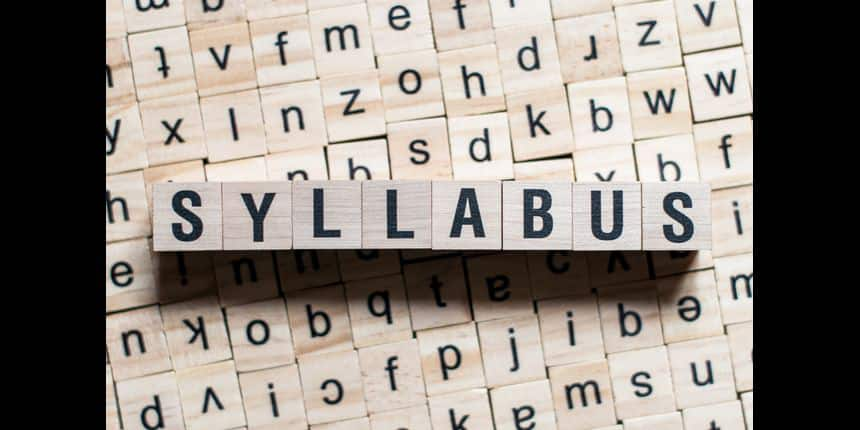 JNU admission 2021, conducted by NTA, is for the candidates who wish to seek admission in various undergraduate and postgraduate courses offered by the university. To know more about the JNU syllabus 2021 of each of the courses, read below.
JNU 2021 Syllabus
It must be noted that the syllabus of JNU 2021 provided below is subject to change if instructed by the university.

Resources
- 300+Hours of Concept wise Video Lectures, Mock Tests, Practice Questions, Adaptive Time-Table
- For Class 9 and 10 Engineering Aspirants
Access Now

Resources
- 300+Hours of Concept wise Video Lectures, Mock Tests, Practice Questions, Adaptive Time-Table
- For Class 9 and 10 Medical Aspirants
Access Now
JNU Entrance Exam Syllabus for MA Politics (with specialization in International Studies)
Five disciplines are covered in the test -
Sociology

Political Science

International Relations

History

Economics.
JNUEE Syllabus for MA Economics (with specialization in World Economics)
Microeconomics

Macroeconomics

Mathematics

Statistics

International Trade

Development of Economics
JNU 2021 Syllabus for MA International Relations and Area Studies
Sociology

Political Science

International Relations

History

Economics
JNU Syllabus for MA Persian
Essays, short stories, novels from the different authors

Literary History of Persian starting from Arab Invasions up to the end of - Pahlavi period with special reference to Samanid, Ghaznavid, Saljuk, Mongol, Safavid, Qajar and Pahlavi periods

History of Persian Language with special reference to Avesta, Old Persian and Pahlavi scripts and Literature

A special study of Persian Literature produced in India

Geography and systems of Government in the Persian speaking world (i.e. Iran, Afghanistan, Tajikistan.

A detailed account of new trends in Modern/Contemporary Persian Prose and Poetry

Comparison between classical and Modern Persian Poetry

Comparison between classical and Modern Persian Poetry

A Comparative study of the contemporary Persian dialects with a special reference to Modern Persian, Dari and Tajik

Indo-Persian Relations from the prehistoric days up to the Modern times with special reference to the following: (a) Historical, (b) Cultural, (c) Linguistics, (d) Literary, (e) Trade, scientific & technological relations with special reference to Modern times.
JNU Syllabus 2021 for MA Pashto
12 min read
Mar 05, 2022
Read More
Pashto Language and literature

Pashto History, culture, and tradition

Pashto grammar

Translation

Pashto terminologies and general awareness on Indo- Afghan relations
JNUEE Syllabus 2021 for MA Arabic
History of Arabic literature – pres-Islamic, Islamic, Umayyad, Abbasid and modern periods

Modern prose and poetry

Arabic studies in India

Criticism

Major Arab and Indian writers

Advanced Arabic grammar

Translation (Arabic-English-Arabic)
JNU Syllabus 2021 for MA Japanese
General Awareness on
Geography

History

Society and Culture

Famous Works of Literature

Current affairs

Language ability in Japanese
JNU Syllabus for MA Chinese
Questions on Chinese and Chinese literature, history, civilization and culture of China and Sinophone countries, linguistics and language, translation and didactics of teaching a foreign language
JNUEE Syllabus for MA Korean
Korea, Korean language, basic Korean literature, Korean culture (both traditional and modern) are covered. Questions may also test their knowledge of basic Hanja (Chinese characters)
JNUEE Syllabus 2021 for MA German Translation
German history from 1750 to 1914

German history after 1945. (Two German states; Reunification)

Basic Linguistics (Word Formation in German; Dependenzgrammatik; IC-analysis; speech act theory etc.)
JNU Syllabus 2021 for MA German Literature
Trends in German Literature post-1945 till 2000

History of German Literature from 1750 till 1900.

Representative authors and texts - an overview of the different periods from the Enlightenment to Realism

An overview of the main genres in German literature

The ability to interpret given texts from these periods
JNU 2021 Syllabus for MA Hindi
History of Hindi Literature. Major Literary Genres, Works, Movements, and trends. Major Writers and Critics of Hindi Literature.
JNU 2021 Syllabus for MA Urdu
History of Urdu Literature : (From the beginning till 20th century), Classical Urdu Poetry: (Major classical Urdu poets and their selected works), Classical Urdu Prose: (Major classical Urdu Prose writers and their selected works), Modern Urdu Poetry: (Major Modern Urdu Poets and their selected works), Modern Urdu Prose: (Major Modern Urdu Prose writers and their selected works), Major Genres of Urdu Poetry Prose Major literary movements and trends of Urdu Literature
JNU Syllabus - MA Spanish
Questions on Spanish and Latin American literature, history, civilization, culture, linguistics and language, translation
JNU Syllabus 2021 for MA English
Literature in English, Literature in India and Other Parts of the World, English in India, Literary and Cultural Theories, NonLiterary Artistic Forms, the Relationship between Literature, Culture and Society, and Practical Criticism of given literary pieces. The objective of the test is to select those who demonstrate not just in -depth knowledge of literature and culture, but literary sensibility and a capacity for original thinking.
JNU Syllabus - M.Sc Life Sciences
Candidates will be tested in their basic knowledge in the core subjects of Life/ Biological Sciences

The test would contain subject-specific questions encompassing different branches of Life/Biological Sciences taught at the undergraduate level in various UGC affiliated colleges /institutions in the country
JNUEE Syllabus 2021 for MA Economics
(i) Micro-economics (Demand Curves, Price and Income Elasticity of Demand, Cost Curves, Equilibrium of Firm under Perfect Competition and Monopoly) (ii) Macroeconomics (National Income, Theories of Income Determination, Monetary Policy, Trade and Balance of Payments)

Descriptive Statistics (Mean, Median and Mode, Standard Deviation, Correlation Coefficient), Elementary Probability Theory, Mathematics for Economists (Elementary Algebra, Coordinate Geometry and Elementary Calculus)

Problems of Economic History, Underdevelopment and Growth: (I) India's Economic Development prior to Independence: India's Planning and Development experience since Independence; Basic indicators of Development. (ii) International Economics Issues of Contemporary Relevance
JNUEE Syllabus for MA Ancient History/ Modern History/ Medieval History
General comprehension

A broad understanding of the social sciences and

Themes related to political, economic and social history and on aspects of religion and culture pertaining to Indian and World history for the ancient, medieval, modern and contemporary periods.
JNU Entrance Test Syllabus for MA Sociology
Thinkers - Karl Marx, Emile Durkheim, Max Weber, Georg Simmel, C. Wright Mills, George Herbert Mead, Claude Levi-Strauss o G.S. Ghurye, M. N. Srinivas, Iravati Karve, Yogendra Singh, Andre Beteille, T.K. Oommen

Basic Concepts and Social Institutions

Tools and Techniques of Research Methodology

Social Structure and Social Change

Social Stratification - Gender, Caste, Class, Tribe, Disability

Economy and Society

State, Polity and Society

Family, Marriage and Kinship

Religion

Environment and Society

Social Movements

Social Issues

Understanding Indian society

Modernization, Globalization and Development
JNU Entrance Test 2021 Syllabus for MA Philosophy
1. Proofs for Existence of God
2. Free Will and Determinism
3. Self and No-self
4. Consciousness
5. Personal Identity
6. Substance and Qualities
7. Being and Becoming
8. Actuality and Potentiality
9. Appearance and Reality
10. Mind and Body Problem
11. Universals
12. Realism and Idealism
13. Essence and existence
Section: II - Epistemology
Theories of Truth 2. Theories of Error 3. Gettier Problem 4. Definitions of Knowledge 5. Knowledge by acquaintance and knowledge by Description 7. Sources of Knowledge 8. Skepticism 9. Justification of Knowledge: Foundationalism, Anti-foundationalism, and Coherentism 10. Knowledge that and knowledge How 11. Problem of Induction 12. Apriori Knowledge
Theories of Normative Ethics: Utilitarianism, Kantian Deontology, Virtue ethics, Social contract theory, care ethics 2. Theories of Metaethics: Relativism, Non-naturalism, Emotivism, Universal Prescriptivism, 3. Themes of Applied Ethics: Abortion, Euthanasia, Surrogacy, Capital punishment, Animal and Environment ethics 4. Thoughts of Indian ethical tradition: Nature of Dharma, Morksa, Purusharthas, Rta, Rina, and themes from Buddhist and Jaina ethics
Section: IV - Symbolic Logic
1. Inductive Logic a. Analogical Reasoning b. Causal Reasoning c. Probability
2. Deductive Logic a. Categorical proposition b. Categorical syllogisms c. Symbolic Logic d. Methods of Deduction e. Quantification Logic
3. Informal Fallacies: Indian and Western
4. Types of Arguments
Section: V - Social and Political Philosophy
Theories of Justice 2. Liberty and Equality 3. Democracy 4. Feminism 5. Global justice 6. Marginalization and Discrimination 7. Gandhi: Non-violence, Satyagraha, Swaraj, Nationalism, State 8. Ambedkar: Genesis of Caste and Annihilation of Castes 9. Tagore: Nationalism, Education, and Religion of Man 10. Amartya Sen: Justice (Niti and Nyaya)
JNU 2021 Syllabus for MA Development and Labour Studies
Political Economy, Theories and Contemporary History of Development, Development Economics, Indian Economy, Society and Politics in India, Sociological and Political Theories. The purpose of the test is to select candidates who demonstrate an aptitude for analytical skills and the ability for original thinking.
JNU Entrance Examination 2021 for M.Sc Environmental Science
Part I: This will have questions from the different areas of Science and Mathematics at the 10+2 level.

Part II: This will have questions, in the areas of Physics, Chemistry, Mathematics, Geology, Botany and Zoology at the B.Sc level
JNU Entrance Examination Syllabus for MCA
Syllabus: General aptitude, reasoning and 10+2 and Bachelor's level mathematics and Computer Science as per the topics specified as under: Maths: Differential and Integral Calculus, Vector Algebra, Trigonometry, 2D-3-D Geometry, Modern Algebra, Numerical Analysis, Probability & Statistics, Real Analysis, Theory of Real Function, Matrices and Determinants Computer Science: Digital Systems Design & Architecture, Programming Languages (C), Data structures, Discrete mathematics.
JNU Syllabus 2021 - M.Sc Physics
Mathematical Methods: Calculus of single and multiple real variables. Fourier and Laplace transforms. Vector Calculus, Divergence theorem, Green's theorem, Stokes' theorem. First order and linear second order differential equations with constant coefficients. Matrices and determinants. Complex numbers.

Mechanics and General Properties of Matter: Newton's laws of motion and applications. Motion under a central force, and Kepler's laws. Elastic and inelastic collisions. Rigid body motion. Principal moments and axes. Kinematics of fluids. Bernoulli's theorem.

Oscillations, Waves and Optics: Simple harmonic motion. Damped and forced oscillators. Resonance. Wave equation. Group and phase velocities. Sound waves in the media. Doppler Effect. Interference and diffraction. Diffraction gratings. Polarization: linear, circular and elliptic polarization. Double refraction and optical rotation.

Electromagnetism: Coulomb's law. Gauss's law. Electric field and potential. Solution of Laplace's equation for simple cases. Conductors, capacitors, dielectrics. Electrostatic energy. Biot-Savart law, Ampere's law, Faraday's law of electromagnetic induction. LCR circuits. Maxwell's equations and plane electromagnetic waves, Poynting's theorem. Transmission and reflection coefficients (normal incidence only). Lorentz Force and motion of charged particles in electric and magnetic fields.

Thermal and Statistical Physics: Maxwell-Boltzmann distribution. Equipartition of energy. Ideal gas law. Specific heat. van-der-Waals gas and equation of state. Laws of thermodynamics. First law and its consequences. Isothermal and adiabatic processes. Second law and entropy. Maxwell's thermodynamic relations. Thermodynamic potentials. Fermi-Dirac and Bose-Einstein distributions.

Modern Physics: Basics of special relativity. Length contraction. Time dilation. Relativistic velocity addition theorem. Mass-energy equivalence. Blackbody radiation. Photoelectric effect. Compton effect. Bohr's atomic model. Pauli exclusion principle. Wave-particle duality. Uncertainty principle. Superposition principle. Schrödinger equation. Particle in a box problem in one, two and three dimensions. Solution of the Schrödinger equation for one dimensional harmonic oscillator. Structure of atomic nucleus, mass and binding energy. Radioactivity

Solid State Physics, Devices and Electronics: Crystal structure, Bravais lattices and basis. Miller indices. X-ray diffraction and Bragg's law. Intrinsic and extrinsic semiconductors, variation of resistivity with temperature. Fermi level. p-n junction diode, I-V characteristics, Zener diode and its applications. Transistor characteristics. R-C coupled amplifiers. Operational Amplifiers: Inverting and non-inverting amplifier. Boolean algebra: Binary number systems; binary addition and subtraction. Conversion from one number system to another. Logic Gates AND, OR, NOT, NAND, NOR, X-OR. Truth tables. Combination of gate
JNU Syllabus 2021 - M.Sc Chemistry
PHYSICAL CHEMISTRY
Basic Mathematical Concepts: Functions; maxima and minima; integrals; ordinary differential equations; vectors and matrices; determinants; elementary statistics and probability theory.

Atomic and Molecular Structure: Fundamental particles; Bohr's theory of hydrogenlike atom; wave-particle duality; uncertainty principle; Schrödinger's wave equation; quantum numbers; shapes of orbitals; Hund's rule and Pauli's exclusion principle; electronic configuration of simple homonuclear diatomic molecules.

Theory of Gases: Equation of state for ideal and non-ideal (van der Waals) gases; Kinetic theory of gases; Maxwell-Boltzmann distribution law; equipartition of energy.

Solid state: Crystals and crystal systems; X-rays; NaCl and KCl structures; close packing; atomic and ionic radii; radius ratio rules; lattice energy; Born-Haber cycle; isomorphism; heat capacity of solids.

Chemical Thermodynamics: Reversible and irreversible processes; first law and its application to ideal and nonideal gases; thermochemistry; second law; entropy and free energy; criteria for spontaneity.

Chemical and Phase Equilibria: Law of mass action; Kp, Kc, Kx and Kn; effect of temperature on K; ionic equilibria in solutions; pH and buffer solutions; hydrolysis; solubility product; phase equilibria–phase rule and its application to one-component and two-component systems; colligative properties.

Electrochemistry: Conductance and its applications; transport number; galvanic cells; EMF and free energy; concentration cells with and without transport; polarography; concentration cells with and without transport; Debey-Huckel-Onsagar theory of strong electrolytes.

Chemical Kinetics: Reactions of various order; Arrhenius equation; collision theory; transition state theory; chain reactions – normal and branched; enzyme kinetics; photochemical processes; catalysis.

Adsorption: Gibbs adsorption equation; adsorption isotherm; types of adsorption; surface area of adsorbents; surface films on liquids.

Spectroscopy: Beer-Lambert law; fundamental concepts of rotational, vibrational, electronic and magnetic resonance spectroscopy.
ORGANIC CHEMISTRY
Basic Concepts in Organic Chemistry and Stereochemistry: Electronic effects; resonance, inductive, hyperconjugation, aromaticity, tautomerism; organic acids and bases; optical isomerism in compounds with and without any stereocenters (allenes, biphenyls); conformation of acyclic systems (substituted ethane/n-propane/n-butane) and cyclic systems (mono- and di-substituted cyclohexanes).

Organic Reaction Mechanism and Synthetic Applications: Chemistry of reactive intermediates (carbocations, carbanions, free radicals, carbenes, nitrenes, benzynes); Hofmann-Curtius-Lossen rearrangement, Wolff rearrangement, Simmons-Smith reaction, Reimer-Tiemann reaction, Michael reaction, Darzens reaction, Wittig reaction and McMurry reaction; Pinacol-pinacolone, Favorskii, benzilic acid rearrangement, dienone-phenol rearrangement, Baeyer-Villeger reaction; oxidation and reduction reactions in organic chemistry; organometallic reagents in organic synthesis (Grignard, organolithium and organocopper); Diels-Alder, electrocyclic and sigmatropic reactions; functional group interconversions and structural problems using chemical reactions.

Spectroscopic Analysis: Identification of functional groups by UV, IR and 1H NMR spectroscopic techniques as tools for structural elucidation.

Natural Products Chemistry: Chemistry of alkaloids, steroids, terpenes, carbohydrates, amino acids, peptides and nucleic acids.

Aromatic and Heterocyclic Chemistry: Monocyclic, bicyclic and tricyclic aromatic hydrocarbons, and monocyclic compounds with one hetero atom: synthesis, reactivity and properties.
INORGANIC CHEMISTRY
Periodic Table: Periodic classification of elements and periodicity in properties; general methods of isolation and purification of elements.

Chemical Bonding and Shapes of Compounds: Types of bonding; VSEPR theory and shapes of molecules; hybridization; dipole moment; ionic solids; structure of NaCl, CsCl, diamond and graphite; lattice energy.

Concepts of Acids and Bases: Bronsted and Lewis acids and bases; Gas phase versus solution phase acidity; solvent levelling effects; hardness and softness.

Oxidation and Reduction: Redox potentials; Nernst equation; influence of complex formation; precipitation; change of pH and concentration on redox potentials; analysis of redox cycles; redox stability in water; disproportionation/ comproportionation.

Main Group Elements (s and p blocks): General concepts on group relationships and gradation in properties; structure of electron deficient compounds involving main group elements.

Transition Metals (d block): Characteristics of 3d elements; oxide, hydroxide and salts of first row metals; coordination complexes: structure, isomerism, reaction mechanism and electronic spectra; VB, MO and Crystal Field theoretical approaches for structure, color and magnetic properties of metal complexes; organometallic compounds having ligands with back bonding capabilities such as metal carbonyls, carbenes, nitrosyls and metallocenes; homogenous catalysis.

Bioinorganic Chemistry: Essentials and trace elements of life; basic reactions in the biological systems and the role of metal ions, especially Fe2+, Fe3+ , Cu2+ and Zn2+; structure and function of hemoglobin and myoglobin and carbonic anhydrase.

Instrumental Methods of Analysis: Basic principles; instrumentations and simple applications of conductometry, potentiometry and UV-vis spectrophotometry.

Analytical Chemistry: Principles of qualitative and quantitative analysis; acid-base, oxidation-reduction and complexometric titrations using EDTA; precipitation reactions; use of indicators; use of organic reagents in inorganic analysis.
JNU Syllabus 2021 - M.Sc Mathematics
Set Theory and related topics: Elementary set theory, Finite, countable and uncountable sets, Equivalence relations and partitions

Real Numbers, Sequences and Series: Real number system as a complete ordered field, Archimedean property, supremum, infimum, Sequence of real numbers, convergence of sequences, bounded and monotone sequences, convergence criteria for sequences of real numbers, Cauchy sequences, subsequences, Bolzano-Weierstrass theorem. Series of real numbers, absolute convergence, tests of convergence for series of positive terms - comparison test, ratio test, root test, Leibniz test for convergence of alternating series

Real Analysis: Interior points, limit points, open sets, closed sets, bounded sets, connected sets, compact sets. Power series (of a real variable), Taylor's series, radius and interval of convergence, term-wise differentiation and integration of power series

Functions of One Real Variable: Limit, continuity, intermediate value property, differentiation, Rolle's Theorem, mean value theorem, L'Hospital rule, Taylor's theorem, maxima and minima

Functions of Two and Three Real Variables: Limit, continuity, partial derivatives, differentiability, maxima and minima

Integral Calculus: Integration as the inverse process of differentiation, definite integrals and their properties, fundamental theorem of calculus. Double and triple integrals, change of order of integration, calculating surface areas and volumes using double integrals, calculating volumes using triple integrals

Vector Calculus: Scalar and vector fields, gradient, divergence, curl, line integrals, surface integrals, Green, Stokes and Gauss theorems

Group Theory: Groups, subgroups, Abelian groups, non-Abelian groups, cyclic groups, permutation groups, normal subgroups, Lagrange's Theorem for finite groups, group homomorphism and basic concepts of quotient groups, Cayley's theorem, class equations

Linear Algebra: Finite dimensional vector spaces, linear independence of vectors, basis, dimension, linear transformations, matrix representation, range space, null space, rank-nullity theorem. rank and inverse of a matrix, determinant, solutions of systems of linear equations, consistency conditions, eigenvalues and eigenvectors for matrices, Cayley-Hamilton theorem, Inner product spaces, Orthonormal basis

Miscellaneous: Logical reasoning, elementary combinatorics, divisibility in Integers, Congruence, Chinese remainder theorem, Euler's φ-function
JNU Syllabus for MA Arts and Aesthetics
Visual Studies: Broad knowledge of the history of world art in general, and of art in South Asia, from Indus Valley Civilization till the present, in particular. Candidates should have an understanding of formal, stylistic and iconographic aspects of South Asian art and be able to place them in their literary, cultural, historical, religious and liturgical context. In addition, a broad knowledge of the history of Western Art, from the Renaissance to the present day, and of the history of Asian art, including Far Eastern and Islamic art, are valuable. An awareness of current debates and new developments around art, heritage, museums and exhibitions is important, with an emphasis on the ability to critically engage with issues and themes related to art.

Cinema Studies: Broad knowledge of World Cinema, Film Movements, and Film/Media Practitioners. There should be awareness of cinema/ media's status as an aesthetic practice, a mass cultural form, and an instigator of public debates. Candidates should display their knowledge of the public presence of cinema/media and the way certain film practices get linked to political controversies, festival bans, censorship debates, and vandalism at exhibition venues. Some knowledge of the role of film criticism and writing about cinema in the popular press will be helpful

Theatre and Performance Studies: Broad knowledge of the history of theatre and dance including classical Greek theatre, Elizabethan theatre, classical Indian theatre, music, dance and performance cultures, bhakti performance traditions in India, modern theatre and contemporary performance practices. Some familiarity with dance in the larger context of Indian dance history, relationship of dance and society. Likewise, an engagement with musical traditions, both classical and popular. Some awareness of basic concepts like rasa and catharsis, the dynamics of body, space and time in different theatrical and dance traditions, the role of the actor/performer and spectator. Basic knowledge of the theoretical writings of Bharata, Bhatkhande, Kapila Vatsyayan, Susan Foster, Stanislavski, Brecht, Augusto Boal, Badal Sircar. An ability to see performances critically with an awareness of their social and political contexts. Emphasis on the capacity to describe the performances of everyday life, including festivals, rituals and ceremonies experienced at a local level within specific regional contexts.
JNU Syllabus 2021 - Integrated M.Sc Ayurveda Biology
Sanskrit, Science and General Aptitude questions
JNU 2021 Entrance Test Syllabus - MA Sanskrit
Vedic & Agamic Studies, Sanskrit language and literature, Indian Philosophical Systems, Sanskrit Poetics and Aesthetics, Sanskrit and Modern Indian Languages, Sanskrit Linguistics including Computational Linguistics, Indian Intellectual and Cultural Traditions, Social thought, Polity, Economy, Architecture, Fine Arts, Environmental Awareness, Sanskrit Grammar, Indian Logic, Astronomy and Mathematics, Science and Technology, Argumentation and Interpretation, and Role and Place of Sanskrit in Indo European Studies
JNU Syllabus 2021 - M.Sc Molecular Medicine
Part A
1. Basic Maths; 10th level geometry, PC, statistics, Arithmetic, Log, Basic knowledge of Computer science. 2. Chemistry: Concept of Molarity, Normality, Periodic Table, Organic Chemistry, Synthesis, Thermodynamics, Entropy, Enthalpy, Free energy, Law of Mass action, Reaction kinetics 3. Physics: Newton's law, radioactivity, Electricity, capacitance, optics, sound, gravity, spectroscopy. 4. Basic Biology: Zoology/Botany - classification/Evolution Biology/Population Biology. 5. General Aptitude and reasoning. 6. General awareness.
Part B
Section 1 ; Biochemistry: Metabolism, Nutrition, Biomolecules, Hormones, Enzymes, Omics.
Section 2 ; Microbiology: Bacterial genetics, Antibiotics mode of action, Infectious disease, Industrial Biotechnology
Section 3; Physiology, Diseases, Pharmacology, Genetics, Molecular Biology, Developmental biology, Zoology, Population genetics.
Section 4 ; Botany: Molecular Biology
Section 5 ; Advanced Chemistry, Spectroscopy, Molarity/Normality, Radioactivity, Atomic Structure, Acid base, pH.
Section 6 ; Medicinal Chemistry: Drug-receptor interaction, DNA, Protein, Hormones as receptor, Pharmacokinetics, G-protein coupled receptor, Pharmacodynamics.
Section 7 ; Cell biology: Organelles, Cell-Cell interaction, Cell signaling/ trafficking, Cell cycle. Section 8; Drug/ Drug resistance.
Section 9;Immunology: Basic immunology .
Section 10; Aptitude, Bioinformatics ,Others
Also Read:
JNU Entrance Syllabus - MA Disaster Studies
Social Science Perspectives of Disasters, Constitution, Law, Governance and Sustainable Development Goals(SDGs) Definition, Concepts and Theories around the key terms in disaster studies [Understanding of 'Disaster', 'Risk', 'Hazard', 'Vulnerability', 'Resilience'] Development and Disasters, Geography of Disasters and GIS Application [Regional Imbalance, Health Issues, Fragile areas and Critically Endangered Zones] Computer, Information and Communication Technologies, Artificial Intelligence, Database Systems [Application of modern scientific tools in early warning systems, relief, rehabilitation and appropriate measurement of damages and losses] Ecology and Environment [Dams, Pollution, Climate Change, Effluent Discharges, Human Consumption as cause of environmental destruction and increased vulnerability of ecosystems)
JNU Syllabus 2021 - BA Hons. Persian/ Pashto/ Korean/ French/ Russian/ German/ Spanish/ Arabic/ Chinese
General knowledge

Artificial language

Language aptitude

General English
Before sitting to practice for the examination, candidates are suggested to first check the JNU exam pattern to have a basic idea about the structure of the JNU question papers, total marks, duration of the paper, types of the questions being asked. The very first thing is to check the topic and/or the questions carrying the highest marks and start practicing that section to manifest higher marks in the examination.
JNU Exam Pattern
| | |
| --- | --- |
| Mode of examination | Computer based examination |
| Number of questions | 100 |
| Duration | Three hours |
| Types of questions | MCQ |
| Correct answer | 1 mark |
| Incorrect answer | No negative marking |
| Medium of examination | English |
Frequently Asked Question (FAQs) - JNU Syllabus 2021 - JNUEE Entrance Exam Syllabus Check Here
Question: Can I get the syllabus of JNU 2021 via fax/mail if I avail for it?
Answer:
No, NTA does not send the JNU syllabus via mail/fax. Candidates are suggested to only visit the official website to check the syllabus.
Question: Will I have to pay any fee to have access to the JNU 2021 syllabus?
Answer:
No, the syllabus of JNU 2021 is available free of cost.
Question: Will the JNU syllabus be different for all the courses?
Answer:
Yes, the JNU syllabus 2021 differs as per the courses.
Question: Why should I check the syllabus of JNU 2021?
Answer:
By going through the JNU 2021 syllabus, candidates can know, plan and strategize their studies and focus on the important topics. It can help them prioritise the topics and subjects accordingly.
Question: Why should I check the exam pattern of JNU 2021?
Answer:
Candidates are suggested to first check the JNU exam pattern to have a basic idea about the structure of the JNU question papers, total marks, duration of the paper, types of the questions being asked.
Questions related to JNUEE
Showing 415 out of 415 Questions