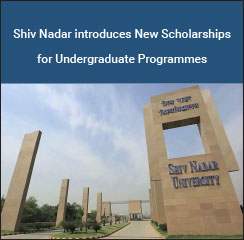 Shiv Nadar University, Uttar Pradesh has introduced two new scholarships- 'Gifted Student Scholarship' and 'Rural Student Scholarship' for its undergraduate programmes 2017-18. With the new scholarships, the University will offer Rs. 35 crore as the total scholarship pool, available to students from the 2017-18 batch. Over the past six years, the University has disbursed more than Rs. 150 crore as part of its scholarship programme. The last date of receiving application forms for undergraduate programmes is May 25, 2017.
Speaking about the new scholarships, Dr. S N Balakrishnan, Chancellor, Shiv Nadar University said, "As a research-led and multidisciplinary university, our endeavor is to create an unparalleled academic ecosystem that develops the full potential of students – enabling them to become future leaders, equipped with excellent skill-sets and a sense of social commitment & responsibility. This year, we have launched specialised scholarship programs which are need-based as well as merit-based to attract the best talent and also offer opportunities of a world-class education to the most deserving underprivileged students."
The two new scholarships introduced this year are:


Gifted Student Scholarship: This is a merit based admissions process under which the university considers students with certificates from pre- identified exams. Eligible students are directly invited for an in-person interview at the University. Once they are selected they are entitled to a 100 per cent tuition waiver. The exams considered for this scholarship will include:
National Talent Search Examination (NTSE) toppers holding ranks up to 1,000

The Indian National Olympiad holding top 5 – 10 ranks for each subject in Sciences and Mathematics

Top 10 rank holders in Class 12 from each Board of Education

INSPIRE fellows awarded Scholarship for Higher Education (SHE)

JEE (Advanced) top 500 ranks

Kishor Vaigyanik Protsahan Yojana (KVPY)
Rural Student Scholarship: This scholarship will support students of exceptional caliber from a rural and underprivileged background. Up to 20 students are entitled to this at the under- graduate level (basis the University's selection process). The scheme offers a full tuition waiver along with hostel and living expenses extended as a loan to be repaid by students after they graduate.
Undergraduate programs include the following courses: Bachelor of Arts (Research), Bachelor of Science (Research), Bachelor of Management Studies and Bachelor of Technology. Details of admission to all programs for the Academic Year 2017-18, including new programs are available on the University website.
Admissions to Shiv Nadar University are merit-based, with the University not reserving any seats under any specific category. Scholarships at the University cover full or partial educational and living expenses for the entire duration of the undergraduate programme. Apart from the Class XII scores, the University evaluates students for their Quantitative Ability, Abstract Reasoning, Verbal and Written Communication through a specially designed Shiv Nadar University Scholastic Aptitude Test (SNUSAT). Similarly, candidates are evaluated on their subject knowledge through the Academic Proficiency Test (APT).
The last date to appear for SNUSAT and APT test is June 7, 2017.
Stay tuned to www.university.careers360.com for more news and updates.
Get real-time alerts on exam & colleges at your fingertips with Careers360 App!
Click Here to Install or Give a missed call on 08080944727 to get app link.
Compare Colleges
College Comparison based on Courses, Placement, Rank, Fee
Compare Now