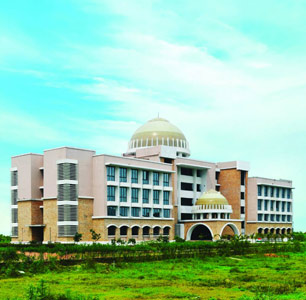 Sandip University, Sijoul campus in Bihar received an autonomous status on May 19,2017. Sandip University is the first self-financed university in Bihar that has been bestowed upon by the state government to commence various educational courses.

According to the university, curriculum and pedagogy will focus on making the students able to demonstrate and deliver solutions and contribute to the economy.

The Chairman of Sandip Foundation Group, Dr. Sandip Jha said, "With the growing awareness and diversity of youths from Bihar, there is always a need to bridge a gap between the knowledge and enhancement of skills, with this initiative we will mitigate the collaborative approach of a students, to acquire a balance proportional mix of knowledge and hands-on experience"
He also added "As a native of Bihar, I have always seen that there are lot of difficulties a person from Bihar needs to undergo; whether in terms of job, global exposure, understanding, cross disciplinary efforts, etc. But, I am quite confident, Sandip University which is located in Madhubani (Sijoul) will spark a new revolution in Bihar, who is in dire need to consume quality education that fosters & polish their entrepreneurial zeal with the adoption of new cutting edge technologies & advanced teaching techniques"
Sandip Univeristy has one of its campus in Nashik, Maharashtra which received autonomous status last year.  
Stay tuned to www.university.careers360.com for more information
Get real-time alerts on exam & colleges at your fingertips with Careers360 App! Click Here to Install or Give a missed call on 08080944727 to get app link.
Compare Colleges
College Comparison based on Courses, Placement, Rank, Fee
Compare Now