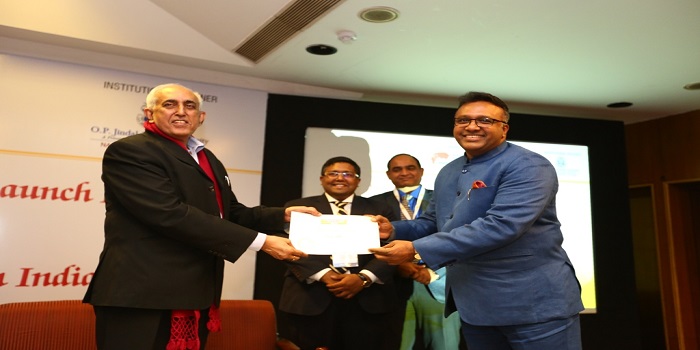 The O.P. Jindal Global University (JGU) has been ranked among the top 10 private institutions in India by QS University Rankings: BRICS 2018 edition. JGU became the youngest Indian University and also the first and only private university in Haryana to have been ranked in an international ranking.
JGU is placed in the 251-300 rank out of 9,000 universities in the BRICS region (covering five countries – Brazil, Russia, India, China, South Africa), placing it in the top 2.8% of the universities in the region.
Based on eight performance indicators, namely academic reputation, employer reputation, proportion of staff with a PhD, faculty/student ratio, research publications and citation rates, and proportion of international faculty and students, the ranking provides insights into the relative strengths and weaknesses of leading institutions in these five fast-developing economies.
Naveen Jindal, the Founding Chancellor of OP Jindal Global University said, "It is an extraordinarily proud moment for JGU as well as for Haryana to enter into the prestigious QS Rankings. The entry of Indian universities into international rankings has created new opportunities for not only the ranked higher education institutions but also in providing models of excellence for Indian higher education. Given India's demographic profile and the country's developing context, there is an urgent need for greater CSR investments and philanthropic donations to be made in education in India. This will be imperative to raising the quality of higher education in India. Indian higher education institutions will need to draw from the experiences of leading global universities."
Talking about the achievement and JGU's commitment to global higher education, Professor (Dr.) C. Raj Kumar, Founding Vice Chancellor, JGU, said, "This is an extraordinary accomplishment for a young university, which has just completed eight years since its establishment. We have pursued and succeeded in developing the broadest possible framework of international collaborations that has enabled JGU to partner and work with over 200 universities and higher education institutions spread across over 50 countries in the world.
The release of the QS University Rankings: BRICS 2018 comes at a time when the Government of India has invited proposals from eligible higher education institutions in the country to apply to be designated an 'Institution of Eminence' under the Government's efforts to build world class universities in India.
The QS University Ranking BRICS 2018 edition was unveiled in New Delhi by Professor (Dr.) V.S. Chauhan, Chairman, and University Grants Commission (UGC). Ashwin Fernandes, Regional Director - Middle East, North Africa & India and QS Intelligence Unit introduced the ranking system to the audience.