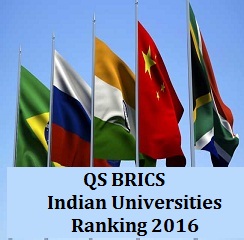 QS BRICS Ranking 2016: Indian universities took a beating in the recently released QS BRICS ranking 2016 with just five universities making it to the top 50 compared to 9 universities in the previous year's ranking. Further, India's top representative in the BRICS ranking list- Indian Institute of Science (IISc), Bangalore fell by a notch to get dropped from the top 5.
The good news for the country, however, is that the number of universities in the QS list has increased to 44, thanks to the expanded university base of QS from 200 to 250.
In the top 20, while IIT Bombay and Madras jumped three and one places, to be at the 13th and 19th positions, respectively, IIT Delhi fell down two places to be at the 15th spot. IIT Kanpur, which was at the 18th position last year got dropped from the top 20 universities.


The annual BRICS ranking published by QS yet again saw Chinese universities dominating the ranking list.China not only holds majority of the spots with 86 representatives, its three popular universities- Tsinghua, Peking and Fudan University- also captures the top three spots. China is followed by Russia and Brazil with 55 and 54 universities in the list.
BRICS ranking is an annual ranking brought out by QS, which covers universities of the five BRICS countries- Brazil, Russia, India, China and South Africa.
Here are the top 10 Indian universities in the QS BRICS ranking 2016:
Stay tuned to university.careers360.com for more news and updates on QS rankings