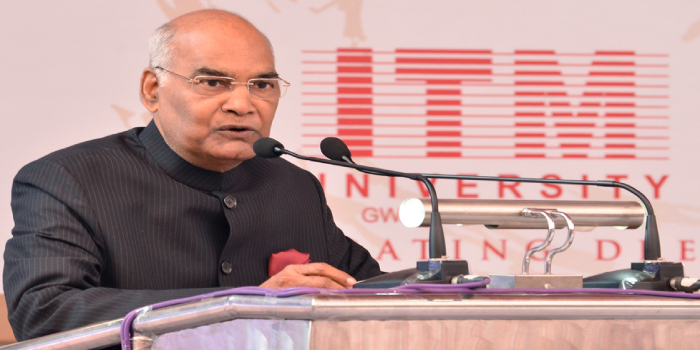 President of India Shri Ram Nath Kovind addressed the Dr. Ram Manohar Lohiya, as the 'Kabir of Indian politics' while delivering the 4th Memorial Lecture tributing to the revolutionary socialist political leader at NAAD amphitheatre of ITM University, Gwalior on February 11. Chaired by Nitish Kumar, the Chief Minister of Bihar, the lecture session was attended by the Governor of Madhya Pradesh - Smt. Anandiben Patel, Governor of Haryana - Shri Kaptan Singh Solanki, the Chief Minister of Madhya Pradesh- Shri Shivraj Singh Chauhan and the Cabinet Minister of Higher Education, Govt. of Madhya Pradesh - Shri Jai Bhan Singh Pawaiya.
Compare Colleges
College Comparison based on Courses, Placement, Rank, Fee
Compare Now
Remembering Dr. Lohiya, the President said that he was the one who alwayssupported gender equality and the upliftment of the poor, downtrodden and outcaste. He added that in a life span of 57 years, Lohiya was imprisoned 18 times by the British government in attempts to win freedom for his country, was tortured tremendously in various ways, yet he did not give up his composure and patience and continuously yearned to his godly motherland for imparting him the brain of Shiva, heart of Krishna and deeds of Rama.
ITM University, Gwalior, organises a memorial lecture in the remembrance of Dr. Ram Manohar Lohiya, every year. Besides President Kovind, Vice-President Hamid Ansari, Home Minister Rajnath Singh, Justice B. Sudershan Reddy, the Judge of Supreme Court of India, also spoke at the event.