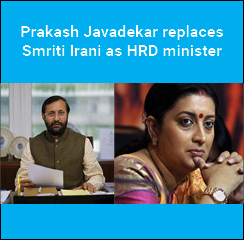 Prakash Javadekar has stepped in as the new Human Resources Development (HRD) minister in a major reshuffle of the Union Cabinet on July 5, 2016. An alumnus of the University of Pune, Javadekar has replaced Smriti Zubin Irani as the education minister while the latter has been moved to the textile ministry.

A former environmental minister, Javedkar's transfer to the human resource ministry is being seen as an attempt to ensure speedier implementation of projects in education before the 2019 polls. The minister's elevation is being attributed to him being in sync with the Modi Government's vision. 
Smriti Irani's controversial tenure began at the very onset of her joining the HRD office, when the minster claimed to hold a degree from Yale University followed by overturning the Four-Year Undergraduate Programme (FYUP) structure at the University of Delhi, against the wishes of UGC and the then-VC, Dr. Dinesh Singh. However, what seemed to have dealt final blows to her stint in the education ministry were the events surrounding the Hyderabad Central University and Jawaharlal Nehru University.
Besides the above ministries, Prime Minister Narendra Modi has rejigged his team and inducted as many as 19 new ministers into his cabinet, including Anupriya Patel as Minister of State for Health & Family Welfare and MJ Akbar as MoS External Affairs.
Stay tuned to university.careers360.com for more news and updates on Indian Education