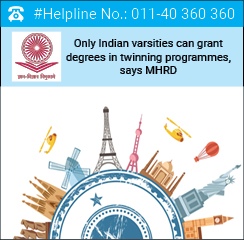 An amendment to the 2012 regulation on foreign university collaboration in India now allows Indian institutions to directly approach the University Grants Commission (UGC) for approval of twinning and other collaborative arrangements with Foreign Educational Institutions (FEIs). Institutions are, however, restricted from offering joint degrees and only Indian institutions will have the right to grant the final degree with just a mention of the foreign university in the certificate, as per a recent announcement by MHRD.


Twining programmes allow students to complete part of their studies in India and the rest in a foreign university with which the former has collaboration with. The new guideline demands that the minimum duration of the collaboration should be at least one semester for postgraduate studies and two for under-graduation. An advantage for the students engaged in a collaborative programme would be that the credit points earned during their study abroad stint will be part of the final academic transcript.


The 2012 regulation only allowed foreign institutions to seek permission from UGC for academic collaborations with Indian universities. UGC's decision to tweak the rules comes in the light of poor responses from foreign educational institutions which were apprehensive about the cumbersome regulatory process.


Another element of the revamping process is that under the new system Indian universities will be able to apply online with UGC for approval of the collaborative programmes. The commission is, however, yet to launch a portal dedicated to this purpose.


The new regulations also require the applicants to hold 'A' grade or threshold accreditation with 6 years of experience in the education domain or at least have 2 batches of students who have passed out from the institution.


The guidelines, however, do not apply to technical institutions as they will be separately regulated by the All India Council of Technical Education (AICTE) for collaboration with foreign universities.


The UGC amendment is being seen as an attempt to curb malpractices by some educational institutes in India who advertise false claims of offering foreign degrees to Indian students who do not consider a full-time education abroad due to the high cost of study in foreign institutions.


Stay tuned to university.careers360.com for more news and updates on UGC