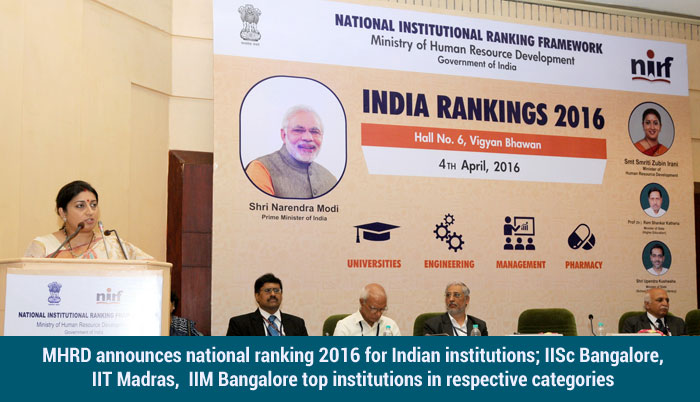 IISc Bangalore, IIT Madras, IIM Bangalore and Manipal Colleges of Pharmaceutical Sciences have topped in their respective categories in the national ranking of institutions released by Ministry of Human Resources and Development (MHRD) under National Institutions Ranking Framework (NIRF). The government ranking which is also named as India Ranking 2016 has been released for four categories of institutions including University, Engineering, Management and Pharmacy. The rankings were announced on April 4, 2016.


Indian Rankings 2016 highlights
In the university category, Jawaharlal Nehru University located in the national capital has been placed on Rank 3 followed by University of Hyderabad. Tezpur University has secured 5th position in the University ranking list followed by University of Delhi and Banaras Hindu University at number 6 and 7 respectively.
In engineering category, IIT Madras grabs the top position followed by IIT Bombay and IIT Kharagpur at second and third place respectively. All the top 10 slots are captured by different Indian Institutes of Technology.
In the category of management institutions, IIM Bangalore is ranked number 1, followed by IIM Ahmedabad and IIM Calcutta. Besides 7 IIMs, the top 10 MBA colleges also include IIFM Bhopal and IMI New Delhi among top 10 institutions.
Manipal College of Pharmaceutical Sciences, Manipal holds the top rank in the category of Pharmacy institutions followed by University Institute Of Pharmaceutical Sciences-Chandigarh. Jamia Hamdard is placed at third position in the national Ranking list of Pharmacy institutions.
Category-wise list of Top 10 institutions in India College Raking 2016 is listed below:
India College Ranking -Top 10 Universities 2016:
India College Ranking- Top 10 Engineering Colleges 2016:
India College Ranking -Top 10 Management Colleges 2016:
India College Ranking - Top 10 Pharmacy Colleges 2016: