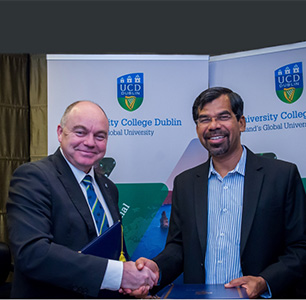 The University of Dublin and Loyola College, Chennai signed a Memorandum of Understanding and  commenced University partnership between the two institutes to foster deeper futuristic relations.  The agreement was signed by Professor Andrew J Deeks, President of University College Dublin (UCD) and Rev. Dr. M. Arockiasamy Xavier, S. J Principal of Loyola College in New Delhi on March 27, 2017.

After the signing ceremony the significance of this new partnership was discussed by the President of UCD and Principal of Loyola College. Speaking on the agreement, Professor Andrew J Deeks said, "University College Dublin is pleased to commence a partnership with one of the highest ranked colleges in south India and we look forward to fostering deeper collaborations in the future".
Meanwhile, Rev. Dr. M. Arockiasamy Xavier, S.J, pointed, "This partnership between UCD and Loyola College represents an extremely promising opportunity as the historic and cultural synergies between the two institutions can lead the way to creating a mutually beneficial partnership in the field of humanities".
Other key members who were present at the occasion were Prof. Mary E. Daly, Professor of Modern Irish History,  and Douglas Proctor, UCD Director for International Affairs.
Stay tuned to www.university.careers360.com for more news and updates
Compare Colleges
College Comparison based on Courses, Placement, Rank, Fee
Compare Now
Questions related to Loyola College, Chennai