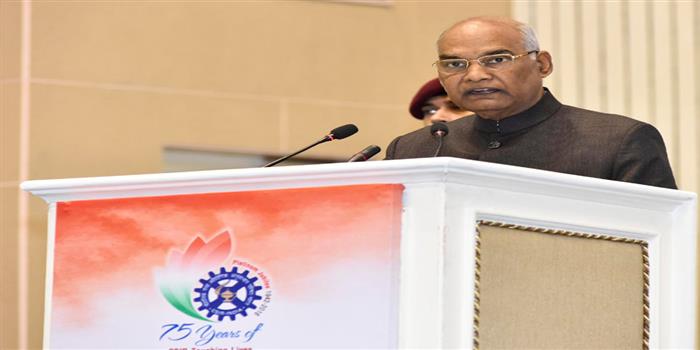 The President of India, Ram Nath Kovind has asked for accelerated steps for improving participation of women in the area of science and technology.
"Less than two of every 10 scientific researchers in India are women. Of those who join the Indian Institutes of Technology each year, just about 10 per cent are women. These numbers are simply not acceptable," said the President.
The President speaking on the occasion of conclusion of platinum jubilee year celebrations of CSIR said that we have to take accelerated steps to promote the participation of girl students and of women in science and technology. If this disparity is not addressed, our scientific achievements will always be less than perfect and less than desirable.
"I must point out here that none of our developmental goals has any meaning without gender parity – and without equal opportunities for our daughters and girl-children. In the past seven decades, CSIR as a body and India as a society have made enormous progress. Yet, the participation of women in science in our country is distressingly small," he added.
He also highlighted about the socially relevant research and said that the true test of scientific research lies in its ability to help our society leap frog social sector gaps, whether in health and hygiene, sanitation, education or agriculture, and make us a middle-income country in one human lifetime.
President Kovind said, "In all these areas, the need for socially inclusive and yet cost-effective applications and products of science and technology are a national priority. Once these are realised, they can become a model for other developing countries. For us, this has always been and will always be a paramount goal. For India, science and technology is a force multiplier in the quest for development."
The CSIR also dedicated two of its recently developed technologies to the nation on completion of 75 years of its existence. The President said, "The first is a hand-held milk tester that will allow us to more easily identify adulterants in milk. The second is Waterless Chrome-Tanning Technology that eliminates the use of water in two processes before and after tanning – and also reduces the solids dissolved in wastewater during tanning. This has an obvious environmental impact."
He went on to say that in the midst of all this, we cannot let the excitement of technology and newer and newer products divert our attention from basic science research. For that remains fundamentally important. It is for CSIR to continue to make new technologies as well as basic research relevant to our developmental hopes, and to the well-being of our poorest and most deprived fellow citizens.
Stay tuned to university.careers360.com for more articles and updates on CSIR
Get real-time alerts on exam & colleges at your fingertips with Careers360 App!
Click Here to Install or Give a missed call on 08080944727 to get app link.