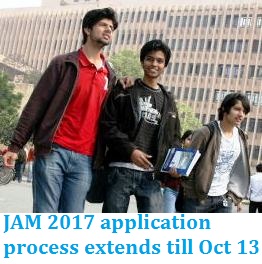 JAM 2017 application form can now be filled till October 13, 2016, as IIT Delhi, the JAM organising institute for this year has extended the last date for submitting application forms of JAM by as many as seven days. As per the official notification, applicants can now submit the JAM application form 2017 by 5:00 pm after paying the fees.


Related Posts:

"Candidates can submit the online application forms after paying the requisite amount of fees for same and also upload the documents at the official website till 5:00 pm of October 13, 2016," said the IIT Delhi notification on JAM 2017 application extension.
Earlier, the applications for JAM 2017 were to be submitted till October 6, 2016, which however, has now been extended for a week.
The other dates for JAM 2017 exam events have remain unchanged as the admit card for IIT-JAM can be downloaded from January 10, 2017 and the IIT Delhi regulated Joint admission test for M.Sc programmes is scheduled to be held on February 12, 2017.
In addition to the above information, IIT Delhi has also informed that candidates who have paid the application fee for JAM 2017 more than once, the extra payment if received by the organising institute would be refunded after the last date of applications, i.e., October 13, 2016.
JAM 2017 application form – Click here to apply for IIT – Joint Admission Test for M.Sc programmes
Stay tuned to university.careers360.com for more news and updates on JAM