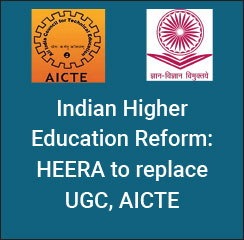 In what is being seen as one of the major Indian higher education reforms in recent times, the Human Resource Development (HRD) Ministry is proposing to do away with the University Grants Commission (UGC) and All India Council for Technical Education (AICTE), even as it decides to replace them with a new higher education regulator, christened as Higher Education Empowerment Regulation Agency (HEERA).
The proposed HEERA aims to obliterate overlap in jurisdiction and quash irrelevant regulatory provisions in the Higher Education sector. Further, with UGC and AICTE gone, HEERA is intended to become the sole regulatory body for technical and non-technical institutions in India.
The HRD Ministry is currently working with the Niti Aayog on the blue-print of the proposed regulator and its legislation. "The Niti Aayog and HRD Ministry are rolling out plans for the new regulator. It was felt that the presence of multiple regulatory bodies has led to the creation of excessive and restrictive regulations, which in turn has resulted in a lack of institutional autonomy," a HRD Ministry official was quoted as saying by media sources.
Earlier, a similar idea was shared by several committees, including Yashpal Committee, the National Knowledge Commission and the Hari Gautam Committee. However, none of these proposed reforms ever took flight.
The HRD Ministry was quoted saying that the new regulatory legislation is likely to be crisp and clean. It would outline minimum standards focussing primarily on outcomes. While the separation of technical and nontechnical education is out-dated and out of sync with global practices, the new single regulator is expected to bring in greater synergy among institutions and in framing curricula.
"HEERA is aimed at putting an end to the inspector raj and harassment that the UGC regime is associated with. The new body will be empowered to take strong penal action when necessary," another HRD official was quoted as saying.
Stay tuned to university.careers360.com for latest updates and news on UGC
Get real-time alerts on exam & colleges at your fingertips with Careers360 App!