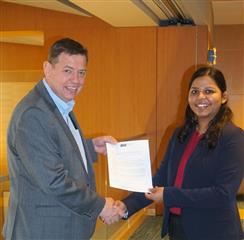 Compare Colleges
College Comparison based on Courses, Placement, Rank, Fee
Compare Now
USF launched the Fellowship in 2015 to honor President Kalam, who visited the university in 2012. Aimed at Indian students wanting to pursue a PhD in specified Science, Technology, Engineering and Mathematics (STEM) programs, the Fellowship offers a 4-year tuition waiver as well as a stipend of $18,000 per year.
Veena Subramanian intends to use the PhD program at USF to make an impact in the areas of genome integrity and aging mechanisms, which will enhance the understanding of issues facing the elderly and help researchers to find solutions to their pressing needs.
"Aging is a feature that is conserved across species and is one of the major risk factors for a variety of pathologies like Alzheimer's, metabolic disorders, Type II diabetes, and cancer, all of which are leading health challenges of this century," says Veena.
"Veena was a remarkable candidate for the highly competitive President A.P. J. Kalam Postgraduate Fellowship, and we welcome and anticipate her contributions to the USF Department of Cell Biology, Microbiology and Molecular Biology," said Dr. Roger Brindley, USF System Vice President of USF World as he remarks, "Her exceptional academic credentials and passion for research exemplifies all that embodies a Kalam Fellow."
About the recipient
Veena was born and raised in Kottayam, Kerala She completed her undergraduate in Biotechnology engineering from Vellore Institute of Technology and graduated from IISc with a Masters in Cell Biology.
About the University
University of South Florida (USF) founded in 1956 is one of the top universities in the United States of America. More than 2,000 distinguished scholars, researchers and expert teachers make up the USF faculty and are focussed on creating local, national and global solutions to society's most difficult problems.From the undergraduate level to doctoral status, students across numerous programs receive hands-on learning and access to cutting edge research labs.
Stay tuned to university.careers360.com for latest news and updates on JNUEE 2018
Get real-time alerts on exam & colleges at your fingertips with Careers360 App!
Click Here to Install or Give a missed call on 08080944727 to get app link.