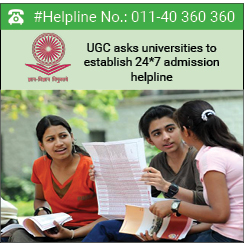 As the new academic session is likely to begin from June-July, University Grants Commission (UGC) has asked universities to establish 24x7 admission helplines to respond to hurdles faced by students during their admission process. According to the UGC, the helpline should aim to handhold the prospective students and attend to a variety of candidates' queries, doubts, confusions and their grievances.

The UGC issued a notice in this regard also on June 1, 2016 and asked universities to set up the helpline facility at earliest. UGC Secretary Dr. Jaspal S. Sandhu said, "Such a helpline may be one-stop solution to all admission related inquires and problems of students and will go in a long way in creating a barrier-free and smooth functioning system."
Further, the UGC secretary advocating the establishment of 24X7 helpline in universities said that the admission procedure constitutes one of the most significant aspects of institutional functions and may lead to a lot of hassles and confusions with utmost care and clarity, which is where the admission helpline will come to rescue the applicants.
"With the new academic session to commence soon, it is understood that all universities are getting busy with the process of admissions in various programmes of the study at different levels of higher education. In this context, I would like to request the universities to do all it takes to ensure the elements of transparency, clarity and effectiveness of interface through the admission helpline," shares Dr. Sandhu.
The UGC, moreover, has asked the varsities to put a notification on the home page of their website for the admission helpline which will be answering their various admission related queries and doubts.
Also Read–
Delhi University Admissions 2016
How to fill DU 2016 Application Form

Stay tuned to university.careers360.com for more news and updates on University Admissions