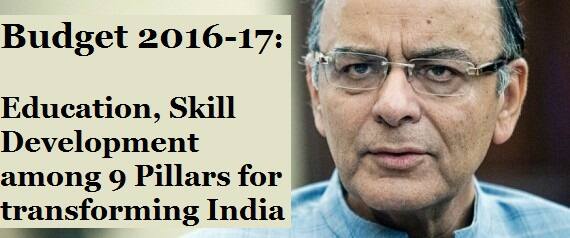 Narendra Modi Government has put higher education among the key reform agenda in the Budget 2016-17 with Union Finance Minister Arun Jaitley announcing a Higher Education Financing Authority, to be formed with an initial capital base of Rs. 1,000 crore to promote higher education. In addition, the government has decided to facilitate 10 institutions each from public and private sectors towards making them world-class Teaching and Research Institutions.


Though the education sector had high expectations from the Finance Ministry in the Budget 2016, there has been only a slight increase in the overall allocation as compared to Budget 2015-16. But this year, the Government has focused more on the skill development and creating job ready people for the industry and at the same time created a dedicated body to look into the funding of higher education institutions, Higher Education Financing Agency.


While outlining government initiatives in nine priority areas (9 Pillars for transforming India), the Union Finance Minister said that the government will lay greater emphasis on social sectors, education, skill building and job creation.


The union budget focuses on building world-class institution also reflects Government's urge to correct the perception that India does not have a single world-class institution of higher learning. At present, India is among the few nations with large higher education system in place that includes both public and private funded institutions. The country boasts of close to 800 degree granting institutions and that certainly demands few of them to be among the top 200 globally. Highlighting this fact, Arun Jaitley, in his budget speech said, "It is our commitment to empower Higher Educational Institutions to help them become world class teaching and research institutions. An enabling regulatory architecture will be provided to ten public and ten private institutions to emerge as world-class Teaching and Research Institutions. This will enhance affordable access to high quality education for ordinary Indians. A detailed scheme will be formulated."


The government has also allocated Rs.500 crore for promoting entrepreneurship among SC/ST, 10 public and 10 private educational institutions to be made world-class. The government has also proposed digital repository for all school leaving certificates and diplomas. As many as 62 new Navodaya Vidyalayas has been proposed in the annual budget to provide quality school education in remaining uncovered districts over the next two years.


Boost to Skill Development
The Budget proposed to launch digital literacy scheme to cover 6 crore additional rural households. It also plans to provide entrepreneurship training across schools, colleges and massive online courses. There is also plan to skill one crore youth in next three years under the PM Kaushal Vikas Yojna.


In the Budget, the government has announced to set up 1500 Multi Skill Training Institutes with an allocation of Rs.1, 700 crore.

The Finance Minister said that Skill India Mission seeks to capitalize our demographic advantage. Since its launch, the National Skill Development Mission has created an elaborate skilling eco-system and imparted training to 76 lakh youth. He said that the government has decided to set-up a National Board for Skill Development Certification in partnership with the industry and academia. "We propose to further scale- up Pradhan Mantri Kaushal Vikas Yojana to skill one crore youth over the next three years," the Minister said.


The Finance Minister also stated that Entrepreneurship, Education and training will be provided in 2200 colleges, 300 schools, 500 government ITIs and 50 Vocational Training Centres through Massive Open Online Courses (MOOCs). Aspiring entrepreneurs, particularly those from remote parts of the country, will be connected to mentors and credit markets.


In another important announcement, Jaitley said that in order to incentivize creation of new jobs in the formal sector, Government of India will pay the Employee Pension Scheme contribution of 8.33% for all new employees enrolling in EPFO for the first three years of their employment. The Scheme will be applicable to those with salary up to Rs.15,000 per month and a budget provision of Rs.1000 crore has been made for this.


Budget, 2015 Vs 2016
Though budget 2016-17 did not propose any new institute for higher education, the government focus is on consolidation of existing ones by improving funding and their quality. Improvement in infrastructure of education institutions by raising CSR funds is also expected to help the education sector.


This year the government has allocated Rs 73,943 Crore for the education sector with slight rise in the total allocation when compared with the Budget of 2015-16. In the last year's budget the Finance Minister Arun Jaitley reduced allocations towards education but had increased the planned higher education budget by nearly 22 per cent. In Budget 2015-16, around Rs.69, 074 crore was allocated for education as against Rs.70, 505 crore in the revised estimate of 2014-15.
In Budget 2016-17 the Higher education sector has been allocated 28,765 crore (Centre+ state), school education has been allocated 43,372 crore (Centre+ state). The Skill Development & Entrepreneurship programmes has got a major boost with Rs 1804 crore allocation against last year's allocation of Rs 1,038 crore.  
Rajiv Pratap Rudy, MoS for Skill Development and Entrepreneurship (Independent Charge) commenting on the Budget said, "The budget for skill development is highly encouraging for us. As announced, we will be creating 1500 Multi Skill Training Institutes (MSTIs) which will basically be the new generation ITIs set up in PPP mode. So far we have just had standalone government or private ITIs. These will be set up in those blocks and districts of the country which are yet to focus on skill development. The formation of the National Skill Certification Board is another big step in further strengthening the skill ecosystem. It will see representation from both government and industry, which will collectively enable a joint framework for quality skill assessment."


A National Career Service was launched in July, 2015 and 35 million jobs seekers have already registered on this platform. In the new Budget, the Government proposes to make 100 Model Career Centres operational by the end of 2016-17. It also proposes to inter-link State Employment Exchanges with the National Career Service platform.


S Ramadorai, Chairman, NSDA and NSDC said, "Budget 2016-17 seems promising for India's youth – whether it is about quality of education, focus on skill development, improving teaching and research outcomes, emphasis on job creation or creating an ease of business to promote entrepreneurship. It is good that the Public Private Partnership model has worked reasonably well for the skills ecosystem which needs to be given more encouragement."