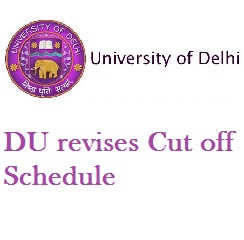 In a surprising move, Delhi University has postponed DU Cut off 2017 dates by as many as three days. The first cut off of DU 2017 which was to be announced by the University of Delhi and its constituent colleges on June 20 has been re-scheduled for June 23, 2017. Further this changes the complete DU admissions 2017-18 schedule. "The first cut-off list of University of Delhi for admissions to merit-based undergraduate programmes for the academic year 2017-2018 has been postponed from 20th June, to 23rd June, 2017 (Evening), and the admission for the same shall start from 24th June, 2017 as per schedule," read an official notification for DU 2017 admissions.
Moreover, as per the new DU cut off 2017 dates, the central university will be now announcing only five cut offs in place of six, as announced earlier. The fifth and the last cut off of DU 2017 will be announced on July 18, after which in case of any vacant seats the DU colleges will bring out their own merit lists of DU 2017-18 admissions.
DU Cut off 2017: Revised dates
While the first cut off of DU 2017 admission process has been revised and changed to June 23, the second cut off will be now announced on July 1, 2017. The DU third cut off 2017 will be announced on July 7, followed by fourth and fifth cut-offs on July 13 and July 18, 2017, respectively.
| | | |
| --- | --- | --- |
| DU Cut off 2017 | Revised Cut off schedule of DU 2017 | Earlier Cut off schedule of DU 2017 |
| First cut off of DU 2017 | June 24, 2017 | June 20, 2017 |
| Second cut off of DU 2017 | July 1, 2017 | June 24, 2017 |
| Third cut off of DU 2017 | July 7, 2017 | July 1, 2017 |
| Fourth cut off of DU 2017 | July 13, 2017 | July 7, 2017 |
| Fifth cut off of DU 2017 | July 18, 2017 | July 13, 2017 |
| Sixth cut off of DU 2017 | - | July 18, 2017 |
DU Admissions 2017: Revised Schedule
| | | |
| --- | --- | --- |
| DU Admissions 2017 | Revised DU 2017 admissions schedule | Earlier DU 2017 admissions schedule |
| Document verification and Admissions on the DU first cut off 2017 | June 24 – June 28, 2017 | June 20 – June 22, 2017 |
| Document verification and Admissions on the DU second cut off 2017 | July 1 – July 7, 2017 | June 24 – June 28, 2017 |
| Document verification and Admissions on the DU third cut off 2017 | July 7 – July 10, 2017 | July 1 – July 7, 2017 |
| Document verification and Admissions on the DU fourth cut off 2017 | July 13 – July 15, 2017 | July 7 – July 10, 2017 |
| Document verification and Admissions on the DU fifth cut off 2017 | July 18 – July 19, 2017 | July 13 – July 15, 2017 |
| Document verification and Admissions on the DU sixth cut off 2017 | - | July 18 – July 19, 2017 |
Read more on DU Cut offs
Stay tuned to university.careers360.com for latest news and updates on DU Admissions
Compare Colleges
College Comparison based on Courses, Placement, Rank, Fee
Compare Now