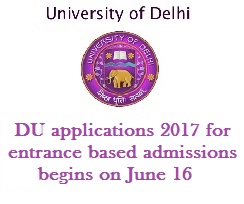 The long wait is finally over for DU aspirants who wish to seek admissions in the undergraduate entrance based programmes. DU application form 2017 for entrance based admissions is scheduled to begin from June 16, 8:00 pm onwards. Earlier, it was scheduled for 6:00 pm. The application form for entrance based programmes in Delhi University has been delayed this year by 16 days. Earlier, DU application form for the entrance based admissions was scheduled to start on May 31, 2017, but was postponed. "The registration for the following courses for undergraduate programmes will start from June 16, 2017 from 06:00 P.M.," reads the official notification on the University of Delhi website.
DU Admissions 2017: Entrance-based programmes
The central university offers admissions to as many as nine programmes at the undergraduate level through entrance tests. The undergraduate programmes are as follows–
B.A. (Hons.) Business Economics

Bachelor of Management Studies (BMS)

Bachelor of Business Administration (Financial Investment Analysis) BBA(FIA)

B.A. (Hons.) Humanities and Social Sciences

B.Tech. (Information Technology and Mathematical Innovation)

Bachelor of Elementary Education (B.El.Ed.)

B.Sc. Physical Education, Health Education and Sports (B.Sc. [P.E.H.E.&S.])

B.A. (Hons.) Multimedia and Mass Communication

B.A. (Hons.) Music*
DU Admissions 2017: Delhi University Entrance Tests (DUET)
The DU entrance tests (DUET) 2017 for these programmes will be held in online mode. So far, no other dates have been announced. Further, it has also been notified by the university officials that the DUET for these nine undergraduate programmes will be held in 18 cities across India. "The entrance examination will be computer based online test & will be conducted in 18 cities. However, the Delhi University Entrance Test for B. A. (Hons.) Music will be based on practical admission entrance test, scheduled to be held in the Department of Music, Faculty of Music & Fine Arts, University of Delhi," stated Dr T K Das, Registrar of the University.
Also Read-
Stay tuned to university.careers360.com for latest news and updates on DU Admissions
Get real-time alerts on exam & colleges at your fingertips with Careers360 App!
Click Here to Install or Give a missed call on 08080944727 to get app link.
Compare Colleges
College Comparison based on Courses, Placement, Rank, Fee
Compare Now