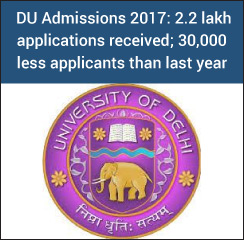 The University of Delhi has received as many as 2,21,309 DU application forms after ending the online application process of DU 2017-18 admissions by 5 pm on June 13. The total number of DU 2017 application forms received this year is a notch lower than that of around 2.5 lakhs recorded last year. As per the University, the reduction in numbers could be because duplicate applications were not accepted. "We have not allowed duplicate applications this year. The candidates were asked to put their unique board roll number and thus no duplicate applications could be allowed with the same roll number," shared a DU Official.
DU 2017 Application Numbers: Top States
From the 2.2 lakh DU 2017 applications received, Delhi accounts for more than half the applicants, totalling 1,24,626. Next comes Uttar Pradesh, with as many as 64,557 DU aspirants from the state filling the online application form of DU 2017-18. The next three states with the highest number of applicants are Haryana, Bihar and Rajasthan with 39,870, 11,199 and 10,472 applications sent in respectively.
DU 2017 Application Numbers: Gender-wise
Further, according to the official records, a total of 1,63,463 male and 1,28,779 female candidates have applied for DU 2017-18 undergraduate admissions. As many as 86 candidates have filled the DU application form under the 'other' gender category.
DU 2017 Application Numbers: Most sought-after courses
BA programme continues to be the most-sought after course among the DU 2017 applicants, with 1,40,619 applications received for the undergraduate DU programme. BA (Hons.) English was the programme to receive the second highest number of applications with 1,28,842. As many as 1,08,525 DU applications 2017 were made for B.Com programme. The next two undergraduate programme with the highest number of applications were BA (Hons.) Political Science and BA (Hons.) Economics, with 99,372 and 94,476 applications received respectively.
DU 2017 Application Numbers: Sports and ECA
As many as 12,914 and 20,217 applications have been received under Sports and ECA categories respectively. The most common ECA among the applicants was NCC with 3,281 applications sent in, followed closely by 2,797 applications for dance. "The preliminary rounds of trials for ECA categories will begin on June 17, 2017 and the final round of selection is scheduled for June 30, 2017," informed Dr G S Tuteja, the Deputy Dean (Student Welfare) at the Delhi University.
DU Admissions 2017: What next
Delhi University will be announcing the first cut off list of DU admissions 2017 on June 20, 2017 after which the candidates can proceed for admission process if the meet the DU cut off as per the 'Best of Four' marks formula.
Stay tuned to university.careers360.com for latest articles and updates on DU Admissions
Get real-time alerts on exam & colleges at your fingertips with Careers360 App!
Click Here to Install or Give a missed call on 08080944727 to get app link.
Compare Colleges
College Comparison based on Courses, Placement, Rank, Fee
Compare Now