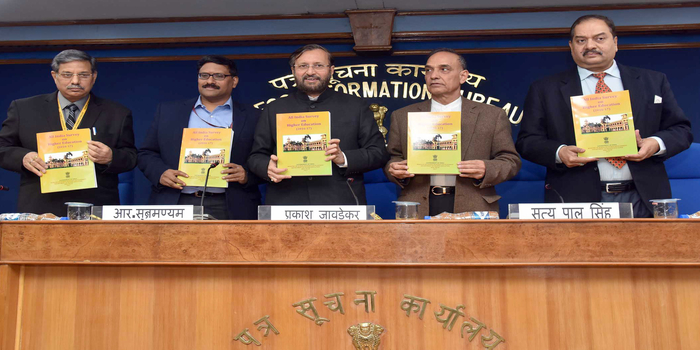 The academic fraternity has taken strong objection to the statement made by the Union Minister for Human Resource Development, Prakash Javdekar on 80,000 ghosts teachers working in the higher education system. The teachers have called Minister's statement an irresponsible, they are of the view that Javadekar made the statement without the complete understanding of the prevailing situation. 
Javadekar during the release of the 8th All India Survey on Higher Education (AISHE) for the year 2016-17 said that there are certain 'ghost' teachers who use proxy methods and are apparently teaching at multiple places as full-time employees. After the introduction of Aadhaar, 80,000 such teachers have been identified and action will be taken against them. 
The All India Federation of University & College Teacher's Associations (AIFUCTO) has also come out a statement and said, "A remarkable revelation for a sector that requires urgent fill up of teaching posts, a sector that runs with part-time, contractual, ad-hoc teachers the reality of their service conditions being sub-human to say the least. Honourable Minister has not substantiated his claim." 
AIFUCTO has demanded that the Minister should immediately release the data it has received and make appropriate arrangements so that teaching process is not hindered. As per the Association, the Minister's statement is surely a ploy to divert attention from the basic issues affecting the teachers and students and shrug off government responsibilities in matters relating to higher education. It has alleged that this is a carefully crafted heinous design to belittle the image of the existing teaching community which does not toe the ideological and political lines of the existing government. 
"There are many gaps in the way AISHE data is prepared, it is not unlikely that many teachers would be simultaneously engaged in teaching or research projects in other institutes. Without the complete understanding of the prevailing situation and the way the AISHE data is prepared the Minister made an irresponsible statement only to tarnish the image of the teachers," Arun Kumar, General Secretary, AIFUCTO. 
"AIFUCTO strongly condemns such a move and demands a justification of the Minister's claims with solid evidence. It is high time that the Minister meet us and fulfill the long-standing demands of nearly 8 lakh college and university teachers of the country," it said.