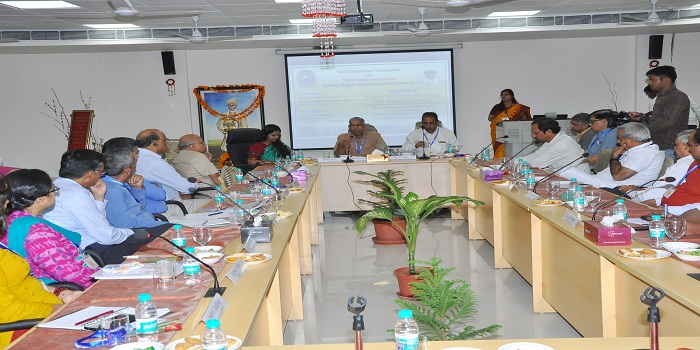 Eighteen leading universities from Haryana have agreed to collaborate and share each other's resources and experience in order to benefit and grow together. There has also been discussion on coming up with a common website for all the participating universities to help the student and teaching community.

The decision was taken during a Colloquium where Vice-Chancellors of various Universities of Haryana assembled to promote academic collaboration. These universities also agreed to sign an MoU in this regard soon. During the event hosted by the Central University of Haryana (CUH), the Vice-Chancellors and representatives of different universities made presentations about the resources and facilities offered by their institutions and expressed their willingness to contribute to the idea of collaboration between institutions.
While addressing Vice-Chancellors and representatives of Universities, Prof. R. C. Kuhad, VC CUH said "Now is the time we all should come forward and work together for enhancing quality in higher education". Prof. Kuhad said that the colloquium was an important step in this direction. He added that all the Universities of Haryana will soon come up with a web portal for collaboration.
The new arrangement is likely to benefit students and teachers of state universities, as students from any university will be able to utilise the best facility available in any one or more university. This will help them gain access to not just the high quality infrastructure but also information and experience. 
This will also bring the community of public universities and private ones on the same page as both will work together.  
Prof. K. P. Singh VC, Haryana Agricultural University said that through the endeavour "we will not only get benefited in terms of sharing of each other's rich experiences but it will also pave the way whereby every institution can share the resources of sister institutions."
Some of the universities going to be part of the collaboration include CUH, Jagannath University, O P Jindal Global University,  Chaudhary Devi Lal University, MDU Rohtak, Northcap University.