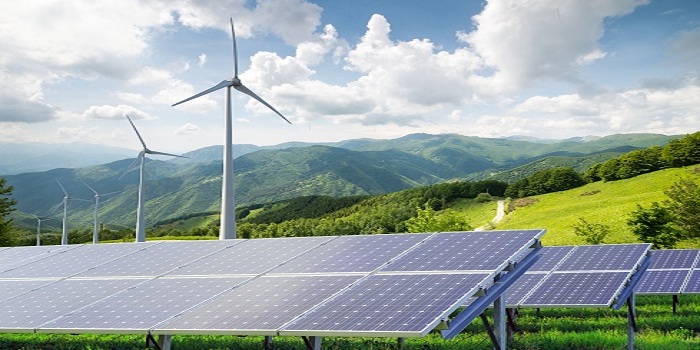 Employment opportunities in renewable energy sector are rising tremendously as India attempts to achieve the renewable energy target of 175 gigawatts by 2022. Careers360 tells you about the rising employment in renewable energy sector. Read the complete story below to know more about the components of India's renewable energy sector.
When it comes to generation of solar power, Germany, China, Japan and Italy top the long list of countries harnessing green energy. India too has set renewable power deployment target of 160 gigawatts (GW) by the year 2022, which includes 100 GW from solar and 60 GW from wind energy. "That is actually the key driving factor. India is trying to move away from conventional to renewable fuels. So the annual deployment or the target that has been set will be achieved in the following years which will create these employment opportunities for fresh graduates, and people who are experienced in the sector," says Neeraj Kuldeep, Programme Associate at Council on Energy, Environment and Water (CEEW). Thus, India's renewable energy power plans will certainly have a positive impact on the country's job market.
Components of India's renewable energy sector
The renewable energy sector includes solar, thermal, wind, bio-energy, green buildings etc. Although significant amount of work is being done in all segments of the sector, solar and wind energy are the most prominent among all in India. The solar energy is divided into two parts - the utility solar and rooftop solar. Employment opportunities are spread across India both in solar and wind.
Solar jobs are spread across India but it is estimated that Maharashtra and Uttar Pradesh will have most number of jobs. In the wind sector the job is concentrated in states like Rajasthan, Gujarat, Madhya Pradesh, Andhra Pradesh, Telangana, Tamil Nadu and Karnataka.
The solar and wind power project deployment cycle can be divided into four stages: Business Development, Design and Pre-construction, Construction and Commissioning and Operations and Maintenance.
The hiring of manpower is done either for one-time or full-time employment, depending on their skills and experience. The first three stages of solar or wind project create one-time jobs, that is, once the project is designed or constructed, the employment generated terminates and the employed workforce shifts to the next project. For the last stage of the project (operations and maintenance) the employment generated is full-time.
Rising demand for jobs in renewable energy sector
Both solar and wind sectors in India have growing opportunities. A recent report published by CEEW, a Delhi-based think tank, and the Natural Resources Defence Council (NRDC), an environment advocacy group shows that over 300,000 people will be employed in the next five years to achieve India's ambitious targets in solar and wind energy.
Dr. J. N. Roy, currently teaching in School of Energy Science and Engineering at IIT Kharagpur, emphasizes that the demand for manpower in the renewable energy sector is increasing. "There is a need for the requirement of skilled manpower for installation, operation and maintenance. More manpower is required for making small kilowatt scale solar rooftop installation than megawatt scale projects as small-scale rooftops will be scattered across the different area."
Manpower challenges in functional areas
The sector is facing challenges in sourcing manpower in many functional areas like manufacturing, production, installation, operation and maintenance, marketing and research & development. "It is also important to note that the renewable energy sector is more manpower-intensive than the conventional energy sector. Scope for pursuing careers in academics are also very promising as this sector is growing," Dr. Roy added.
Is the future bright?
In the Solar PV (SPV) sector alone, it is estimated that for 100GW about 4.25 lakh solar energy professionals are required to successfully operate and manage these power plants and these figures get even bigger if other renewable sector such as solar thermal, wind, bio etc. are added, say industry sources.
Candidates completing degree in renewable energy are in demand both in private as well as public sector. In solar sector, several private and public sectors have their presence in India. Several multinational companies have their presence in India, particularly in engineering, procurement and construction. Some of the prominent names in SPV sector are Tata Power Solar, Waree, Vikram Solar, Renewsys, Indosolar, Webel solar, Sova Solar, Azure power, BHEL, BEL, etc.
In the wind sector the prominent names are Suzlon, Gamesa, Enercon, etc. Thermax is a well-known name in solar thermal sector. There are organizations in other renewable sector as well. However, these are yet to pick up in the country, as their presence is limited to research and small-scale installations.
The average pay package at entry-level widely varies as the sector is new. Some high-end companies offer about Rs. 8-10 lakhs per annum for undergraduate engineers and Rs. 10-12 lakhs for postgraduate engineering candidates from Tier-1 institutions.
Promoting solar power in various sectors
As per Solar Energy Society of India (SESI), a total solar power potential stands at nearly 748.98 GW (including Rooftop). Wasteland Atlas of India specifies that 4,70,770 Sq.km of Wastelands is available in India, of which 3 percent has been considered for potential estimation.
Against a global installed solar power capacity of over 160 GW, the total capacity of over 3 GW has been installed in India. The scaled up target of 100 GW is likely to speed up grid parity in India. A target of 40,000 MW has been envisaged through solar rooftops. Eight States have specified rooftop targets and 13 States have specified tariff for rooftop projects.
Indian Railway has also taken steps to harness solar energy to promote use of clean fuels and reduce carbon emissions. It is promoting and installing roof top based solar power generation system in railways workshops and production units.
Research and Development in green energy
The government of India is investing a lot of money for creating conditions for research and application in the solar energy. A major R&D initiative has been launched to focus: firstly, on improvement of efficiencies in existing materials, devices and applications and on reducing costs of balance of systems, establishing new applications by addressing issues related to integration and optimization.
Secondly, it seeks to develop cost-effective storage technologies which would address both variability and storage constraints. In order to target space intensity through the use of better concentrators, application of nano-technology and use of better and improved materials is been encouraged.
Jawaharlal Nehru National Solar Mission, the flagship mission of the government, has set up Solar Research Council to oversee the strategy, taking into account ongoing projects, availability of research capabilities and resources and possibilities of international collaboration. For a country with a huge industrial demand, green energy is most suited to meet the challenges. As the cost of solar installations goes down, the demand for renewable energy is indeed all set to pick up.
Phases of solar and wind deployment
Business Development

Design and
Pre-construction

Construction and
Commissioning

Operations and
Maintenance

Project bidding/client acquisition

Land acquisition

Legal and Financial aspects

Government/Regulatory matters

Site testing and preparation

Land Acquisition

Plant design

Procurement

Module Installation

Grid integration

Commissioning of Plant

Plant Monitoring

Module Cleaning

Maintenance of Plant
Column:
Aman Attree,
HR Head,
Hindustan Power Projects
Employment Opportunities Galore
Indian government is looking at renewable energy seriously because of changing climate and the sector is expanding in big a way. A large number of job opportunities is concentrated in the construction and operation side.  For example, when we want to start a project, we need a large number of people to establish a project and we need people for operations. This is a very good opportunity for creating employment in Indian companies. Sometimes we face challenges because of unavailability of skilled manpower but since last  three to four years, this gap between demand and supply is reducing.
A lot of short-term and long-term courses are offered in various institutes that are including renewable energy in their curriculum. The institutes must also teach the students about practical aspects of the sector.
For renewable energy, we need engineers with a positive attitude, who can adapt to work on any project site (urban or rural). They must have the capacity to manage labour; understand, guide, motivate and train labourers on the spot to deliver the project on time. He must be ready to take up the challenge.
The future looks good and the government has ambitious plans to install power plants in renewable energy. As the sector becomes more mature, the opportunities will increase. The time to count the cost-effectiveness will become an important criteria in future and more focus is needed on R&D.
Stay tuned to university.careers360.com for more articles and interviews