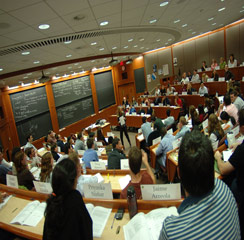 Prof. C. Raj Kumar, 02 May 2017
Prof. C. Raj Kumar, Founding Vice-Chancellor of O.P.Jindal Global University, Haryana & Director, International Institute for Higher Education Research and Capacity Building, shares his thoughts on the dire need of India to have world-class universities.

It has now been recognized that India doesn't have a single university among the top 200 in the world and this is a matter of grave concern. But there is still lack of consensus on whether we should establish and nurture global universities that will achieve the status of world-class institutions of learning. The world-class universities debate in India suffers from intellectual coherence, regulatory imbroglio and rigorous policy discourse. If public policy is about speaking truth to power, the higher education reforms have unfortunately, been marred by many of us speaking truth, mostly to the powerless, as the powerful have little time and interest to hear the truth.
What are 'world-class' universities?
It is important to appreciate the ideas of institution building and global excellence that would constitute a world-class university. There may not be a global consensus on the definition of what a 'world-class university' is. However, scholars have discussed certain features that would be the unique characteristics of a world-class university. J. Salmi has provided the most compelling understanding of the concept of a world-class university. He has observed that great achievements of world-class universities can be attributed to 'three complementary factors at play in top universities', which are: a high concentration of talent; abundant resources; and favourable governance. These three factors will play a pivotal role in the establishment and nurturing of world-class universities. But why should India pursue creation of these factors?
Redeeming our historical legacy and civilizational heritage
The ideals and aspirations of institutional excellence is not new to India. The great institutions of learning such as Nalanda, Vikramashila, Takshashila and other institutions have made immense contributions in developing our historical legacy and civilizational heritage. We owe it to our history that this civilizational heritage that exist in India needs to be redeemed in many forms and manifestations. India is in a position to make this contribution to the world of knowledge and to promote excellence. One of the most salutary ways by which this could be redeemed is by the establishment and nurturing of world-class universities in India.
Ensuring quality and excellence for educating the young
The heart of what is recognized to be a world-class university is a deep and abiding commitment to the pursuit of excellence. We cannot accept institutional models of university education that accepts or tolerates mediocrity. No justification, including financial can be made for promoting mediocrity. The most important aspect of any world-class university is the quality of its faculty. India needs to invest significantly in attracting the best of the young minds in India to consider an academic career in India. We need to attract outstanding scholars from around the world – Indians and other nationals to consider India as the global knowledge and research destination. Our universities should have outstanding faculty members across all disciplines who should be inspiring teachers and rigorous researchers. This will pave way for India to have world-class universities.
Investing in research helps solve complex problems
An impression gets created that world-class universities ought to be the privilege of a few advanced countries and rich economies. This is wrong and cannot be accepted. The globalization of higher education has also democratized knowledge and access to opportunities. We need to invest in research in all areas of knowledge – sciences, engineering, medicine, humanities, law, social sciences and management. It is through research that India can solve complex problems of societies and help develop sound public policy. The great innovations in the fields of science and technology can pave way for us to address many challenges of our society and the humanity.
Global universities can promote better understanding of humanity
India needs to build many global universities. I have always felt that we in India are living the 19th, the 20th and the 21st centuries – all together and at the same time. This creates significant challenges of governance and we struggle to develop basic degree of consensus on what kind of a society or a nation that we want to build. It is only through understanding diversity and celebrating plurality that we can help build a human society that will respect and cherish our differences. Global universities can play a pivotal role in promoting national and international understanding of knowledge systems and human engagement.
 The way forward
As we move forward, we need to build collective consciousness and intellectual consensus on the need for building world-class universities. We shouldn't shy away from pursuing excellence and also to draw upon the inspiration from such institutions of global excellence around the world. But we need to be grounded in our own vision and imagination of institutional excellence for us to develop world-class universities in India. As we think about India's role and responsibilities for leading the world of higher education, we should also reflect about our past. Professor Max Mueller, a very distinguished professor at the University of Oxford in 1882 gave a series of lectures for the British officers of the Indian Civil Service at the University of Cambridge. These lectures were entitled: "India – What can it teach us", in which he observed: "If I were to look over the whole world to find out the country most richly endowed with all the wealth, power, and beauty that nature can bestow—in some parts a very paradise on earth—I should point to India. If I were asked under what sky the human mind has most fully developed some of its choicest gifts, has most deeply pondered on the greatest problems of life, and has found solutions of some of them which well deserve the attention even of those who have studied Plato and Kant—I should point to India. And if I were to ask myself from what literature we, here in Europe, we who have been nurtured almost exclusively on the thoughts of Greeks and Romans, and of one Semitic race, the Jewish, may draw that corrective which is most wanted in order to make our inner life more perfect, more comprehensive, more universal, in fact more truly human, a life, not for this life only, but a transfigured and eternal life—again I should point to India."
Let's reflect on the prophetic words of Professor Max Mueller and then we will be able to understand and appreciate why India needs world-class universities.  
Number of Asian Universities in World University Rankings (Top 200)
 

QS World University Rankings

Times Higher Education World University Rankings

Shanghai Jiao Tong University's
The Academic Ranking of World Universities (ARWU)

Year

15-16

14-15

13-14

12-13

11-12

15-16

14-15

13-14

12 -13

11-12

2015

2014

2013

2012

2011

China

7

7

7

7

7

2

3

2

2

3

7

6

5

4

1

Hong Kong

5

5

5

5

5

3

4

3

4

4

1

2

1

4

1

India

2

0

0

0

0

0

0

0

0

0

0

0

0

0

0

Japan

8

10

9

9

11

2

5

5

5

5

7

8

9

9

9

Malaysia

1

1

1

1

1

0

0

0

0

0

0

0

0

0

0

Singapore

2

2

2

2

2

2

2

2

2

2

2

2

1

1

1

South Korea

7

6

6

6

5

4

4

4

4

3

1

1

1

1

1

Taiwan

3

2

2

2

1

1

1

1

1

1

1

1

1

1

1
Stay tuned to university.careers360.com for more articles and interviews