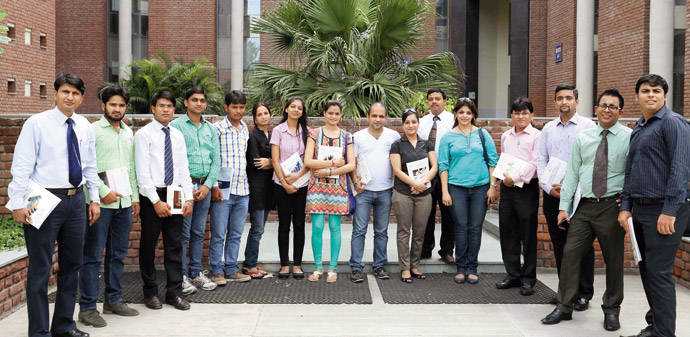 Students at IMT-CDL. Online learning also provides options for occasional personal interactions

After the dissolution of the Distance Education Council, the regulatory functions with regard to Distance Education programmes in higher education are now vested with the University Grants Commission (UGC). The latter, under the pursuance of MHRD directions, is in the process of framing new regulations for programmes being offered through open and distance learning mode (ODL). In view of the above, if you are planning to take admission in a distance education programme, you should check the current status of its approval and/or recognition at http://www.ugc.ac.in/deb. The ODL programmes in India are offered by two kinds of institutes: single mode open universities (14 of them including IGNOU, BR Ambedkar, MANUU etc) and dual mode institutes/universities (200+ institutes including Delhi University's SOL; Jadavpur University; Symbiosis Centre for Distance Learning Pune) and so on.
Key concerns
A key issue with ODL programmes on offer is the matter pertaining to 'Territorial Jurisdiction' or in simple terms the franchised study centre/contact point of learning. Those interested in pursuing an ODL course should note that the study centre where they are likely to take admission/are pursuing a course; must be operated by the university or institute itself within its territorial jurisdiction only as per the UGC norms. The other important matter is about technical education in ODL mode. As per the present policy, no university/institute deemed-to-be-university is allowed to offer diploma/bachelor/master-level programmes in ODL mode in engineering and technology.
Students must note that the minimum duration of a programme should not be less than the minimum duration of a similar programme in regular mode. In other words, 6-month or 1-year MBA is not recognized in India. Another popular programme in ODL mode is B.Ed. However, one should note that no teacher education programme is permitted to be offered without prior approval of National Council for Teachers' Education (NCTE). 


Prof. Madhava Menon, the Chairman of Distance Education Reform Committee, MHRD has shown his concern over mushrooming of ODL institutions across India that lack the ability to offer quality education. Advocating for treating ODL degrees at par with conventional education, Prof. Menon has publicly expressed his views on resolving the territorial jurisdiction issue, where he states that in today's technology-driven world such restrictions are meaningless.
While you learn
When you are enrolled in a recognized  ODL programme, ensure that you make use of most of what is offered. Based on the responses by ODL students to Careers360, there are certain do's and don'ts that have been collated. The first thing for students to comply is to adhere to the recommended programme duration and assignment submission deadlines. It is important to devote attention to the study material provided. Many respondents regretted not making full use of the course booklet and ignoring the section on suggested reading. Thirdly, one must contact the course instructor or in-charge when he/she is available for interaction. Next is to make best use of contact centres and virtual classroom sessions and get involved. The fifth most common thing that students do not pay attention to is creating a peer group which is simultaneously pursuing a similar or related course. The more the interaction reported among peers, the better is your comprehending ability. It  gives you the opportunity to be aware of the learning resources, the placement prospects and even higher study avenues after the completion of the course. 
Dr Rajiv Tandon,
Chief Executive Officer, Institute of Management Technology, Center for Distance Learning, Ghaziabad
Technology-based learning programmes enhance learning experience
Well, this lack of options for you is perhaps opening doors to a great and a different option of attaining your education goals. Past decade has witnessed the introduction of several successful technology and pedagogy innovations, which have revolutionized the distance learning space. For a student with a drive to learn, distance learning offers a range of learning resources and activities.
There is enough research available that shows similar learning outcomes with distance learning as compared to studying at a traditional campus. However, Distance Learning involves Non Traditional Learning methods and all key stakeholders that include the student, faculty members and the institution need to seamlessly adopt these methods to meet the learning objectives of the programme.
In Distance Learning, the primary accountability towards the discipline of learning lies with the students. In a traditional institution where a constant physical proximity with institutions, teachers and peer group and also rigid academic schedules create a familiar ecosystem of timetable adherence, however, the same is not feasible in distance learning.  While good Distance Learning institutions provide excellent self-learning resources and focused opportunities to engage with faculty to clarify doubts, the onus of leveraging these resources optimally lies with the student.
While great possibilities exist with studying in Distance Learning Mode, one should do a careful selection from available programmes and a very large number of institutions that offer Distance Learning. While flexibility and convenience are common benefits expected from a Distance Learning Programme, equal or greater weightage lies in aspects like learning methodology, curriculum and quality of learning material.
Good Distance Learning institutions will typically be characterized by presence of a methodology that provides a holistic learning experience. The learning experience should provide the right blend of opportunities to learn on your own and engagement with faculty & peer group.
Top Distance learning institutions and Top Distance Learning Programmes also use technology to further enhance the learning experience. Today technology-based learning platforms allow students to engage with the institution, faculty and peers in a highly convenient manner. These platforms also enable On Demand Learning and enable the students to access interactive digital learning material from anywhere and 24X7.  Much progress has been made in the area of digital content and good distance learning institutions offer digital content that's not just comprehensive but also makes the learning experience enjoyable. Strides in the e-learning design have created possibilities that bring real life situations to the learning experience. Enabled by electronic simulations, video-based real life scenarios, recorded lectures of eminent faculty, a new age Distance Learning experience in many ways can be superior.
It's important that students check the recognition status of the programme and the institution. One could visit the UGC website to know the recognition status of any programme and institution offering formal qualifications via Distance Learning.