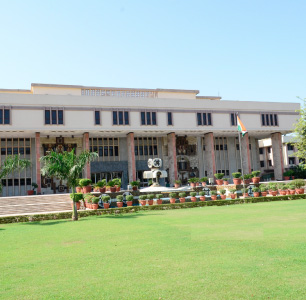 On Jan 30 2014 the Delhi High Court proscribed Mahatma Gandhi University (MGU), Meghalaya from admitting students in Delhi to its programmes. The order is clear cut. "Mahatma Gandhi University, Meghalaya, is prohibited from admitting any student in Delhi for any course, be it degree or diploma or certificate till further orders,". This was in a case filed by Mohammad Sajid, a student of Fashionista Institute, based in Delhi.


Though the order may prevent one university from defying regulations, the malice is widespread. Careers360 has been waging a battle since May 2010 to curb this menace.


In May 2010 we wrote a story on how universities by pass the existing regulatory regime to offer degree (We are still fighting a contempt petition in a Sessions Court in Gauhati for publishing this story).


In October 2010, We followed it up with a story on how franchisee centers masquerade as full time institutions, exactly the way Fashionista was doing in Delhi. 
In the story we asked " Some states like Andhra Pradesh and Karnataka have banned similar institutions. But MHRD is sleeping, UGC is mysteriously silent and DEC shys away. So students continue to suffer, with lost lakhs, a few years and most importantly, their dreams in tatters. Would Mr. Sibal act on this to clean up the mess?"


In MAY 2012 we examined the issue in depth again  in terms of the modus operandi of the institutions as well as the legal lacunae involved. We asked:

Why are the regulators in a 'conspiracy of silence' with the actors allowing to break all laws with impunity and disdain, at the cost of students' lives and country's future?


Feb 2014: Two years hence, nothing has seems to have changed. Despite having an integrated command (with DEC being brought under UGC) no action has been taken on these issues so far. Three weeks back the UGC has come up with the draft regulations for Distance Education. However, many universities violate even the new regulations with impunity and UGC continues to fiddle.


The primary error is the delinquency of the regulator. In the case of Mahatma Gandhi University, Meghalaya, We had a sent a reporter acting as a student, to a franchisee centre in South Extention, New Delhi in Jan. 2013. The centre offered us three documents in their favor.
Any student seeing all three documents together would believe it is a legitimate educational institution. That MGU cannot even open a study centre outside its territorial jurisdiction is beyond his comprehension. UGC comes up with periodic public notifications saying universities cannot operate beyond their territorial jurisdiction. But it does absolutely nothing towards universities that continue to do so with impunity.
I have filed a Public Interest Litigation in 2010 regarding the same issue in Delhi High Court, where the court orders one of the respondents to refrain from advertising without the court's approval. Even here, UGC filed an affidavit saying that universities cannot operate beyond their territorial jurisdiction. But Bhartiar University another respondent in the same case with impunity still runs such programmes (https://www.b-u.ac.in/cpop/cpop.html)
Thus while UGC fiddles; it is left to the students to wage their own battles. And the delinquent universities continue to offer courses, which may be termed illegal.