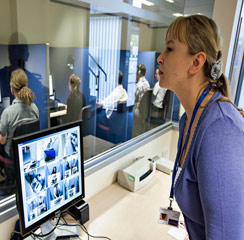 Dr. Gary Gates, 21 Sep 2017
Traditional testing methods may not be enough for the 21st century assessment needs of professionals. The Pen-and-paper form of testing carries with it certain limitations as that of printing and transporting which allows potential leaks. Computer-based testing seems to be a better alternative. Read on to what Dr. Gary Gates, Senior Vice President – Global Business at Pearson VUE has to speak on the benefits of shifting to CBT.
Computer-based testing (CBT) may be relatively young – a mere quarter of a century old – when compared with the 2,000-year-old traditional method of pen-and-paper testing, yet it is transforming assessment in India. In that relatively short space of time, CBT has had a major impact on the assessment world, thanks to an appetite for more efficient, fast, secure and sophisticated testing methods partnered with increasingly robust, scientific test design and development. Part of the reason for this impact is that Indian professionals and students are increasingly tech-savvy, meaning that it is perhaps natural for testing methods to reflect these changes in society.
Best practices for a changing India
There has been rapid economic growth in India, and there is more need than ever for India to compete globally with skills and talent. But Indian test owners also recognise the need to adopt international best practices such as CBT so that assessment standards continue to improve. But as standards improve, it makes it more vital than ever for professionals to re-train throughout their careers, gaining qualifications that can help achieve a pay rise or a new job, and the flexibility of CBT is making this increasingly possible.
As CBT has taken off across in India, pen-and-paper exams have remained largely the same – with test-takers typically expected to congregate at large centrally-located exam halls on one day at one time. In contrast, CBT allows candidates the flexibility of visiting a local test centre at a time and place of their choice.
This is especially convenient for ambitious adult professionals wishing to up-skill with career-enhancing certifications who do not necessarily have the time to travel long distances to get assessed and qualified.
Beneficial for employers
The increase in access to assessment is beneficial to employers too, allowing them to benchmark standards across whole industries. We have seen CBT being employed across sectors as diverse as IT, transport, law, accountancy, financial services, university admissions, regulatory and healthcare.
The CBT industry has had to find ways around obvious potential issues with this testing model. For example: if test candidates can sit the test any day they like, what's to stop fraudsters who already took the test leaking the questions? In this case, the solution is to have a large bank of questions – created by measurement scientists to be of equivalent difficulty – so that unique, equivalent digital test papers composed of randomised and rotated questions can be created and used on different days to limit such fraud.
One myth which had to be overcome is that pen-and-paper is somehow a more secure form of testing than CBT. However, test papers have to be physically printed and transported with pen-and-paper tests, allowing potential leaks, whereas with CBT the digitally encrypted test paper is uploaded to test centres shortly before the examination.
Best-fit method to stop cheating
Just like pen-and-paper, CBT still uses live proctors checking for cheats, and there are further optional measures such as digital signatures and photographs, CCTV and a requirement to put all electronic devices into lockers prior to testing.
For many exam owners, concerns still exist about making sure they provide valid, fair and reliable assessment. Indeed, it is crucial to address these challenges which test owners in India face to meet in the 21st century assessment needs of professionals. But this can be achieved through the application of measurement science and now computer-based testing.
This is where measurement scientists – also known as psychometricians – play a crucial role. They work with the subject matter-experts from test owning organisations to assess the validity, fairness and reliability of exams.
Making results more meaningful
Validity means checking that exam results are meaningful – reflecting critical aspects of specific ability, knowledge or skills. Doing well on a university admissions test, for example, should mean that candidates are more likely to do well at university because the admissions test really does assess the knowledge and skills needed for further study in a given field.
Reliability is about the consistency of test scoring. Scores are never a perfect measure of a test takers' ability, but to be reliable the exam results must fall within an acceptable level of precision.
A fair exam is one that assesses the skills of all test takers regardless of their background or social status. For example, it could be unfair to use a language that the candidate is unfamiliar with or to ask them questions about situations they would never experience in their daily lives.
We are seeing new clients from diverse sectors across India turning to CBT, and it is clearly here to stay as test-owners, employers and professionals increasingly value the positive impact it can have on careers, industries and the economy as a whole.
Stay tuned to university.careers360.com for more articles and interviews