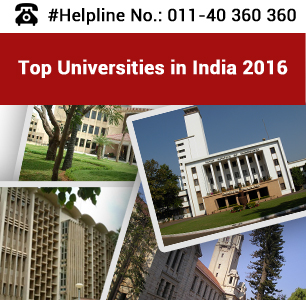 Top Universities in India 2016 - Careers360 brings you the ranking of top Universities in India 2016, which lists country's top Public and Private Universities. Besides this, Top Universities in India 2016 also offers  ranking of universities under different dicipline including Engineering, Medicine, Agricultural and Specialized programmes. This list of ranked university here brings you a fair picture on how the academic institutions are placed within and across clusters.

The ranking of Top Universities in India 2016 – Public & Private is based on Careers360 Ranking Methodology 2016.


What does the data say?
Careers360 brings you Top Universities in India 2016 ranking separately for public and private universities. This ranking includes a total of 89 Top Public Universities and 30 Top Private Universities. If one goes by the ordinal number not more than 11 private institutions will figure in the top 100. But considering the historically uneven terrain and the continued hostility, which the state expresses towards private players, it is imperative that we provide a leg up for the good amongst the private lot.


There are plenty of surprises in this year's ranking. In public domain we have nearly 14 new players in the top 70. Most young IITs are making their presence felt and are muscling their way in at the cost of the established state universities. It is the state universities that have been most affected by the churn. They are losing good faculty to comparable private players and their funding sources are very limited, which is not a major concern for Institutions of National Importance and centrally -funded universities.
Top Public Universities in India 2016 – Legacy dominates but signs of a new order.


While the top slots are taken by players with history, a whole lot of state-level younger universities are slowly coming out to challenge the existing order.
Top Private Universities in India 2016 – Where Engineering Universities still dominate


Here we present the top 30 Best Universities under private ownership.
How do enrolments figure?
University enrolments present quite a picture. IGNOU, the largest university, has about 2,18,225 students joining it each year, while the smallest gets just 20 students. In terms of gender, universities appear to perform well, with an even distribution. PhD still remains an elusive degree with just about 4% of the universities surveyed having over 500 PhD scholars. 


Are there enough faculty?
Faculty shortage is one of the biggest grouses of any vice chancellor. Interestingly the numbers too, inform us of the trouble. More than half the universities lack Professors (56% have less than 50 professors) and Associate professors (59% have less than 50) and most do have Assistant Professors. So as we move up the academic hierarchy, the shortage of faculty is quite alarming.


What is happening to research?
Research has caught the imagination of the country.  When we began the ranking of universities in 2012, just about 40 institutions had publication worth mentioning. In the latest edition even the 297th university has about 30 publications. The top 100 universities have over 300 publications on an average.   In terms of citations, though there is a correlation between the aggregate numbers and total citations, a few institutions have performed exceedingly well in their citations.


One issue of concern is shallow citations. Many universities willy-nilly force their faculty to cite each other's work as well as their own previous work so as to increase the overall citation numbers. We have identified the trend and maybe in the coming years find a mechanism to sift out self-citation and shallow citation since they are short cuts not worth pursuing. 


Entrepreneurship
That the country needs entrepreneurs is a truism. While most IITs/NITs do have either an incubator or a Science and Technology Park, most universities don't. Data shows that very few universities incubate over 30 firms within their campus with the average being 24. More than half the numbers of institutions that have firms within the campuses do not support more than 15


What is new in patenting?
One major change we have introduced is the incorporation of US/European patent count into the overall patenting activity. Till last year we only used Indian Patent Office data. On Indian patents alone, IITs do not figure in top 10 in terms of patents granted. Many Central Universities do. And once the US patent counts were included many IITs shot up in their IP score. In fact IIT, Madras jumped a few positions on the basis of its patent count.


Way forward!
We began with rating of universities based on their NAAC score and publications in the first year. In its fourth edition this year we have used about 15 parameters and data on 320 universities. Over 90,000 data points have been crunched to arrive at the final rank and rating sheet of universities. It is a fair representation on how institutions stand. Read on to find out more!

Stay tuned to university.careers360.com for Universities Ranking 2016