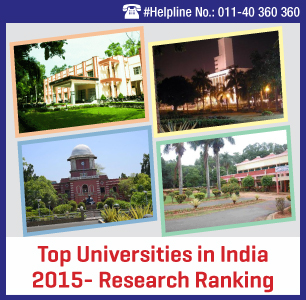 Careers360 University Ranking 2015 brings you a list of Top Universities by their Research Output. The Research Ranking is compiled on the basis of combined Research output in different areas – Publication Count, Productivity Score, Citation Impact, H-index Score.

LATEST - Top Research Universities in India 2016 and Top Universities in India 2016

Indian universities of late have begun to take refereed publications seriously. Though it still is a minority, the felt need to publish and be cited is making its presence in the academic arena.

The objective of this rating is to help you find top Universities in India in different Research areas. The Careers360 University Ranking 2015 list of Top Universities by their Research output is based on Research Rank Methodology detailed below the rank table on this page.
Top Universities in India 2015- Research Ranking
Research Rank Methodology
Scopus® database of Elsevier BV, the largest indexing and abstracting database of peer-reviewed scholarly literature with about 20,500 titles from more than 5,000 international publishers in science, arts & humanities and social sciences was used for searching the publication records, citation impact and h-index. At present, there are 468 scholarly journals indexed from India.
Publications search: The in-built 'Affiliation search' box helped to find a specific institute even if the affiliation was mentioned with a different, yet related name in the published literature. The results were grouped in case there were name variants or the same institute had different departments with records indexed separately. For example IISc Molecular Biophysics Unit and Materials Research Centre of IISc have 3 different names; hence the 3 affiliation variants are grouped into one. For many institutions that had limited publications, records were searched from the main search box using affiliation address.
All retrieved records of an institute were filtered for three years (2012-2014) and selected for further analysis. The citation analysis window gave two key indicators: firstly, the numbers of the articles that cited the records and 'h-index'. The h-index is one of the most globally popular measures of a scholar's productivity based on his/her most cited papers. By definition, "A scientist has index h if h of his/her Np papers have at least h citations each, and the other (Np − h) papers have no more than h citations each."
IP search:The total IP stock is the total number of patents granted to a given institute till 2014. The total patent granted was collected from Indian Patent Office (Controller General of Patents Designs and Trademark, Department of Industrial Policy and Promotion, Ministry of Commerce and Industry) by searching the 'public search for granted patents'. The name of the institute were searched from the IPO search in the 'Name of Grantee' or 'Inventor's address' or 'Applicant address' search field. Similarly, the patent applications (filed) were searched from 'published applications search' in the search field 'applicant name' and 'inventor's address'. Retrieved records were taken for further analysis. 
By Nimesh Chandra
Research inputs by Dr. Swapan Kumar Patra, PhD, CSSP
Jawaharlal Nehru University, New Delhi
Stay tuned to university.careers360.com for more news and updates on top Universities in India.