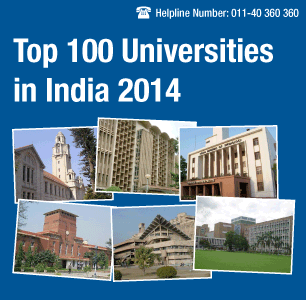 Careers360 brings you a comprehensive list of Top 100 Universities in India which includes the Top 70 Public and Top 30 Private Universities for the academic year 2014, where you can aspire to get admission. The objective of this ranking is to help you know more about the top 100 universities in India and facilitate you in selecting the best University for your degree. With admissions for most of the 100 Universities open now for academic season 2014, it is high time for you to know the best 100 Universities in India (70 Public and 30 Private).

Latest - Top Universities in India 2016


With about 700+ Universities offering several of degrees, the key concern is whether a university is worth its value for taking admissions?


Careers360 University Ranking 2014 brings you a list of top 100 Universities that include both top ranked Public and Private Universities. The ranking of the 100 Universities is based on Careers360's methodology.


Click here To Check  Top Universities in India 2015
Have queries and doubts; call University Admissions Helpline at 011-40360360


100 Indian Universities 2014 – 70 Public and 30 Private


Careers360 research tells that well rounded multidisciplinary universities that perform well across domains are still a rarity in our country.


Top Public Universities in India
Top Private Universities in India
The Private Universities in India are a two decade phenomenon barring a few Deemed Universities. But they are ramping up fast on all counts.
What is interesting about the Private Universities in India is that amongst the Top 10 institutions, nine belong to the Deemed Varsity category and four are venerated Engineering colleges. In other words, the autonomy these institutions have gained on account of their status has done wonders to their performance, a fact highlighted by Dr. G. Vishwanathan, Chancellor of the VIT University, this year's Top Private University in India.


The listing has also the representation of medical school domain and speciality institution like UPES which is slowly morphing into a multidisciplinary university.


Stay tuned to university.careers360.com for more news and feature articles on Top Universities in India 2014