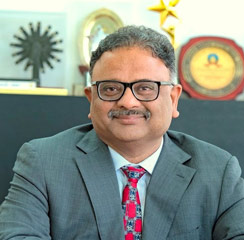 Careers360 interviews Dr. Tadisina Kishen Kumar Reddy, Director General, Pandit Deendayal Petroleum University where he shares his views on specialized universities.
Interview-
Careers360: A number of specialized universities are coming up. Is this the way ahead for universities?
Dr. Reddy: Specialized universities are established with a vision to cater to the demands of a particular sector and provide trained manpower for that sector, but things have started to change now. If you look at the petroleum sector, it is going through a downturn, so we need to change. I had a discussion with Mukesh Ambani, the President of the University on the changing trends and he said that if you do not change with changing times and stick to some sentimental issue, then you will not be able to survive. Most of the world-class universities are multidisciplinary in nature so it doesn't help to be unitary, the model also doesn't work.
Careers360: The government of India plans to establish 10 universities each in public and private sector and make them world class. How do you look at this move?
Dr. Reddy: It is alright if the government is planning to do something in this area but I read the draft of the document and what I found is that the rules and regulations are too stiff. For example, the application fee for applying under this is Rs 1 crore, then you should have corpus of Rs. 1000 crore which is a bit difficult for many. I don't think I will spend Rs. 1 crore for application. Probably behind this kind of regulation, the government intends to bring in only serious candidates but at the same time it should also ensure that red tape does not fiddle with it, the bureaucracy should not delay the whole process. For improving quality, government can also look at other areas like inviting professors from good foreign universities to teach in India.
Careers360: Are you also facing the issue of faculty shortage? Or is it just a case with public universities?
Dr. Reddy: The problem of faculty shortage is there all over the world. We too are facing this problem and our Board of Governors has asked us to find a dozen star faculties from all over the world to work with us on full-time basis and if that is not possible, they can stay with us for at least a few months and share their experience. It is a good option that would improve the quality of our institutions, but for that it is necessary that we pay them very well.  
Careers360: How important is industry-academia collaboration?
Dr. Reddy: It is very important and fortunately in Gujarat, the industry is very active and is participating in a lot of activities with academic institutions and with this kind of synergy a lot of things can happen. The industry has to come forward and work with us as this will benefit both.
Careers360: How can the alumni help in the growth of an institution?
Dr. Reddy: It helps an institution in many ways to grow by giving endowments, by helping in placement activities, by getting industry projects, etc. My University is a new university, just nine years old and our alumni are at the mid-level. So, they cannot call the shots and in another 5-7 years they will be at the senior level and they will be able to help the institution by giving some money or other things so it is very important to involve alumni in the Board, academics, senate and other decision-making bodies so that they have a fairly good idea about the system and how it can be improved.
Stay tuned to university.careers360.com for more articles and interviews