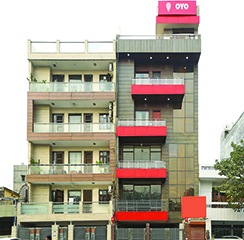 Education and training are the core requirements to unlock an individual's entrepreneurial potentials. Careers360 tells you why and how you should take the untrodden path. In this article we've listed out a few programmes to cater to the entrepreneur within you.

What is imperative to become a successful entrepreneur? Is it educational qualification or innate talent to excel in the field of entrepreneurship? For Ritesh Agarwal, founder and CEO of OYO, India's largest hotel network, formal academic course was not his cup of tea. Bitten by the entrepreneurial bug, Agarwal, dropped out of college and chased his entrepreneurial dreams when he was just a 17-year-old. Does this mantra work for all the wannabes?
Priyank Narayan, Director of Entrepreneurship Programmes at Ashoka University says one needs to evaluate all options before taking a decision, adding, "It is important to understand that there are some people who have a natural flair for entrepreneurship and some learn the process and become good at it through formal education."
What is entrepreneurship?
Entrepreneurship is a set of activities that result in establishing, developing and managing a business with all kinds of risks attached to it. The motive behind an entrepreneurial venture is profit making, except in some cases of some social entrepreneurships. Poonam Gupta, who did a dual degree in Engineering Entrepreneurship from IIT Kharagpur says a course on entrepreneurship gives various insights about the subject when she says, "We learn basic entrepreneurship, about government regulations, basic company laws, how to manage your own finances, how to take the product from a prototype to a final end product, scaling up the same product into lakhs of units, manufacturing, how to go about from making a successful project/product to a full-fledged company, how to hire your employees, optimize the process to minimize the cost."
Learning the ropes through education
It is believed that universities and educational establishments are the bedrock of valuable lessons. Fr. E Abraham S.J., Director, Xavier School of Management, Jamshedpur echoed similar thoughts. "Proper education would guide and encourage aspiring entrepreneurs through critical and lateral thinking and integrate theory with practice. Focused study would help create effective and successful entrepreneurs and would also help enhance skills of those who are already functioning as entrepreneurs. It would also help them develop personal traits, enhance communication skills and be more familiar with business functioning through different ways and techniques," he said.
Fostering entrepreneurship
A number of universities and colleges now foster entrepreneurship among students by offering programmes ranging from six months to two years. The institutes have also established entrepreneurship cells (e-cells) or incubators or STEP (Science and Technology Entrepreneurs Park) on their campuses. These incubation centres support the spirit of entrepreneurship, encouraging business activity by allowing individual's ability to convert that opportunity into a reality, providing funding and help in job creation. Prof. (Dr.) Anil Bajpai, Director of KIIT School of Management, Bhubaneswar, "We give them instructions on various aspects of business development and planning, financial resourcing and sourcing. We try to inculcate and nurture an idea of an individual into a business. We train candidates at a collective level that help them understand different perspectives of individuals existing in the same team. In the e-cell, we organize workshops, meetings, conduct conclaves, invite speakers from various countries to share their insights."
At school level
Not just universities and colleges, but many schools are also realizing the need for entrepreneurship skill development and they are working towards it. Sandeep Chhabra, Principal of Indus International School, Pune described what schools must begin to focus on. "For a kid to become entrepreneur, he needs creativity, thought independence, be a critical thinker and he has to be a part of education where more weightage is given on accomplishment than achievement that is marks. I think it is imperative that schools today start building a kid's mindset to do something completely different. Every kid has a born potential and unlocking potentials to bring out their talent is the job of the schools." He also emphasized on the need to convert typical syllabus into a curriculum, leading young minds to think creatively, a core ingredient for entrepreneurship. With this in mind, The Indus International School has included Design Thinking as a part of its school's leadership curriculum.
Other crucial aspects
Besides academic training, a budding entrepreneur is also required to keep in mind a few requisites needed to excel in this field. For instance, for an aspiring entrepreneur the biggest fear is that of failure. Radhika Aggarwal, Co-founder and Chief Business Officer (CBO) of ecommerce firm ShopClues points out ways to overcome it. "I regularly tell my team to do just two things: first, show up every day. If you don't even show up, you have already accepted defeat and lost. If you just show up, 50 percent of the battle is won! And second, try to make today slightly better than yesterday. Rome wasn't built in a day, nor is an enterprise. Work hard to slowly and steadily create something long lasting, with a strong foundation. Failures will come and disasters will happen – they always do. But keep working towards the bigger picture and it will all work out," sums up Aggarwal.
Tips to succeed as an entrepreneur:
Passion

Perseverance and conviction

Planned and focused

Analysis

Collaborate and steer diverse stakeholders towards same goal
Institutes offering Programmes in Entrepreneurship
Institute

 

Programme

Duration

Website

Post Graduate Programme for Certificate in Entrepreneurship Management

6 months

https://goo.gl/5XMCsZ

Dual Degree in Engineering Entrepreneurship

5 years

https://goo.gl/VaMkaA

Post Graduate Programme in Enterprise Management (PGPEM) (22-month)

22 months - weekend programme

https://goo.gl/85C2wW

MBA in Entrepreneurship Management

2 years

https://goo.gl/s2VKZf

MBA in Entrepreneurship

2 years

https://goo.gl/W92Xce

PGDM-BE

2 years

https://goo.gl/rUX7Qn
INTERVIEW:
"Life is the best teacher…"
Ritesh Agarwal,
Founder & CEO, OYO
Careers360: Can you share your struggle during the initial days?
Ritesh: I am a positive person and a big believer in the power of conviction. All things considered, I don't think I faced extraordinarily different struggle from what any entrepreneur goes through. An additional challenge in my case was to convince hotel owners and potential recruits about a first-of-its-kind business model, and further engage them to work with me – a young college dropout. Leadership hiring and getting the right team together was challenging at the early stage. Once like-minded people came on board, we were able to expand our network and today our leadership and mid-tier consists of exceptional talent from IIT, Harvard Business School, McKinsey and ITC among others.
Careers360: Do you think formal education is imperative to become an entrepreneur?
Ritesh: I think life is the best teacher and one can learn a lot from engaging real-time with customers and people whose problem you are trying to solve. What formal education provides at a college or business-school level is one, better finishing to conceptual knowledge of your domain, and two, opportunities to build your network and access to alumni. I especially, understood the value of the latter after my Thiel Fellowship experience – it was among the most transformational experiences in my journey so far. I believe different things work for different people and if you have the willingness to gather first-hand information and knowledge the world offers, you don't need to stress about your formal education.
Careers360: In your opinion, does India provide a conducive environment for budding entrepreneurs?
Ritesh: Yes, India is a great place for budding entrepreneurs. The market size is huge; there are indeed bigger problems that need to be solved. The start-up scene is exciting and transformational. Our Government is committed to supporting the start-up ecosystem through funding, regulatory and logistical assistance.
Careers360: What role can India's education system play to nurture entrepreneurs?
Ritesh: Adding more vocational training and real-life problems to the course curriculum can help expand the horizons of students. Encouraging them to think out-of-the-box, supporting innovative ideas and solutions through formal funding or recognition platforms are just a few ways to create an entrepreneurial culture from an early stage in education.
Stay tuned to university.careers360.com for more articles and interviews