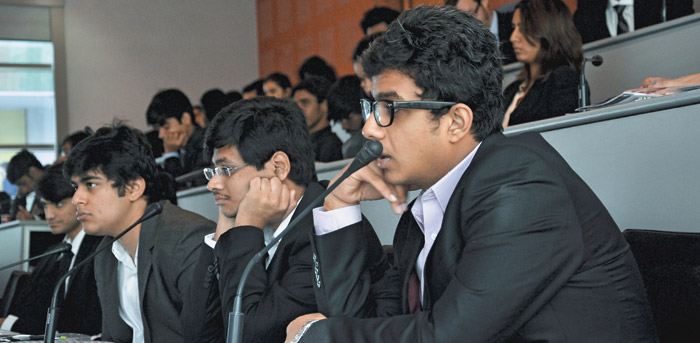 THE current fiasco in Delhi University exposes the fault lines that plague India's higher Education system completely. All the actors like Ministry of HRD, UGC, AICTE, Judiciary, academia and media are playing to the script and the hapless student is the only one left holding the can. That the higher education regulatory system in the country needs an overhaul is an understatement. Hon' Minister for HRD is very right in batting for a 'New Education Policy'. As Prof. Arun Nigavekar puts it, the country has to have a national strategy that brings coherence in policy, decision-making process and its implementation.  A view wholly seconded by many directors and VCs that we spoke to. But such a process is fraught with tremendous challenges. Education remains in the Concurrent List of the Constitution and thus both state and central governments have powers to legislate. And thanks to the policy paralysis with respect to education in the last decade, the judiciary has had a major say in dictating policy; at times even monitoring its implementation.  
Fragmented regulatory regime
The biggest challenge that the education regime is facing is its fragmented nature.  Education, irrespective of its verticals has always been within a single department or ministry, world over. And considering the interdisciplinary nature of learning and the increased move towards cross-disciplinary learnings, it is eminently advisable too. In fact, the prime recommendation of the National Committee for Rejuvenation of Higher Education suggested 'creation of an all-encompassing Commission for Higher Education, a central statutory body to replace the existing regulatory bodies like the University Grants Commission, the Medical Council of India, All India Council for Technical Education, NCTE et al'. And it recommended that the academic responsibilities of Bar Council, Medical Council, ICAR be vested with the new body. But turf wars appeared and a watered down NCHER Bill was proposed, which itself got into a limbo. If at all the government wants to do things in the right way, it is this report that the Hon' Minister of Education and the Prime Minister must read and reflect on. As Pratap Bhanu Mehta, President CPR, commented in an interview to this magazine, the higher education system has to be treated as a whole and petty administrative divisions must not come in its way. But that would demand a visionary Prime Minister and sensitive ministerial colleagues who would willingly cede administrative controls and as unconfirmed reports say, lucrative deals.
Nagarajan C
M.S. Ramaiah Institute of Technology, Bangalore
4th year, BE Biotechnology


"Instead of starting an IIT and IIM in every state, take steps to strengthen the existing educational institutions as that would help in overcoming the mindset that a graduate outside of the IITs and IIMs is inferior"
---
Aashish Belwalkar
PGDM, second year 
MDI, Gurgaon


"There is a shortage of qualified teaching staff, lack of basic infrastructure, and the unfortunate practice of children being used as labour, when they should be in school. All this must be tackled simultaneously"
---
Abhijeet Dwivedi,
MPhil, Centre for Study of Law & Governance, JNU
"Government must ensure that the cost of admission forms must be decreased. It appears a miniscule step but it is also a crude joke with the poor people  when a single application form costs around Rs. 3000"   
---
Sanya Bhutani
Second year, BSc (Life Sciences)
Daulat Ram College, Delhi University 


"The infrastructure that helps our students to keep up with their international counterparts is the need of the moment. This is one of the reasons why Indian students prefer going abroad for higher studies despite the economic crunch they face"
Courts have wreaked havoc
The legislative paralysis in the last decade has resulted in a host of litigations and a diverse set of judgments. Each aspect of higher education, right from notifying an institution, to admissions to fees, to regulatory oversight has been subject to weighty judicial pronouncements. Take for example, the Bharatidasan versus AICTE (2001) judgment by the Supreme Court. This, based on a selective interpretation of certain clauses of the AICTE Act, decreed that universities and their constituent colleges do not need prior approval of the AICTE for starting technical courses. It thus created an analogous situation wherein universities needed the approval of councils like MCI and BCI, but not AICTE. This anomaly was used in a recent judgment by another Supreme Court bench, which even held that affiliated colleges too do not need AICTE's permission and created havoc in education regulatory scenario. Yet another bench has overthrown the order, restoring AICTE's regulatory powers for a year. The controversy over the NEET examination, which was overthrown on a meagre technicality and the furore it caused is too recent a memory to recount. We have listed out 10 major judgments alongside, which have a tremendous impact on the education policy and regulatory regime of the country. Some of the Supreme Court judgments like the Prof. Yashpal Versus Govt. of Chattisgarh 2004, which prevented the mushrooming of one-room universities created by administrative fiat had very far reaching implications too. But the fact is, education is too complex and has far reaching consequences to be left to the cold precision of legal luminaries.
Nothing can replace the considered perspective of a well-drafted legislation that balances at times, diverse considerations of access, equity and excellence. As Prof. Ponnvaiko, VC SRM University, Chennai and Prof. Anil Sadagopal, former Professor, Delhi University argue with vigour on both sides of the intellectual divide in the pages of this issue, opinions are diverse with respect to equity and excellence, and at times they are not very complementary either. Only a considered piece of legislation can balance these considerations. And this is sorely lacking in this scenario.
Is the UGC autonomous?
The Hon' HRD minister in her 100-day plan announced that restructuring UGC is on top of her agenda. That the UGC needs a complete overhaul is felt by all. But attempting to restructure it without examining its role and mode would mean barking up the wrong tree. UGC, right now is a standards body, it is a grant-making body, it is an approval body and also a regulatory body. But barring withholding grants, it has no other punitive powers. Its approval is not essential for a university to exist, since a university gains its legitimacy from an Act rather than the UGC's approval. And world over, standards-making bodies do not make grants. They act as gatekeepers. And funding flows to institutions that move far beyond minimum standards mandated by the relevant body. Funding, standards-making and policing are distinct activities and must be done by agencies that are at arm's length.
The University Grants Commission, or for that matter any other standards-making body, can perform its duties well, only if they are outside the control of the administrative ministry, ably supported by legislative powers. But the ministry, in the last decade, has abdicated its legislation-making powers and autonomous bodies have become adjuncts to it. The Karnataka High Court almost said so in a recent judgment. The court declared the Deemed Universities Regulations 2010 brought out by UGC as illegal. It chastised the body for towing the lines of the Ministry of HRD. The recent flip-flop with respect to the Four Year Undergraduate Programme (FYUP) offered by Delhi University too shows the inability of the body to take a direction independent of the ministry. Unless the standing and role of UGC is defined, no amount of restructuring would yield any result.
States have their own stakes
Education being in the Concurrent List, states have a large stake in the higher education scenario. Though various judgments of the Supreme Court, have asserted the primacy of the federal structure vis-Ã -vis that of the state legislations, in terms of defining minorities, establishing institutions, admissions, permissions, fees etc the states have a large and effective role to play. Take for example territorial jurisdiction in Distance Learning. In this era of globalization, if Harvard University could come and set up a campus in New Delhi, why should Anna University be not permitted to set up a satellite campus? But to do so would require amendment to territorial jurisdiction and states to cede some level of control to a central body. Reservations are another area where different states have diverse needs, like Tamil Nadu's 69% reservation, Andra Pradesh's quota for Muslims (stalled at the courts).
Common admission test is another area, where states do not concur easily. Tamil Nadu was one of the states which vehemently opposed common entrance tests, and only uses marks in the State Board to admit students. So unless a certain level of give and take is attained between the unique needs of the states and need of commonality at national level many polices could come unstuck.
Affirmative action versus minority rights
Reservations or affirmative action has been a bone of contention and raises strong passions on both sides. While the constitutional validity of reservation has been now settled in the Ashok Kumar Thakur versus Government of India 2008 majority judgment, issues with respect to reservations in minority institution has been left out, and the courts have termed them unconstitutional and thus invalid. Since this involves the rights of two sets of underprivileged groups, the country has to tread very carefully, though for the sake of fairness one could argue that minority institutions must be in the forefront of reserving seats of underprivileged in the society since both the groups need and deserve special consideration from the state. Legislative interventions are quite essential in this domain.
Agenda in a nutshell
1 Education  policy
Have a two-year, time-bound plan for unveiling National Education Policy. Give sufficient time to all stakeholders. There is no need to rush at all. This would stand for another decade.

Have a single approving authority for Higher Education. Separate professional practice from education. Already BCI has put in place an exam to be passed before one can enrol as an advocate. Why keep institutional approval under BCI still? Same goes for Medicine and Agriculture.
Get the AICTE Act amended to include universities and affiliated colleges within its ambit.
Amend both IGNOU Act and UGC Act to regularise DEB to be brought under UGC.
2 Vocational  to academic  integration
Your vision was to have a plumber become a water engineer (From ITI to B.Tech). This demands a seamless movement from vocational to mainstream education. Remove the turf war between Ministry of Labour and Ministry of HRD.
3  Institution  Building
Make it easy to start an institution. Announce norms. Make approvals automatic, with inspections to follow for compliance. In other words liberalize setting up of institutions. Education revolution would follow.

If an ISB can be conceptualized, built and made world-class within 10 years, there is no need why Central universities, IIMS and IITS cannot be.

Stop the practice of setting up universities by fiat. If land, basic infrastructure and faculty are not in place, do not let an institution come up. What is good for the gander must be good for the goose.

Make it easy for foreign institutions to come and set up campuses in India. Pass the Foreign Education Providers Bill.

Territorial jurisdiction. It is high time we believe in one India. Remove territorial jurisdiction.

Allocate faculty codes. Link it to PAN no. Duplication and institute hopping could be avoided.

Clamp down heavily on franchising. UGC has been impotent so far. It needs to derecognize the degrees of some of the worst offenders.

Have a National Doctoral Policy with mandatory publication requirements.
4  Admissions
Move to National Testing Authority. An uphill battle, maybe not worth your time in this term.

Remove dichotomy of minority and majority institutions. Give both same set of privileges. 

Have a National Applications Authority. All admissions to be made through a single authority.

Mandatory disclosures must apply to every institution, both public and private.

Make fee collection semester-wise and based on post-dated cheques for the first semester, which can be encashed only after the beginning of the term.

No retention of certificates. On the spot verification must be made mandatory. Trust the student.

Allot centralized enrolment numbers to every institute. Prevents back door entry of students
5  Faculty  Quality
Nearly half the faculty positions are vacant in higher education institutions. Convert all unfilled positions as research faculty. Grant it through a national scheme. India will publish more. Institutes will be forced to be proactive. Win-win for all.
6  Student welfare
Pass the Malpractices Bill. Make it costly, painful and expensive for any cheat in higher education. It is after all a life that is at stake.
Pass Education Tribunal Bill. This must be relatively easy. 
7   Award of degrees
Define what can be taught face-to-face and what cannot be. Make it national. For other subjects, remove distinctions between online, offline, regular and part-time.

Slowly move towards a credit-based system, and make credits transferable across institutions.

Define Recognised, Approved, Affiliated and Accredited. Make misuse a punishable offence.
8   Fixation of fees
Fee regulation is an anachronism. Let institutes charge fees as per their standards. Audit their finances closely for identifying misuse. Punish money laundering.

Mandate all institutions to be up-front about seats and corresponding fees.
Technical education is unwieldy
This sector has been drastically impacted by judicial activism at different times. As Prof. S.S Mantha, Chairman, AICTE argues, it is essential that the anomalies, pointed out by the Bharadhisan University versus AICTE, 2001 judgment must be countered by a comprehensive legislation that would bring all forms of technical education under the purview of AICTE, which must necessarily include the venerable IITS. Institutional elitism and the perpetual need to seek exceptions must go away.
Technical education has been mauled by three major judgments. The Bhartidasan judgment, took universities out of AICTE jurisdiction. The Delhi High Court interim judgment resulted in distance education B.Tech programme. The Supreme Court judgment by Justice Chauhan took both Management and Engineering and even affiliated colleges outside the purview of AICTE. This was partially restored for a year by another bench of the same court.
And in a dramatic usurpation of turf,  UGC came up with regulations for technical education as well. An institution that does not even have complete  data on the number of affiliated Arts and Science colleges in the country, now wants to regulate technical institutions. And MHRD was a mute spectator to the sidelining of one its own autonomous body by another, until a court order partly came to AICTE's rescue.
A comprehensive and foolproof legislation is the need of the hour and AICTE's mandate to regulate technical education must be respected, says Prof. A. Sethuraman, Vice Chancellor, SASTRA University, Thanjavur.
No integration of vocational and academic streams
As Nimesh Chandra argues in page 64, the biggest problem is the lack of integration between vocational and normal education streams. There has to be an imaginative framework which lets lateral movement of professionals, accounting fully for their learnings on the job. Right now there are two competing frameworks; one from the Ministry of Labour and one from AICTE under Ministry of HRD. Since the National Vocational Qualifications Framework invariably would demand quantifying academic merit for work experience, it is imperative that the framework is a joint initiative of both the departments so that it finds traction across institutions and corporations. A plumber, if he has the time, intellect and inclination must definitely be afforded an opportunity to become a water systems engineer.
What does the colour code mean?
Almost impossible
These are issues that require interventions at the prime ministerial level and involves other ministries and also state governments.



Difficult
This issues can be done at the Ministry of HRD level but needs parliamentary approval and legislative work.
Easily doable
Most of these can be done by administrative fiat and are well within the control of MHRD. These are low hanging fruits and have  immediate pay back.
Funding is an issue
World class universities (WCU) cost humongous sums of money. The venerable IITS get about 300 crores rupees on an average. The situation is much poor when it comes to state universities.  Most VCs of state-funded universities find it difficult to even pay salaries, let alone fund developmental activities. India needs a complete overhaul of funding of higher education.
Malpractices not dealt with at all
There is no law or regulation other than the Consumer Protection Act to come to the rescue of any student who is cheated by unscrupulous institutions. There are institutes that are established under the Shops and Establishments Acts. Mushrooming of fly-by-night operators continues unchecked and both UGC and AICTE do nothing. There is no redress other than regular courts for students cheated on account of fees, false promises, lack of infrastructure. The Tribunal Bill and the Unfair Trade Practices Prevention Bills are a good start.
From education policy to malpractice prevention, from vocational education to IPR management, the challenges are innumerable. Setting up of new institutions,  funding new initiatives are good beginnings. But setting the house in order, even while respecting and nurturing the autonomy of academic institutions and organizations is indeed a tall order.