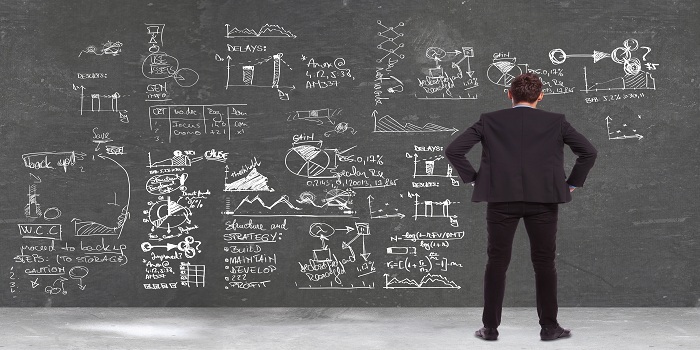 The slender growth in numbers from campus placements of top B-Schools and technical institutes is indicative of the gradual growth in Indian economy. Here's what the placement statistics reveal. In this article, Careers360 shares how the job scenario can be improved in India.
Completing a professional course in engineering or management becomes meaningful and significant if the placements statistics are impressive. With employability being a formidable reality for both BE /BTech and MBA students coming out from academia to a work-place; it is imperative that both institutions and students understand and appreciate what the recruiters look for, and also be aware of where most of the good and exciting jobs are.
We examined the placement statistics of about 350 top-rated engineering colleges/deemed universities as well as top 225 Business Schools. We tabulated the companies that visited these campuses, segregated the jobs industry-wise and also divided them based on the functional area. The other crucial areas were also assessed namely the trend in pre-placement offers (PPOs), the job profiles that are currently in demand and the average and maximum salary on offer by the major recruiters. The top firms listed out have been categorised into two: the first top ten firms are the biggest in terms of offering jobs. The second category is of firms that offer exciting opportunities (though limited) in a higher job/salary bracket. In addition, for each functional domain we also present the most popular job profiles on offer.
Putting placements in the Indian Context
Twenty six years of liberalisation and policy reforms have placed India as one of the fastest growing economy in the world. Yet it is broadly perceived that much remains to be done to make the lives of denizens better. Being a country of diverse issues and challenges; the problems and solutions are also unique to India which can be best addressed by the current and future generation. India's demographic trend means it will soon overtake China as the world's largest population, and with an average GDP annual growth of around 7.5% over the last decade there is an immense possibility of job creation. The higher education demand predominantly of people belonging to the growing middle class will swell to over 500 million people in the next decade or so. The education industry in India is estimated to reach US$ 144 billion by 2020 from US$ 97.8 billion in 2016. Out of this, the quantum on higher education is expected to increase to US$ 35.03 billion by 2025 from US$ 15 billion in 2016.
With technical and management education at the core, India is poised to have the world's largest tertiary-age population and second largest graduate talent pipeline globally by the end of 2020. While employment creation is crucial, it is also important to know which sectors will be making a difference in contributing to the nation's growth, which areas are being neglected for want of possibilities and action and more importantly where should the institutes and professionals in the two big domains need to focus the most.
Interpreting the data
The analysis yielded quite a few interesting facts. For instance, the batch size for big schools such as NMIMS Mumbai, IMT Ghaziabad, IIM Lucknow, IIM Calcutta, IIM Indore, IIM Bangalore, TAPMI Manipal, Great Lakes and NITIE Mumbai did not have a proportionate correlation with number of firms visiting the campus. But the institutions that are new such as the new IIMs - Raipur, Trichy and Ranchi - and FMS Delhi, JBIMS Mumbai and IMI Delhi had at least two firms for every student in that B-School. The smaller class size also had more choices in selecting recruiters/profiles. These included IIT Delhi (DMS); IIT Madras (DoMS), IIFM Bhopal, SJMSOM-IIT Bombay, JBIMS and VGSOM-IIT Kharagpur, to name a few. IIM Ahmedabad though had fewer firms visiting the campus but most of them were highly reputed and valued ones.
In Engineering, Computer Science and Electronics & Communication had a larger share in job offerings by recruiters. However, the work profiles were more suited to information technology as more opportunities were in programming, maintenance, general operations and software development. New design, planning, development, research domains et al. did not have as many openings and were offered by select companies of repute. The biggest recruiters continued to be IT/ ITES companies like Tata Consultancy Services (TCS), Infosys, Cognizant, Accenture, Wipro, Microsoft, IBM and Google. The IITs dominated the 'recruitment offers' to graduates in the market with select private schools like VIT, TAPMI, Thapar, SRM, Jaypee and BITS Pilani doing reasonably well. The average remuneration has also gone up. From an average of Rs. 14.81 lakhs per annum, the average salary package offered went up to Rs. 15.85 lpa, which is a fair increase of 7%.
Reading between the lines
The analysis also indicates that only around 15% of the schools manage to get companies to visit the campuses. The average salary offered in these professional courses by institutes that are in the top 300 is close to about Rs. 2.0 lakhs per annum. Thus, the placement scenario is not good as far as the macro level picture is concerned. So it is reiterated that comprehensive learning and exposure to real-life issues that are associated to theory are much more crucial for students if they need a job from the campus placement itself.
Banking, Financial Services and Insurance Sector (BFSI)
The Financial services, banking and insurance sector grew by 10% of Gross Domestic Product (GDP) in 2015/16 (Open Government Data Platform India). The growth rate is expected to stay stable during the coming year. The BFSI sector is witnessing many rapid changes particularly on account of the banks and financial institutions now embracing the use of technologies such as the internet and mobile devices to carry out transactions and communication with the masses. Encouraged by the Digital India vision, the sector is betting high on these technologies to provide improved services to its customers, upgrade their technology infrastructure as well as to achieve a competitive edge.
The most sought after sector
The financial sector in India is one of the biggest in the world in terms of assets. According to figures from the Indian Brand Equity Foundation, the financial sector is part of the growing services industry in India, which accounts for 54% of total GDP. By assets, banks represent the largest institutions in this sector, followed by other institutions such as pension funds, mutual funds, and insurance companies. The Indian banking industry alone is expected to create approximately two million jobs throughout the next five to ten years.
The recent changes in financial regulation by the government are expected to increase the total number of banking institutions in operation, thus creating job opportunities. The growth of the Indian financial sector is also closely linked to consumer spending and the Indian retail market, which is expected to grow at a high rate of 12% per annum in the next five years and is expected to rise in terms of market value from US$ 600 billion in 2015 to US$ 1 trillion by 2020 (IBEF). This growth is driven by income growth, urbanization and attitudinal shifts.
Significant growth is also projected for the Indian insurance industry - a key entity in BFSI. For 2013, the total market size culminated to USD $66 billion, with an estimate of USD $350 billion by 2020. The general insurance business in India is seen to be growing at a healthy rate of 17 per cent.
Information Technology and IT Enabled Services (IT & ITES)
India's IT industry contributed around 7.7 per cent to the country's GDP last year. The industry employs nearly 3.9 million people in India of which more than 0.17 million were added in 2016-17. IT industry is fuelling the growth of startups in India, with the presence of more than 4,750 start-up firms in India. The sector ranks 4th in India's total FDI share and accounts for approximately 37 per cent of total private equity and venture investments in the country. The computer software and hardware sector in India attracted cumulative FDI inflows worth US$ 24.67 billion between April 2000 and March 2017, according to data released by the Department of Industrial Policy and Promotion (DIPP).
The Indian Advantage
The competitive edge for India is that it has well qualified talent pool of technical graduates which is one of the largest in the world. This has facilitated its emergence as a preferred destination for outsourcing. The cost competitiveness for India in providing IT services, which is approximately 3-4 times cheaper than the US, continues to be its unique selling proposition (USP) in the global sourcing market. Computer Science and IT accounts for the largest share of India' fresh engineering talent pool. A preferred destination for IT & ITeS in the world; India continues to be a leader in global sourcing with 55% market share. Further, IT & ITeS industry is well diversified across verticals such as BFSI, telecommunication, manufacturing and retail.
Indian IT sector's core competencies have placed it on the international canvas, attracting investments from major countries. The country also saw a ten-fold increase in the venture funding that went into internet companies in 2014 as compared to 2013. More than 800 internet start-ups got funding in 2014 as compared to 200 in 2012.
This sector remains the highest paid sector in India in terms of median wage as per the data collected through the salary survey (WageIndicator Foundation, 2015) However, there are large regional differences in wages in different Indian states. Gurgaon in Haryana, Noida in Uttar Pradesh, Bengaluru in Karnataka and Hyderabad in Telengana are the major IT hubs in India and the most preferred destinations for IT MNCs to set up their operations. Hence, the wages are high for the IT sector in these regions.
Fast-moving Consumer Goods (FMCG) Sector
FMCG is the 4th largest sector in the Indian economy. The growing purchasing power and rising influence of the social media have enabled Indian consumers to spend more than they have ever done so far on good products and services. As per the IBEF, the Indian consumer sector has grown at an annual rate of 5.7% between FY2005 to FY 2015. India's nominal year-on-year expenditure growth of 12%, which is more than double the global anticipated rate of 5%, will lead to India becoming the third largest consumer market by 2025. Indian FMCG companies have performed better than their multinational peers as the combined revenue of country's seven leading FMCG companies stood at US$ 11.1 billion in FY 2015-16, as compared with US$ 9.4 billion revenue generated by select seven multinational companies, as per the report by the Associated Chambers of Commerce of India (ASSOCHAM) and TechSci Research. Modern retail share is also expected to triple its growth from US$60 billion in 2015 to US$180 billion in 2020.
What makes FMCG attractive
The FMCG sector is divided into three important segments: Food & Beverages; Healthcare and Household and Personal Care. The FMCG sector in India generated revenues worth US$ 49 billion in 2016. The Tier II/III cities are witnessing faster growth in modern trade. Government of India has initiated Self Employment and Talent Utilisation (SETU) scheme to boost young entrepreneurs and has invested US$ 163.73 million for the same. Accounting for a revenue share of around 60 per cent, urban segment is the largest contributor to the overall revenue generated by the FMCG sector in India and recorded a market size of around US$ 29.4 billion in 2016-17. The low penetration levels in rural market offer room for growth. Disposable income in rural India has increased due to the direct cash transfer scheme.
The E-commerce companies too are strengthening their business in FMCG sector, by positioning their platform pantry as front line offering to drive daily products sales. In the long run, with the system becoming more transparent and easily compliable, demonetisation is expected to benefit organised players in the FMCG industry.
Manufacturing Sector
This sector lately inspired by the 'Make in India' initiative has an objective to place India on the world map as a manufacturing hub and give global recognition to the Indian economy. Studies have estimated that every job created in manufacturing has a multiplier effect, creating 2–3 jobs in the services sector. In India, where employment generation is one of the key policy issues, this makes this sector a critical sector to achieve inclusiveness in growth. The manufacturing sector contributes 15-16% to GDP (2015) and gives employment to about 12% (2014) of the country's workforce. The sector has the potential to touch US$ 1 trillion by 2025. There is potential for the sector to account for 25-30 per cent of the country's GDP and create up to 90 million domestic jobs by 2025.
Impetus is on manufacturing
The country is expected to become the fifth largest manufacturing country in the world by the end of year 2020 (Global Manufacturing Competitiveness Index published by Deloitte). With close to 100 million jobs in the next few years, India has emerged as an attractive hub for foreign investments in the manufacturing sector. Several mobile phone, luxury and automobile brands, among others, have set up or are looking to establish their manufacturing bases in the country. The implementation of the Goods and Services Tax (GST) will make India a common market with a GDP of US$ 2 trillion, which will be a big draw for investors. FDI inflows in India's manufacturing sector grew by 82 per cent year-on-year to US$ 16.13 billion during April-November 2016.
Engineering Industry
The engineering industry is growing at a rapid pace and according to the IBEF; the spending on engineering services is projected to increase to US$ 1.1 trillion by 2020. The engineering sector in India attracts immense interest from foreign players as it enjoys a comparative advantage in terms of manufacturing costs, technology and innovation. The foreign direct investment (FDI) inflows into India's miscellaneous mechanical and engineering industries during April 2000 to March 2017 stood at around US$ 3.31 billion, as per data released by the Department of Industries Policy and Promotion (DIPP).
There are two major segments in Engineering. Heavy Engineering that deals with heavy electrical, heavy engineering & machine tools and automotive. The second segment is called Light Engineering which comprises high and low technology products. This sector can be classified as one of the highly organised sector dominated by large players employing over 4 million skilled and semi-skilled work force. Several multi national firms have set up their own research and development centres in India giving high-end job opportunities.
Infrastructure Sector
Infrastructure sector which offers jobs predominantly to civil engineering graduates as also in different disciplines including transportation, information systems, management, mechanical, electronic, electrical engineering and so on is a key driver of a nation's economic growth. The sector is highly responsible for propelling India's overall development and enjoys concentrated focus from the government for initiating policies that would ensure time-bound creation of world class infrastructure in the country. Infrastructure sector includes power, bridges, dams, roads and urban infrastructure development. Construction equipment forms around 7 per cent to 8 per cent of GDP and expected to give employment to more than 3.0 million people in India by 2020. It also accounts for over 60% in total infrastructure investment.
A few countries, including Sweden ,have put forward a Common Plan of Action for developing sustainable public transport solutions and solid waste management for smart cities under development. The real estate market is also estimated to grow to USD180 billion by 2020 from USD126 billion in 2015, driven by demand mainly from the residential sector.
Ocean Engineering Sector
With a coastline of 7,517 km, India is the sixteenth largest maritime nation in the world. According to Indian Transport & Logistics News, currently, the country has 187 non-major ports and a dozen major ones. Cargo traffic is expected to reach 1,758 MMT in 2017 from the present 1,052 MMT. Recent government initiatives such as 100% FDI under the automatic route for port and harbour construction as well as maintenance projects have provided a further boost to the sector. The ports in India can be divided into two major categories: major and minor. The 12 major ports saw a capacity addition of a record 94 million tonne (MT) in 2016-17, earning a Rs 4,268 crore profit owing to government initiatives. On the other hand, there are about 200 non-major ports of which one-third are operational. The non-major ports come under the jurisdiction of the respective state governments' Maritime Boards. The contribution of non-major ports' traffic to total traffic rose to 43.5% in FY16 from 28.6 per cent in FY07.
Upcoming sector with potential
Ocean engineering as a course is offered at select institutions across India, some of which are among the best in the world. These include Indian Institutes of Technology (IIT) at Madras, Kanpur and Kharagpur; National Institute of Technology at Calicut and Surathkal, and institutes such as National Institute of Oceanography in Goa and Cochin University of Science and Technology. The successful graduates continue to contribute in creating infrastructure and expertise to carry out Research & Development work in areas of ocean engineering and related fields that have direct relevance in the national context. Further, a comprehensive grading process by established agencies in maritime field will soon form the core of the new monitoring mechanism for training institutes.
India for long has been considered a major supplier of personnel to the global shipping industry, which sees Indian seafarers as competent, efficient and cost-effective.
In a nutshell
In view of studies that suggest India to be achieving average real gross domestic product (GDP) growth rate of 7.4 percent in 2017 and 2018, on account of improvement in the private investment cycle and strong consumer market, the placement trend is likely to move up with more job opportunities in the economy. There is a need to push for employment creation across key sectors for which the institutes too must be prepared to produce graduates to shine as young professionals in their respective domains.
Q&A
Subramanian Suryanarayanan
Chief Human Resources Officer,
TATA AIG General Insurance
Company Ltd.
Q.What according to you is the job market situation for fresh graduates in  the insurance industry?
A. Insurance industry is growing at more than 20% year on year and there are plenty of opportunities in General Insurance sector for fresh talent. There are various roles in the General Insurance industry that fresh talent can be absorbed into. Industry needs fresh graduates with law, sales, IT, statistical capabilities, etc.
Q. Please share your views about the latest trend on campus hiring. Are there any special educational preferences given to candidates?
A. Utilization of Digital modes and technology to reach a diverse range of campuses. Looking for specializations beyond traditional Engineering and MBA combination, like hiring of fresh lawyers, Degree holders medicine, hospital administration, actuarial sciences and Insurance based specializations are in demand.
Q. While recruiting fresh graduates, what skill-set do you seek? What profile do you consider?
A. Most of the fresh graduates are expected to perform a diverse range of jobs in their initial years. Fresh graduates are expected to be proficient with basic levels of tools that help them organize themselves and plan their work. The skill set most expected from fresh graduates is their keenness to learn, the ability to look for details and also being adaptable with an open mind.
Stay tuned to university.careers360.com for more articles and interviews