OAMDC 2023 - Andhra Pradesh State Council Of Higher Education will start the OAMDC registrations in July in online mode. To apply for OAMDC 2023, candidates can visit the official website - oamdc-apsche.aptonline.in. Candidates who have passed Class 12 or are appearing in the current academic year are eligible to apply for OAMDC. There will be a total of three phases in OAMDC 2023. Online Admissions Module for Degree Colleges (OAMDC) is an online portal for admission to undergraduate courses offered by the colleges of Andhra Pradesh.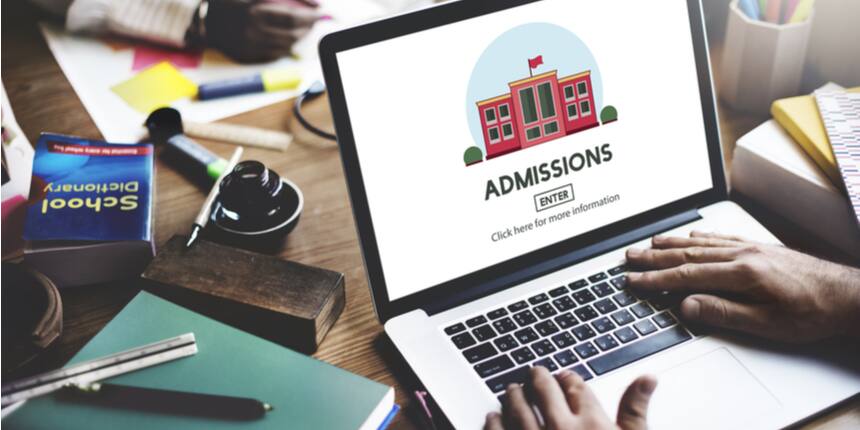 OAMDC 2023, AP Degree Admission: Seat Allotment, Certificate Verification, Web Options, Reporting
The OAMDC admission will be held on merit basis. Candidates first need to register themselves, pay the processing fee and then fill out the OAMDC application form. After this candidates will be able to exercise web options in a given period of time. APSCHE will release the OAMDC seat allotment list in online mode. The selected candidates will then have to report to the allotted colleges. OAMDC 2023 will be conducted for 4,92,820 seats in 152 government, 120 aided, 1,062 private, and 2 university colleges. Read the complete article to know more details on OAMDC.
OAMDC 2023 - Highlights
| | |
| --- | --- |
| Name | OAMDC |
| Full Form | Online Admissions Module for Degree Colleges |
| Conducting Authority | Andhra Pradesh State Council of Higher Education (APSCHE) |
| Number of Phases | 3 |
| Total participating universities | 10 |
| Degree Admission Web portal | oamdc-apsche.aptonline.in |
| Website | sche.ap.gov.in |
OAMDC 2023 - Important Dates
Event

Date

AP Degree Admissions Registration

July to September 2023 (phase 1)

October 2023 (phase 2)

November 2023 (phase 3)

Online Verification of Certificates/Verification of Certificates at HLC'S

September 2023 (phase 1)

October 2023 (phase 2)

November 2023 (phase 3)

Exercise of web options

September October 2023 (phase 1)

October to November 2023 (phase 2)

November 2023 (phase 3)

Allotment of Seats

October 2023 (phase 1)

November 2023 (phase 2)

November 2023(phase 3)

Reporting of students at college allotted

October 2023 (phase 1)

November 2023 (phase 2)

November 2023(phase 3)
OAMDC 2023 - Admission Process
The admissions through OAMDC involves 5 steps which are mentioned below.
OAMDC admission process
| | |
| --- | --- |
| Step | OAMDC Process |
| Step 1 | Pre-Registration & Fee Payment |
| Step 2 | Application ID and Password generation |
| Step 3 | Student Details Entry and Confirmation |
| Step 4 | Certificate Verification, Merit list generation & Web Options |
| Step 5 | Seat Allotment and Admission Confirmation |
How to apply for OAMDC 2023?
Candidates can follow the details steps mentioned below to apply for OAMDC 2023.
Step 1 - Visit the official website - oamdc-apsche.aptonline.in.
Step 2 - Click on 'Registration/Fee Payment' tab.
Step 3 - Fill in all the details asked and register to the portal.
Step 4 - Upon successful registration, the payment window will open.
Step 5 - Pay the registration fee in online mode using net banking, debit card or credit card.
Step 6 - Candidates will now receive the application number and password as a text message on their registered mobile number.
Step 7 - Now, go to the home page and click on 'Fill Application' tab.
Step 8 - Enter all the details asked and submit the application details. The Online Application will be completed by clicking the "Click here for Submitting the Application Details" button.
Step 9 - Upload the recent photograph, signature and other required documents.
Step 10 - Save the application and take a printout of the same.
OAMDC 2023 Application Fee
The candidates will pay Rs.400/- for OC, Rs.300/- for BC and Rs.200/- (for SC/ST) per OAMDC application through the "Pay Processing Fee" link on the website oamdc.ap.gov.in. The following translation charges will be applicable for each payment.
OAMDC Transaction Fee
| | | |
| --- | --- | --- |
| Mode | Type | Charges |
| Credit Card/ Debit Card | Visa/Master/Rupay | Rs.10 + Taxes |
| Internet Banking | | Rs 15/- plus taxes |
OAMDC 2023 - Instructions for Candidates
In one form, candidates can apply to any of the state's government and aided degree colleges.

A candidate can select up to five colleges and streams in order of preference for where they want to study.

After submitting the Common Application Form, the applicant should print out the computer-generated application form and attach the supporting documents as per the check list, and be ready to submit if he or she is accepted into a college.

After reviewing the CAF Common Application Form, the College may accept or reject the applicant. If a student's CAF is accepted by the college, he or she must pay the fee and be admitted. If a college rejects a student for any reason, that student is not eligible to enrol in that college.

All applicants must complete the Online CAF Common Application Form with all required information. And this is insufficient for e-Admission; in addition, he/she must obtain printouts of the "Application Copy" of the completed CAF Common Application Form and obtain signatures from his/her parents or guardians at the appropriate places on the college copy. The applicant should then obtain admission to the college, along with all necessary documentation.
AP Degree Admission Web Counselling 2022 Process
Candidates whose certificate data has already been verified via web services are eligible to exercise web-options. If a candidate's certificate data is incomplete, an SMS will be sent inviting them to the HLC for certificate verification.

The candidate can use the Internet facility available at home/Internet Café/Helpline Center by entering the Application Number, date of birth, and password.

Candidates whose data is not verified, sms will be sent to the registered mobile number to re-upload the certificates. The candidate can also visit the nearest HLC for verification of certificates.
List of Documents for Online Verification:
Such candidates are informed that certificate verification, viz.

SSC memo

Intermediate marks memo

VI class to Intermediate study certificates

Caste Certificate

Income Certificate/Ration Card

Economically Weaker section(EWS) certificate

Physically Challenged Certificate,

Residence Certificate have to be verified by the counseling authorities.

SPECIAL CATEGORY Certificate
OAMDC Seat Allotment 2023
The OAMDC software will process all applications and create the first seat allotment list for each college based on the applicants' merit and preferences. Candidates can visit the official website and login using their credentials tocheck the OAMDC 2023 seat allotment list. To lock their allotted seat, candidates need to pay the fee and freeze it within the stipulated time frame. Candidates can also withdraw their admission to the allotted seat in a particular duartion.
OAMDC 2023 Courses
Through OAMDC, admissions will be offered to undergraduate courses in arts, science
commerce, management, computer applications and social work, etc., The UG courses in which candidates can take admission are B.A., B.Sc., B.Com., BBA., B.Voc, B.F.A, 5 year integrated PG programmes (with the exception of engineering and pharmacy) etc.
OAMDC 2023 - List of affiliated universities
There are around 1400 institutes affiliated with the universities in which admission is given through OAMDC. The list of OAMDC affiliated universities is given below.